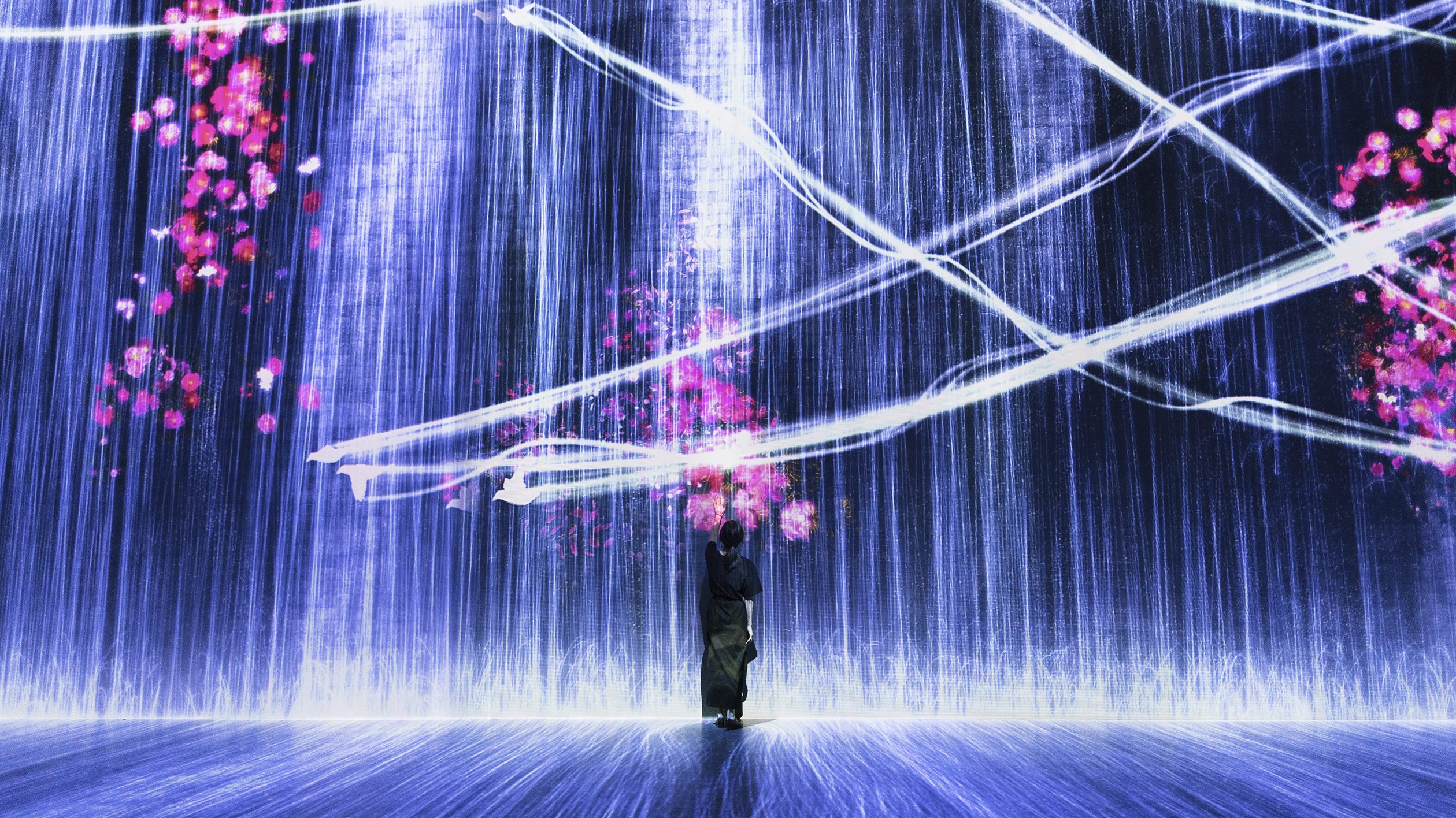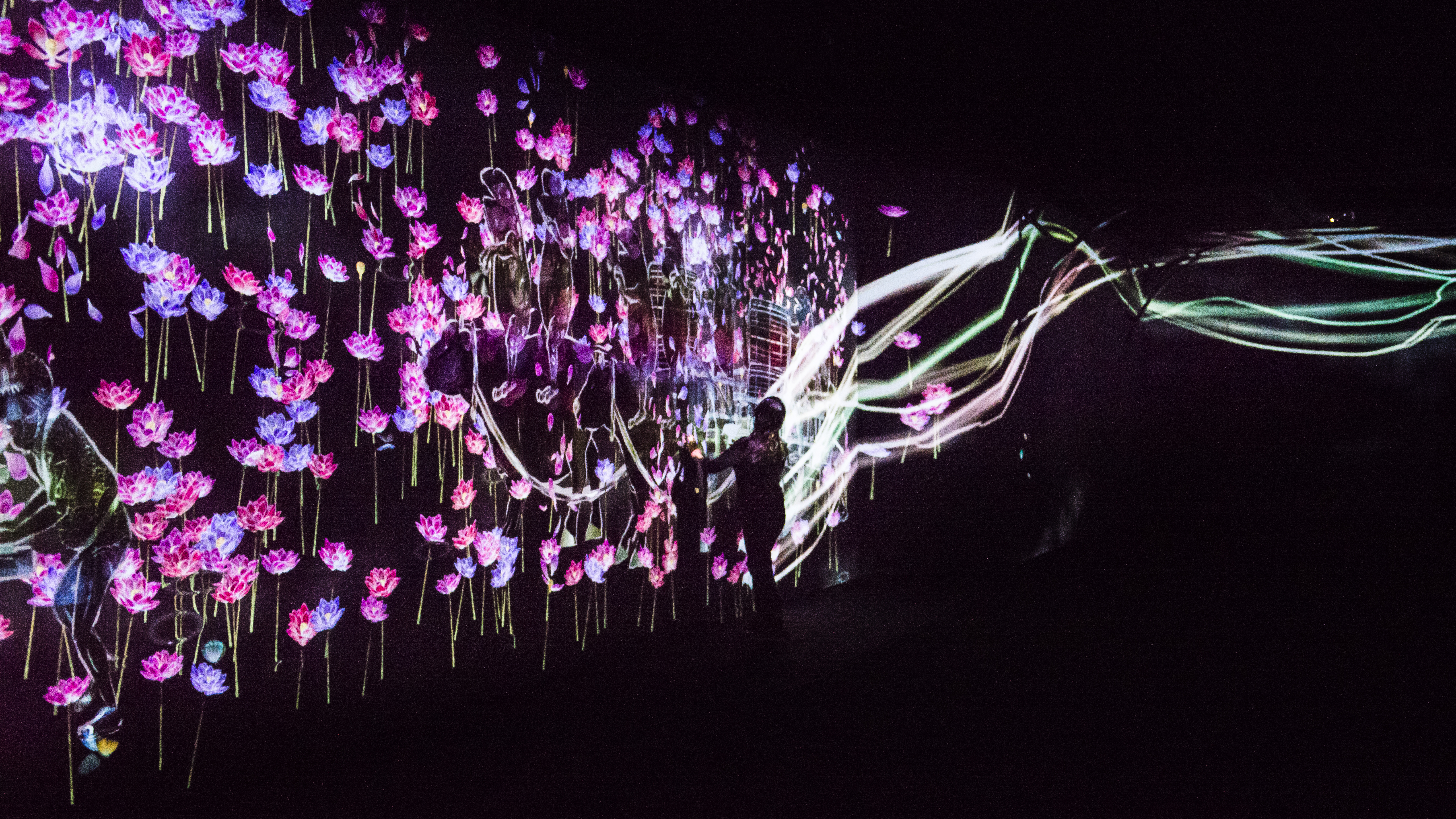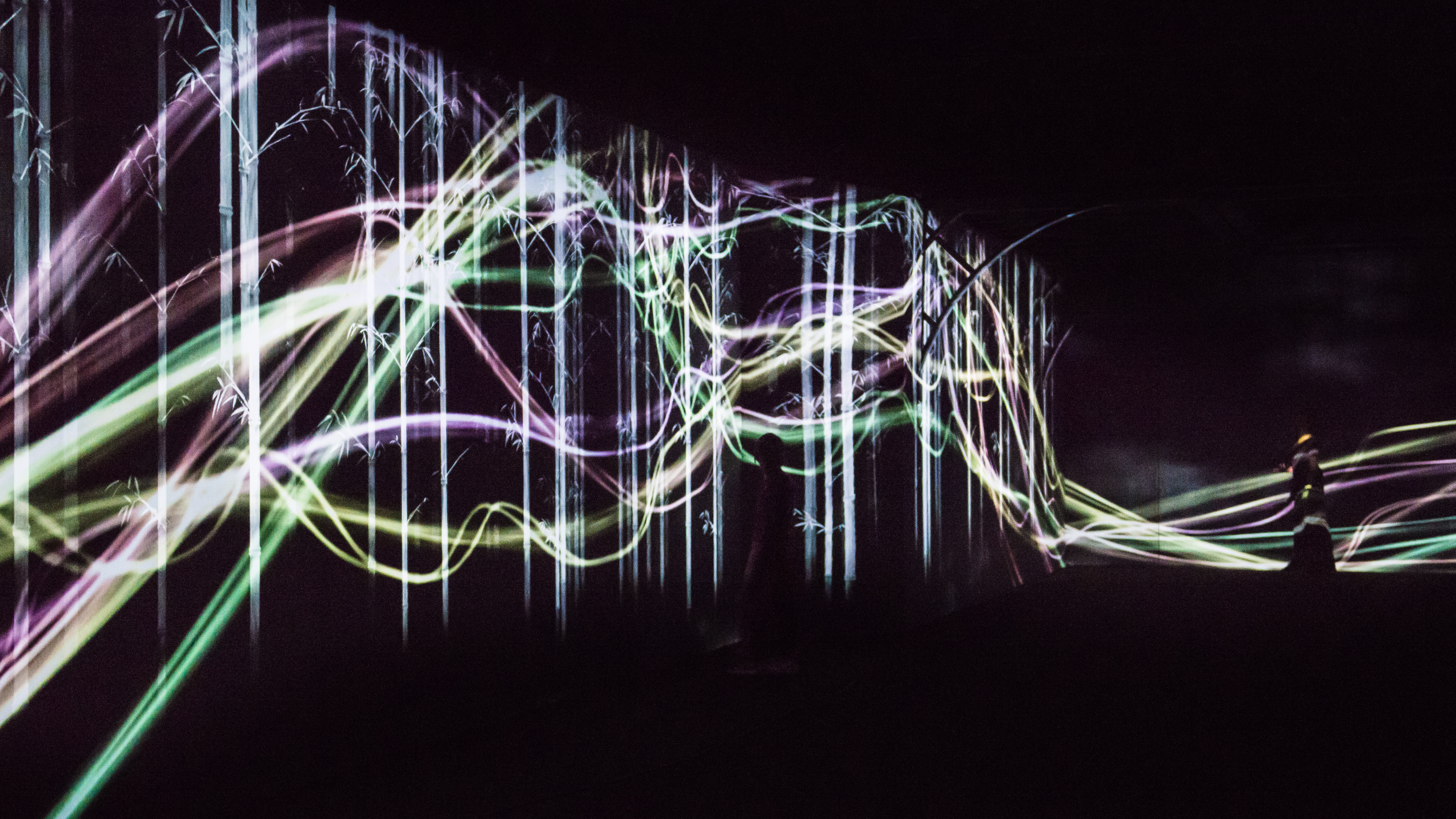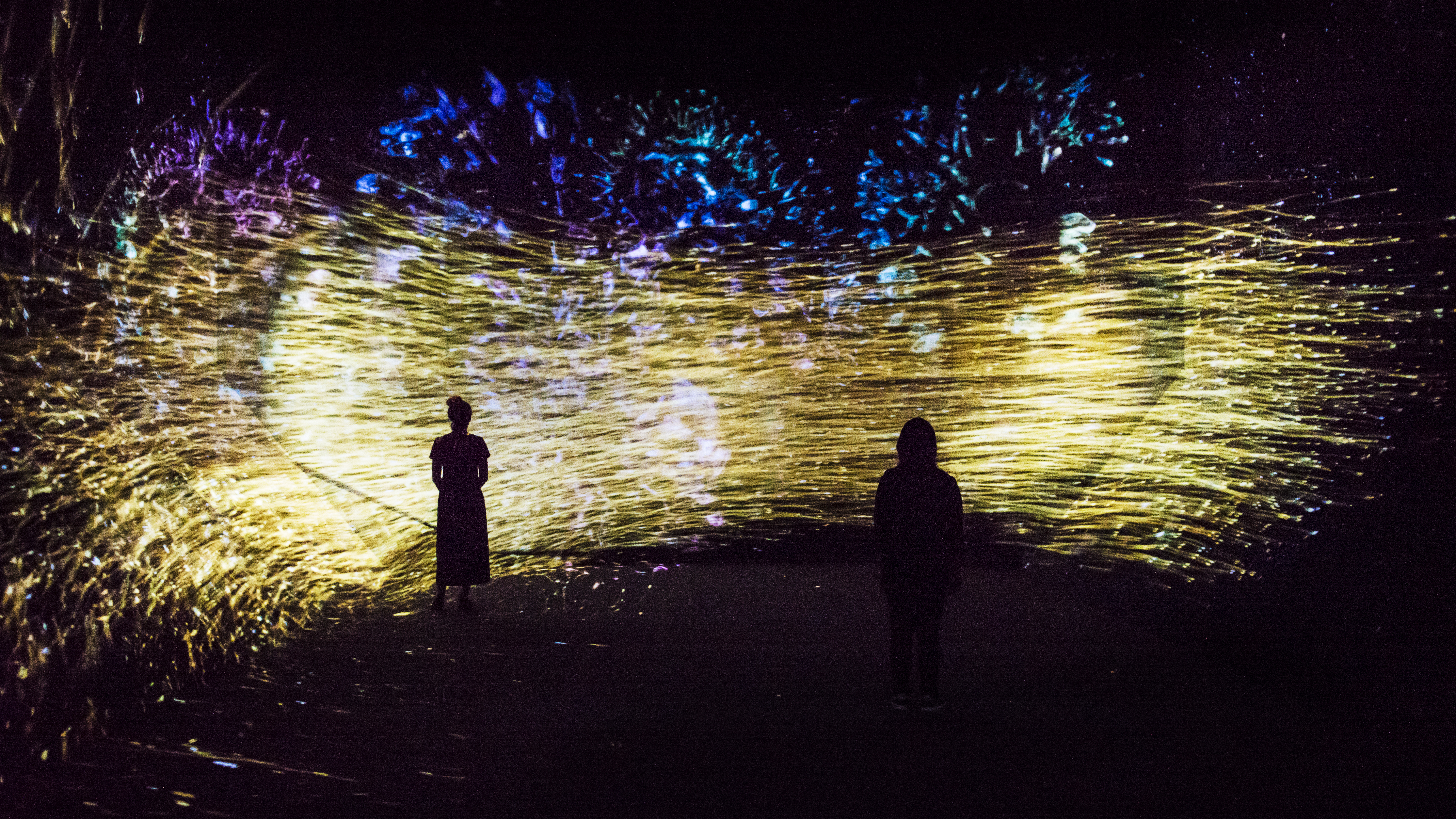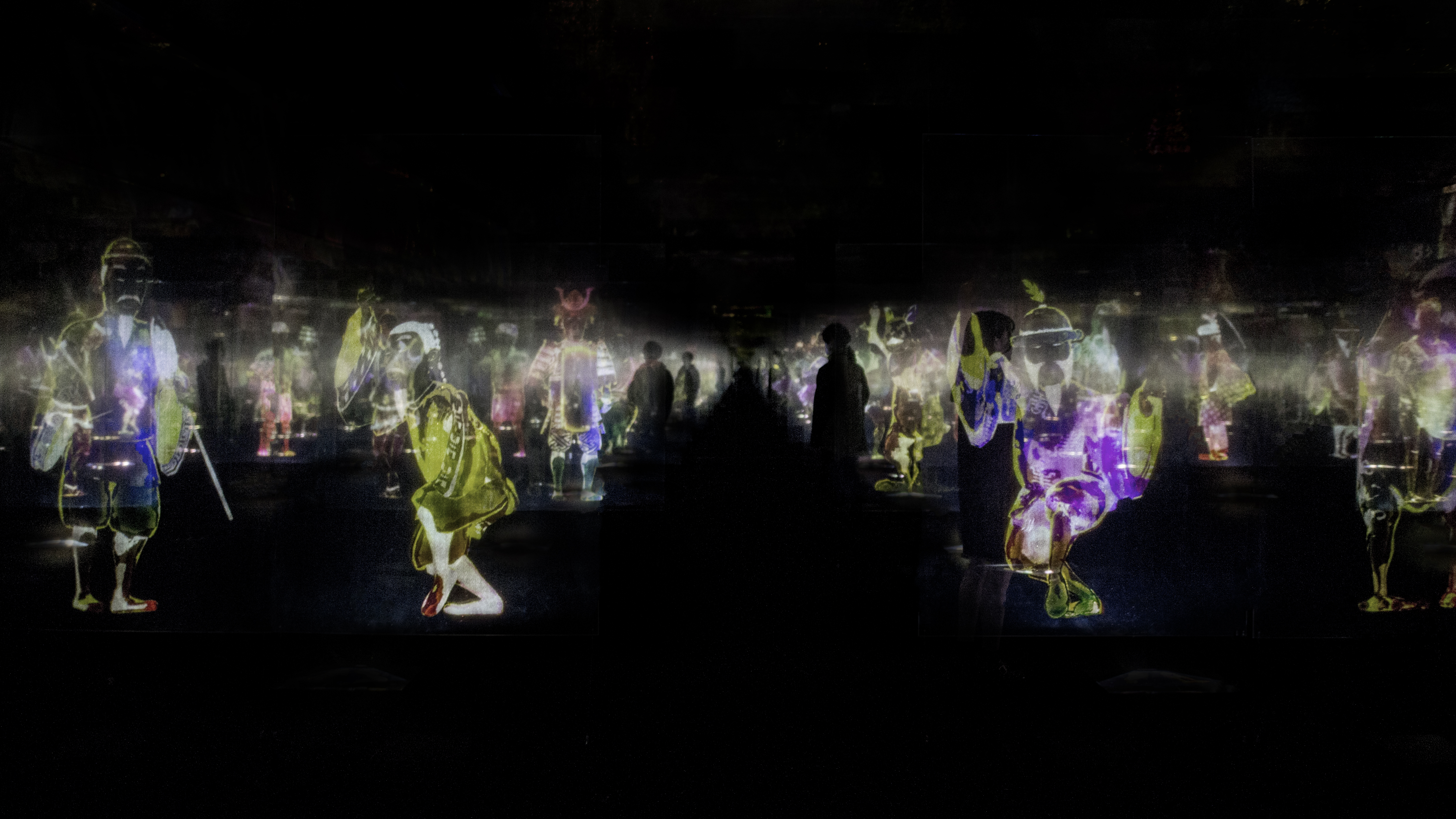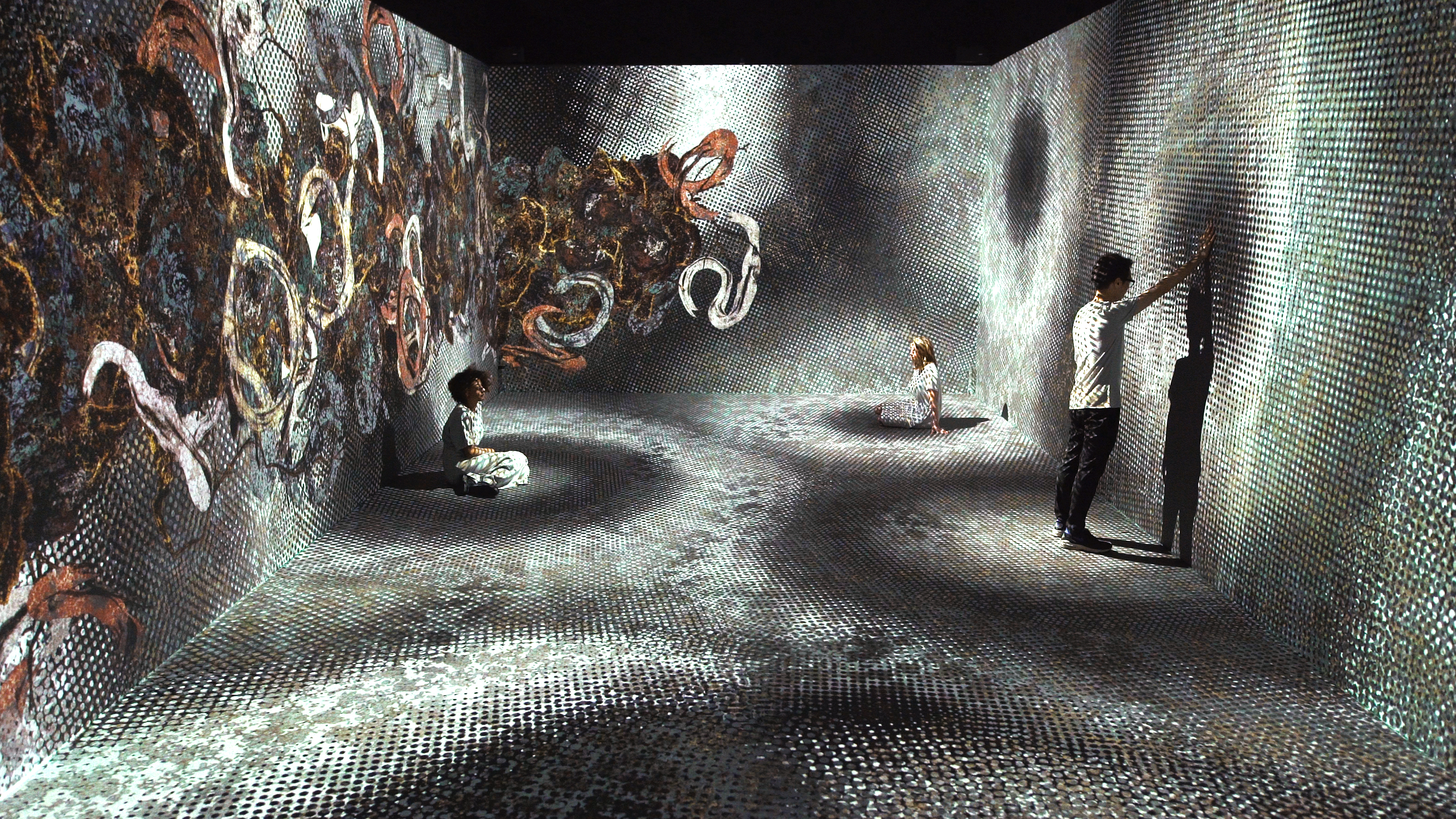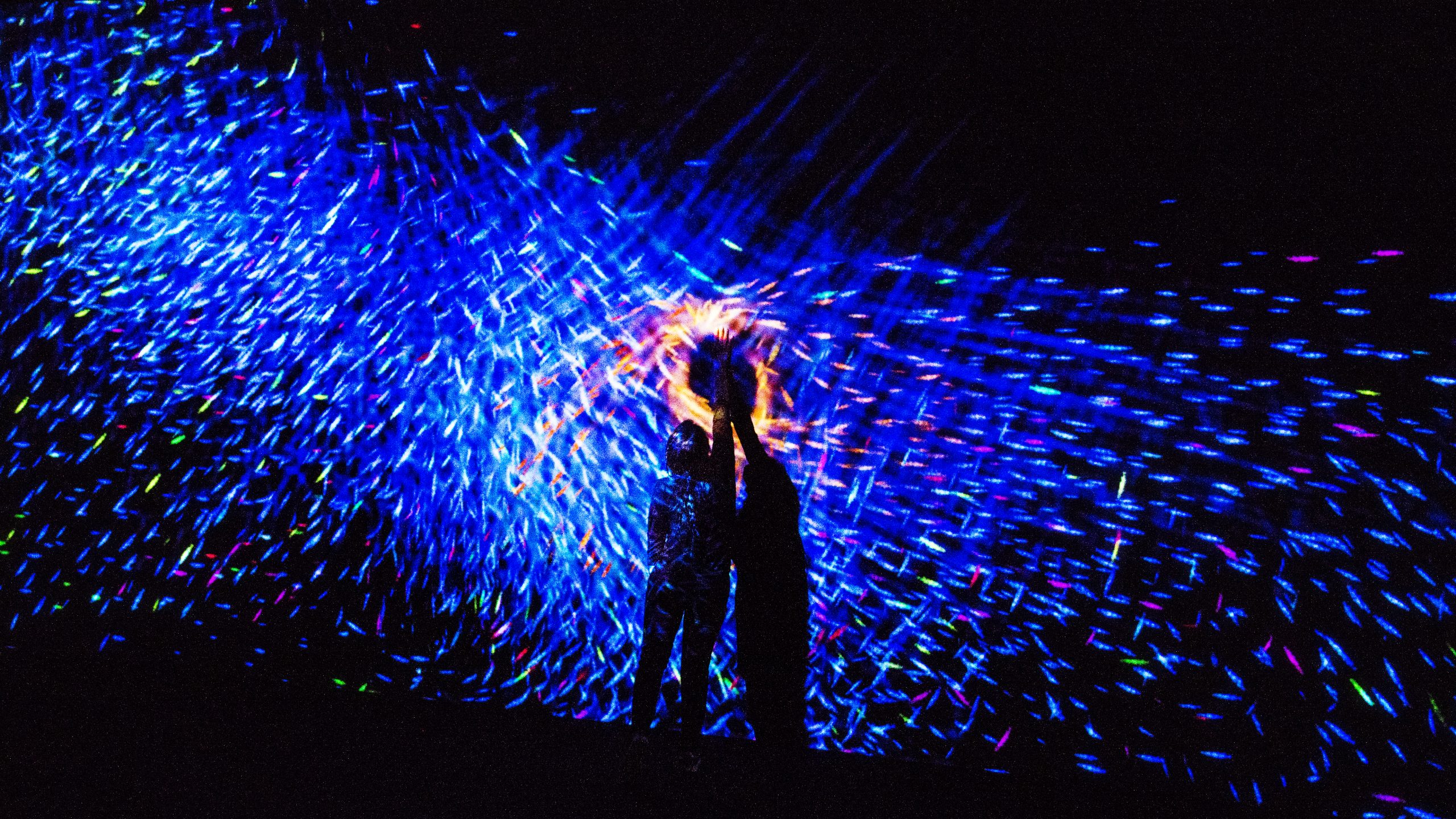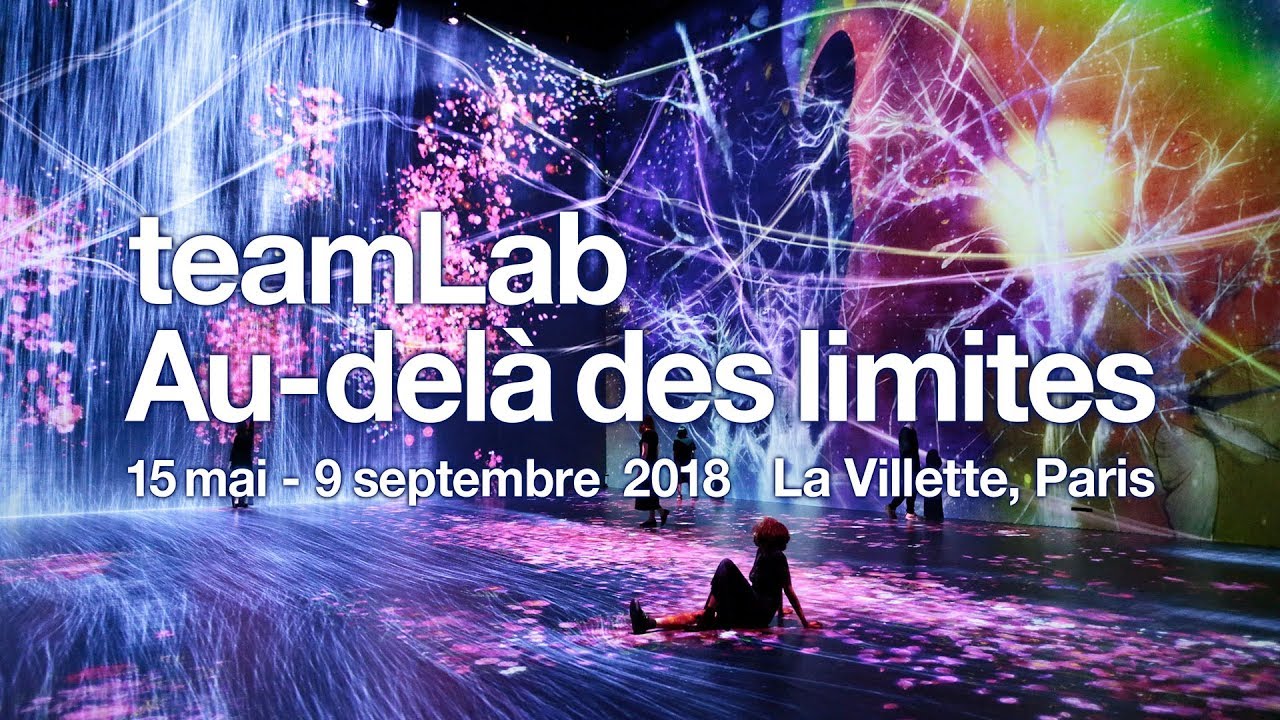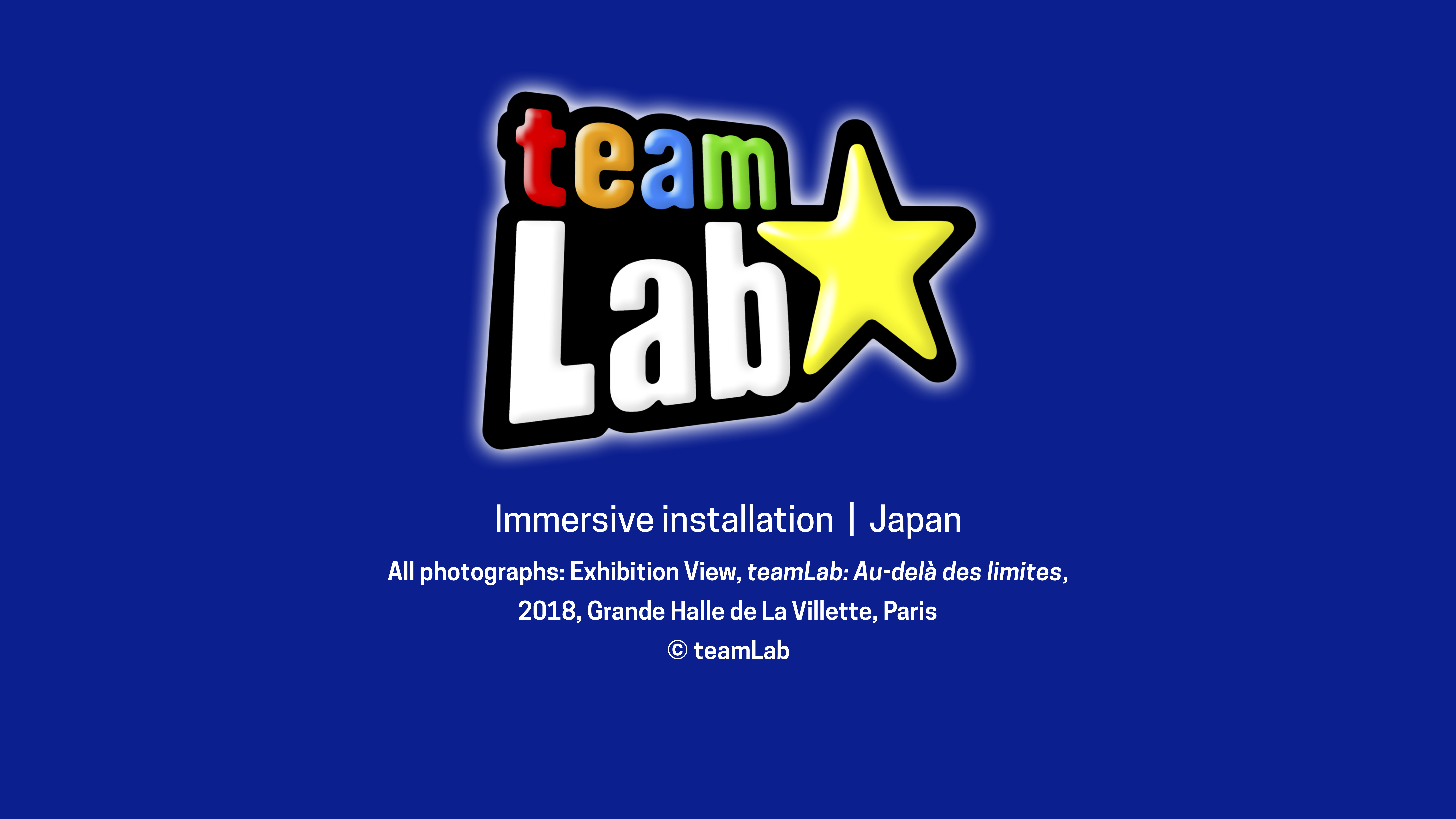 Au-delà des limites
People move freely, form connections and relationships with others, and recognize the world through their own bodies. The body has a concept of time. In the mind the boundaries between different thoughts are ambiguous, causing them to influence and sometimes intermingle with each other.
Artworks too can move freely, form connections and relationships with people, and have the same concept of time as the human body. While the artworks remain autonomous, they transcend the boundaries between the works, influence and sometimes intermingle with each other. This is one borderless world created by a group of such works.
People lose themselves in the artwork world. The borderless works transform according to the presence of people. As we immerse and meld ourselves into this unified world, we explore a new relationship that transcends the boundaries between people, and between people and the world.  
—teamLab
Born from the Darkness, a Loving and Beautiful World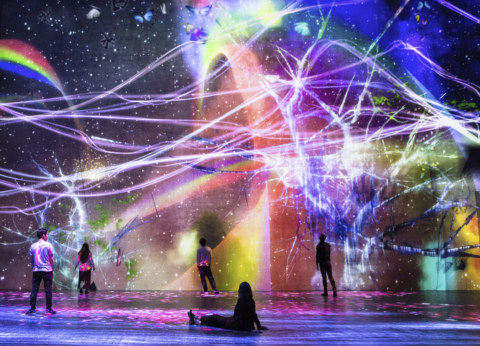 Crows are Chased and the Chasing Crows are Destined to be Chased as well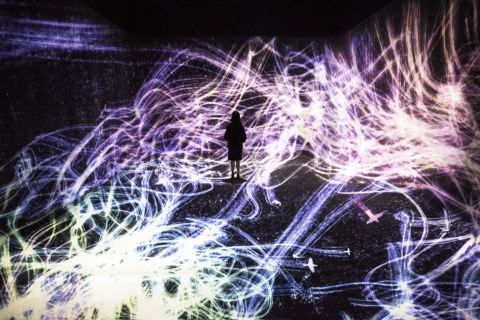 Graffiti Nature - Mountains and Valleys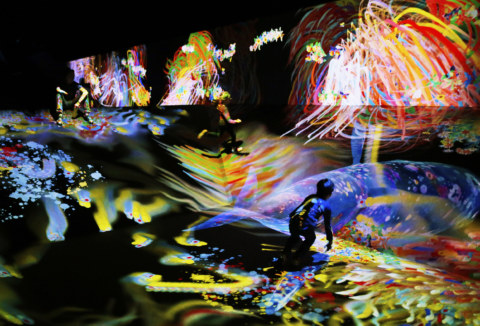 Spirits, Walk, Water Particles, Flowers and People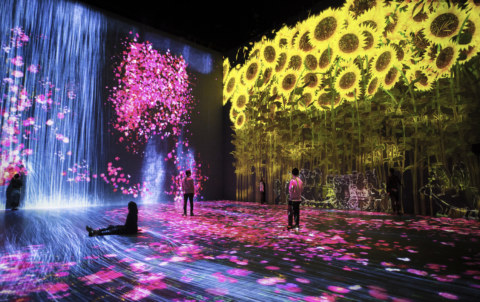 teamLab is an interdisciplinary group whose collaborative practice seeks to navigate the confluence of art,  technology, design, and the natural world. Rooted in the traditions of historical Japanese art, teamLab operates from a distinct sense of spatial recognition that they call Ultrasubjective Space. Their work explores human behavior in the information era and proposes innovative models for societal development. teamLab's works are in the permanent collection of the Art Gallery of New South Wales, Sydney; Art Gallery of South Australia, Adelaide; Asian Art Museum, San Francisco; Asia Society Museum, New York; and Borusan Contemporary Art Collection, Istanbul. They have been the subject of numerous exhibitions worldwide; in 2015.
Toshiyuki Inoko, founder of teamLab, was born in 1977 in Tokushima, Japan. Inoko founded teamLab in 2001 at the same time he graduated from the Department of Mathematical Engineering and Information Physics, School of Engineering, the University of Tokyo. He attended the University of Tokyo Graduate School of Interdisciplinary Information Studies before leaving in 2004.
ASK THE CREATORS
Why this? Why now?
We want people to be involved with the world. As much as possible, we want to re-think the boundary between the world and oneself. Living in the city, you feel as if there is a border between yourself and the world. But the world is meant for us to be involved with. It may be just a bit, but the world is something that changes due to your existence. We believe that there is a borderless, continuous relationship between us and the world.
There is a discrepancy between here, the world of the artwork, and outside, where there is still hatred and arguments. And that is why there is art. By experiencing this exhibition, the standard of what is 'beautiful' may expand slightly.
Words cannot explain it enough but . . . By people experiencing the beauty of the borderless world, and by knowing that having no boundary is beautiful, their standard of beauty may get inspired. This still won't solve tomorrow's problems, but after 10 or 50 years, we think people's behavior may change unconsciously little by little due to their new standard of beauty.
"The teamLab adventure started in 2001. Toshi Inoko had just graduated from the University of Tokyo with a degree in Applied Mathematics and Physics. With four students, he set up his own digital creative company. Seventeen years later, teamLab has nearly 500 employees. . . .
"teamLab's work is nourished by Japanese pictorial art, drawing inspiration from the motifs of Rimpa, Kyoto's famous 17th-century school of painting. 'For me, Rimpa invented a painting style that erases the notion of "framework,"' says Inoko. 'And what we try to do with our works is to abolish the notion of framework so that our creations extend to infinity.'"
"In Au-delà des limites . . . teamLab has succeeded in digitizing nature. Flowers bloom and scatter in a cycle of birth and death, frogs and rabbits march endlessly and react to visitors' touch, and schools of thousands of fish swim in harmony like a single life form leaving behind trails of light that become spatial calligraphy, while the boundary between the walls and floor disappears in a vertiginous display. . . . With no clear limits between artworks, installations merge into one another, in constant dialogue, with no apparent beginning or end, moving freely into vacant spaces, influencing and intermingling with each other – the advantage of non-material digital art that allows human expression to free itself from physical constraints."
Au-delà des limites
Medium:
Interactive Art Installation
Created by:
teamLab for "Japonismes 2018" (Paris)