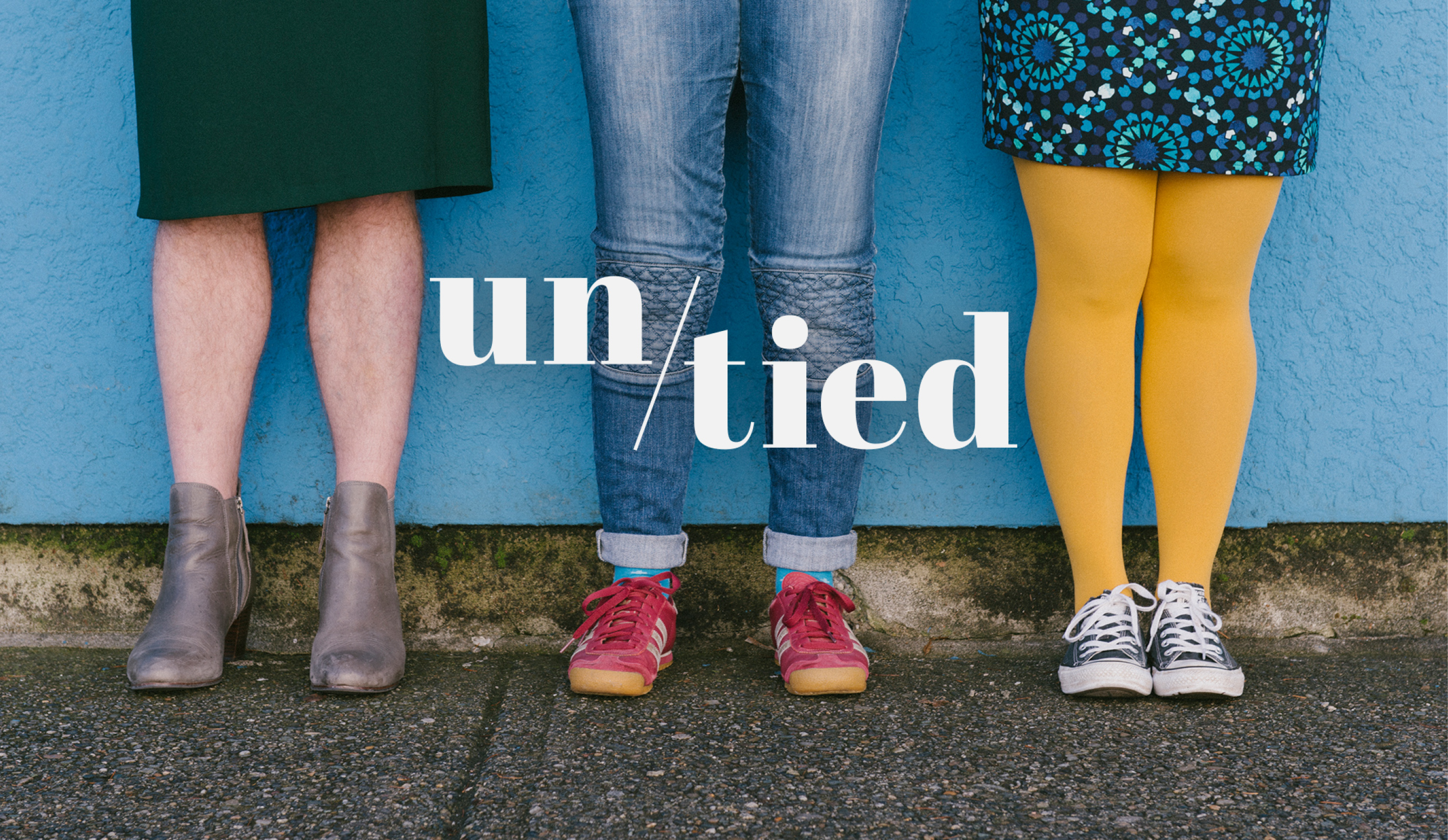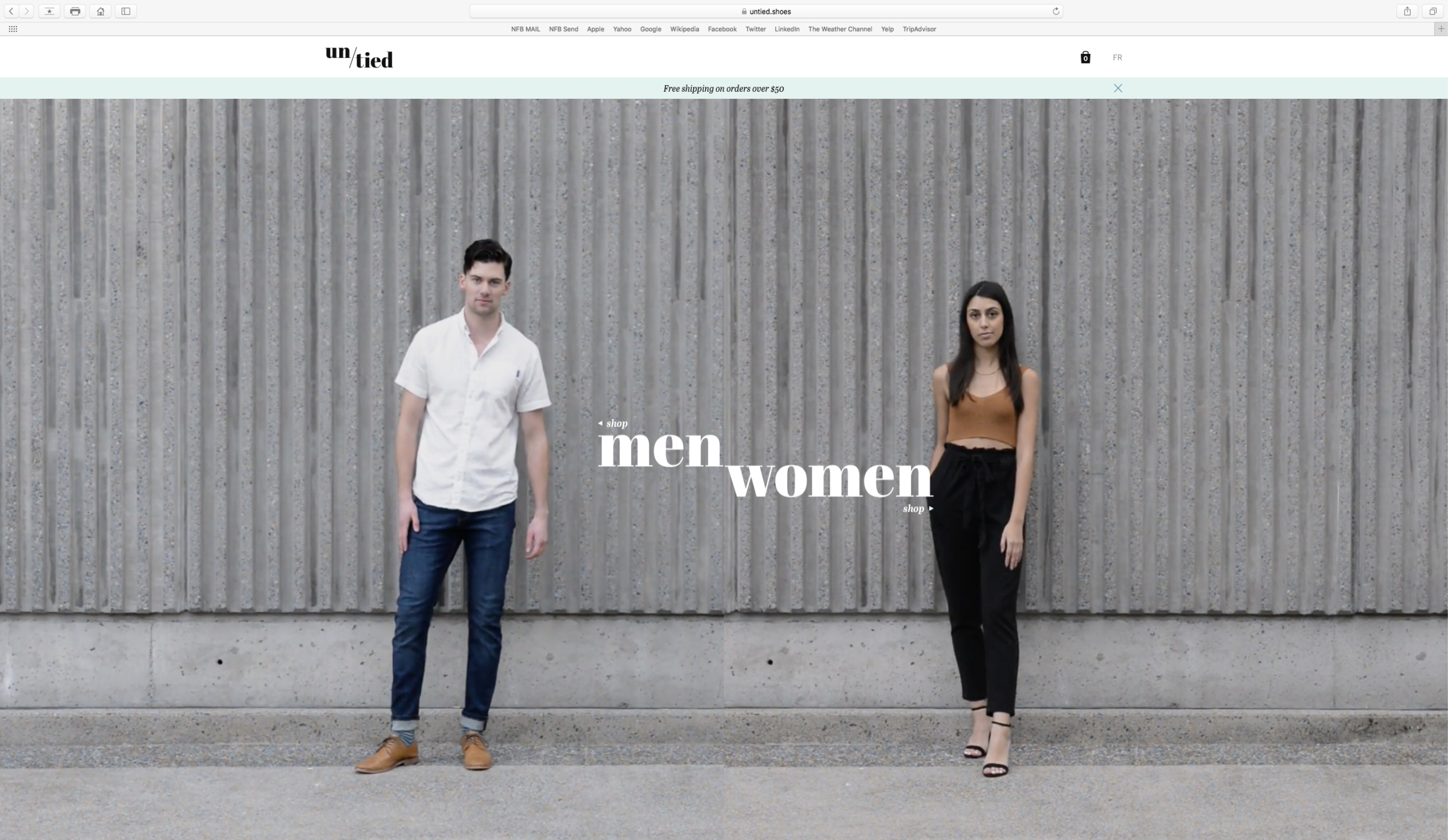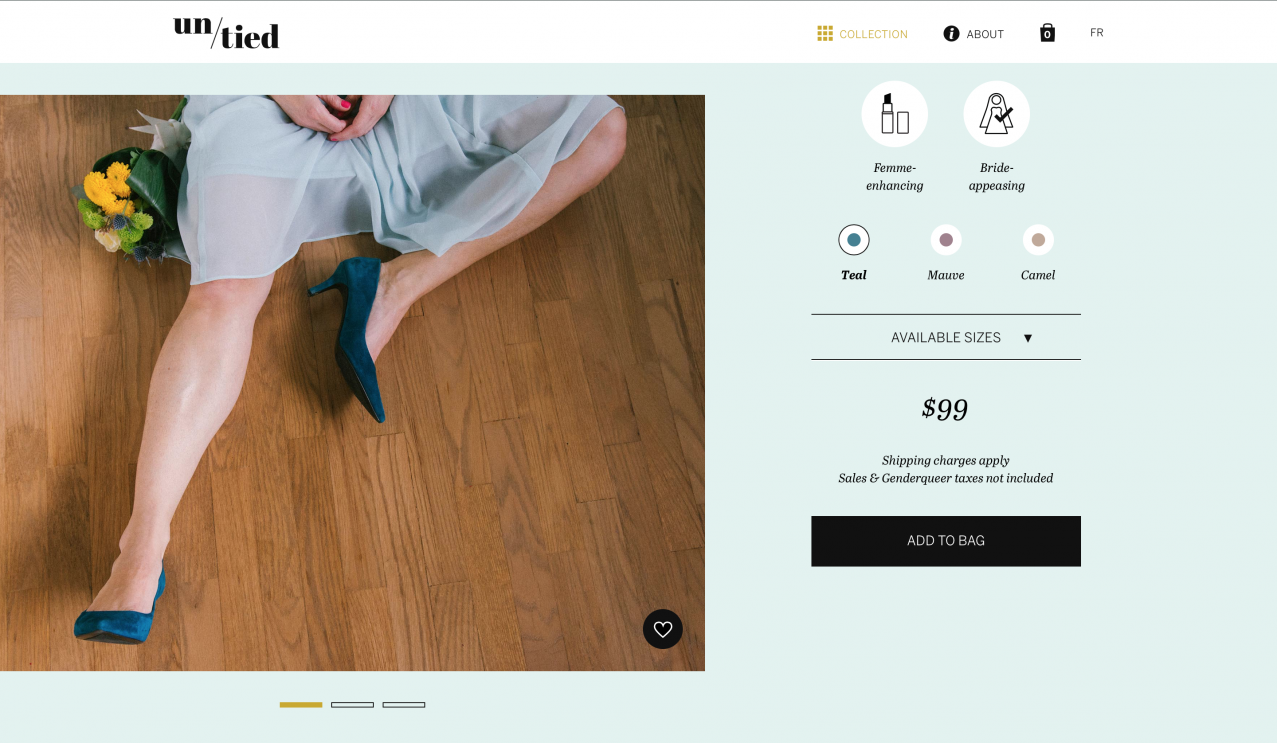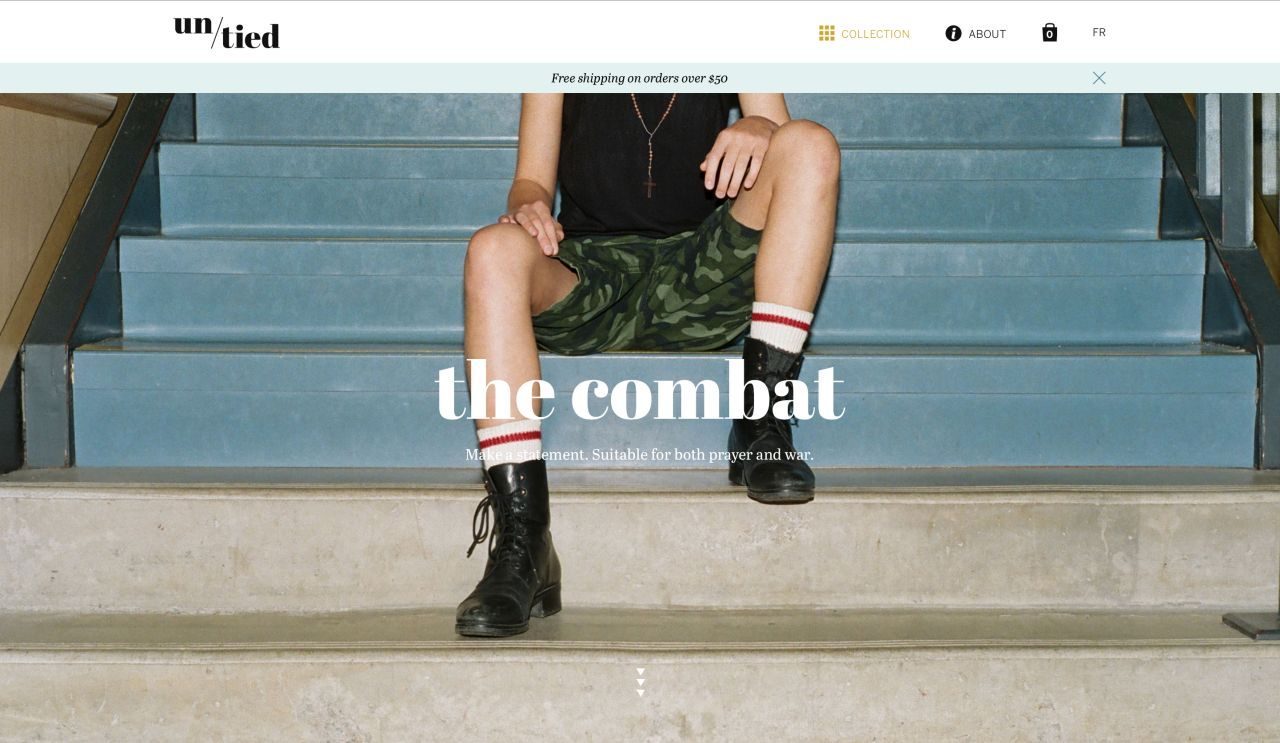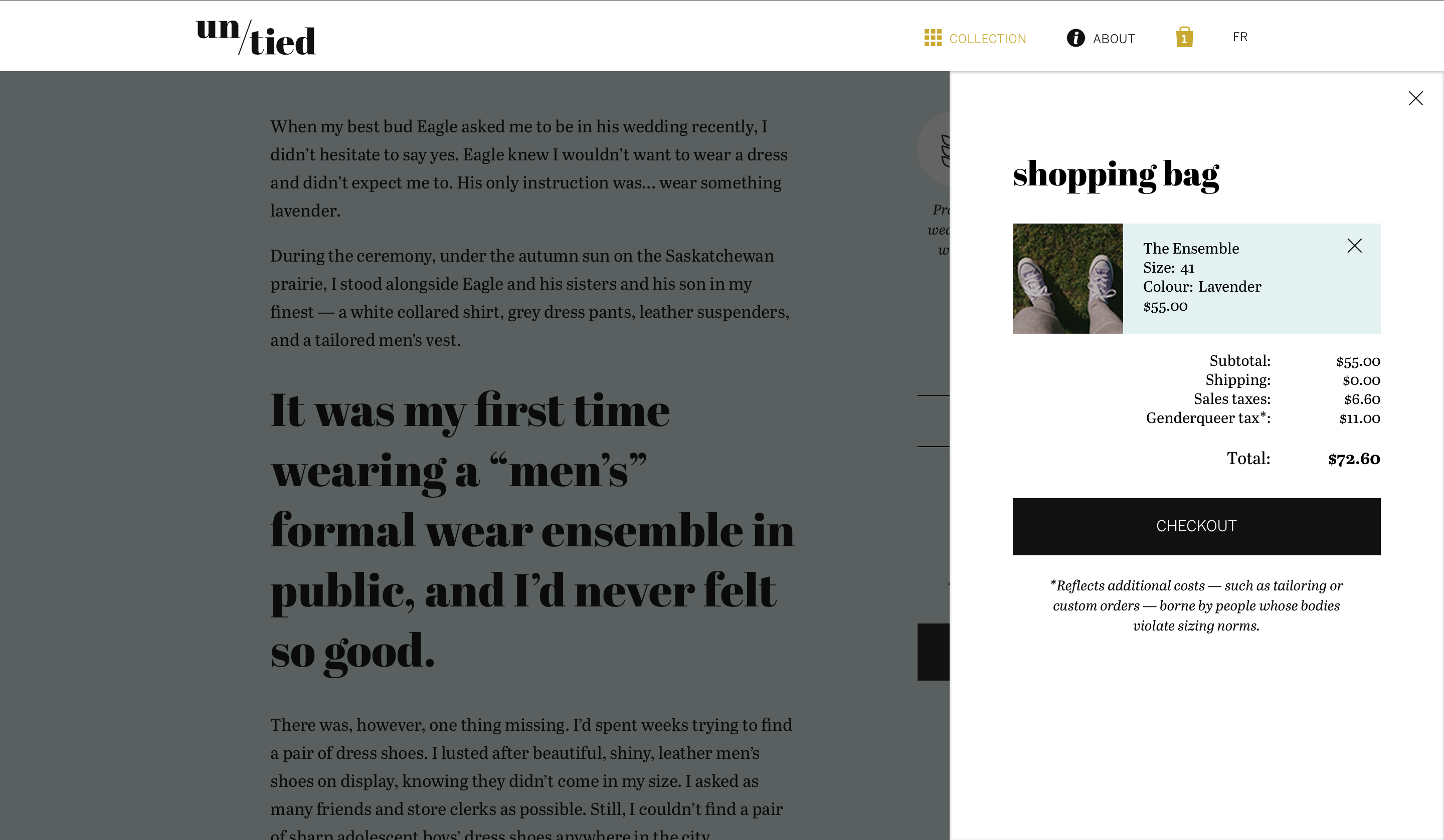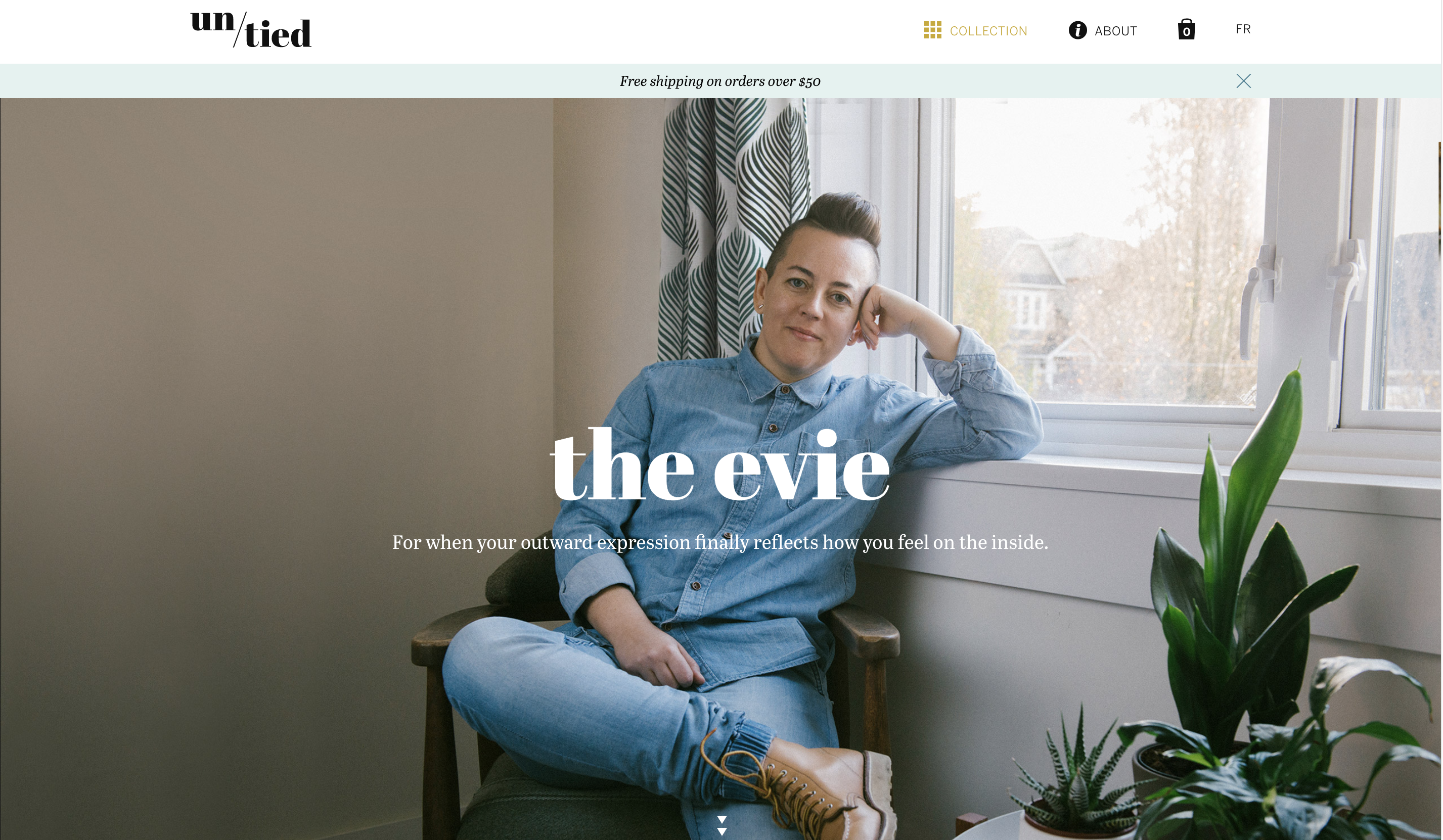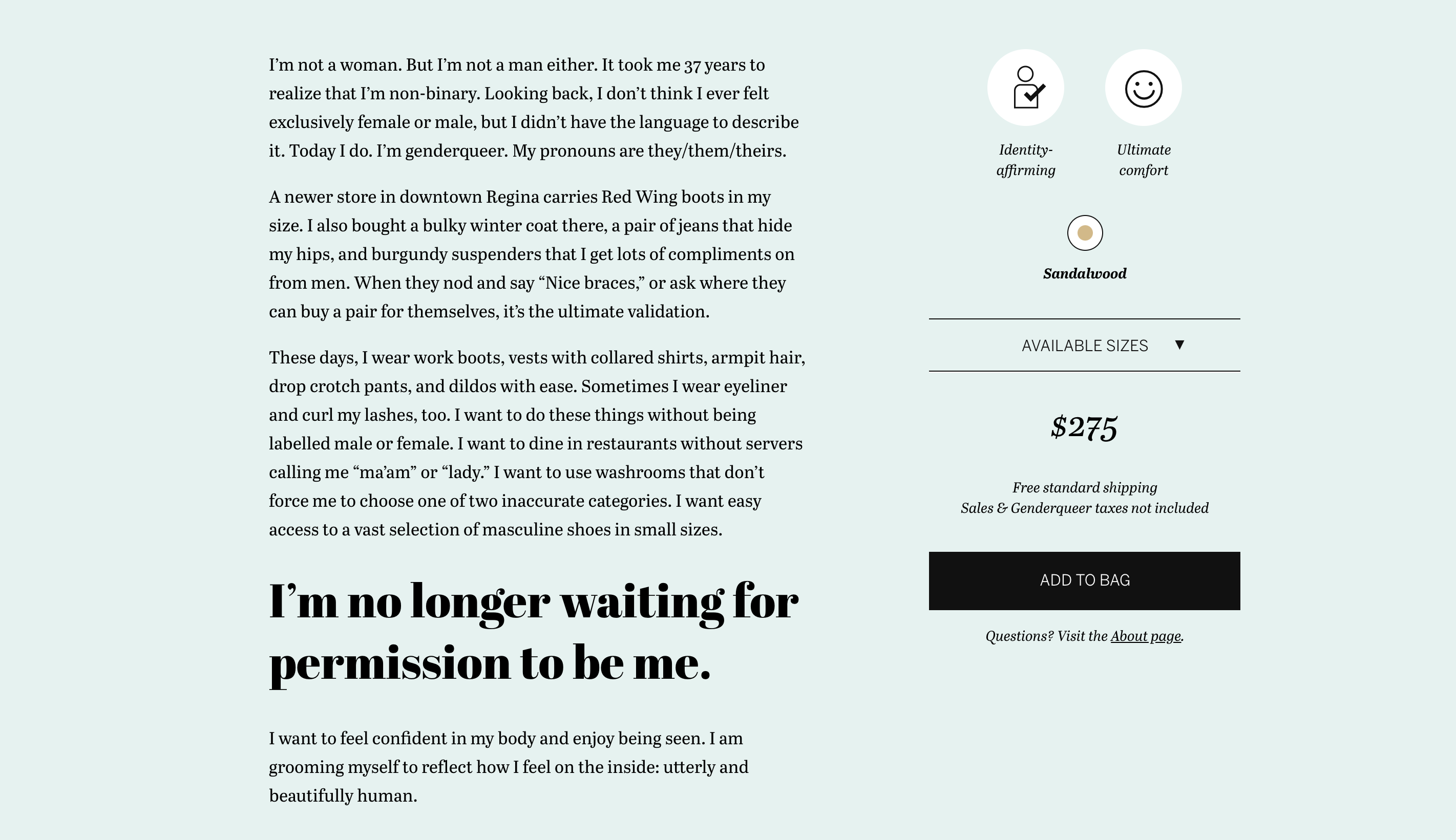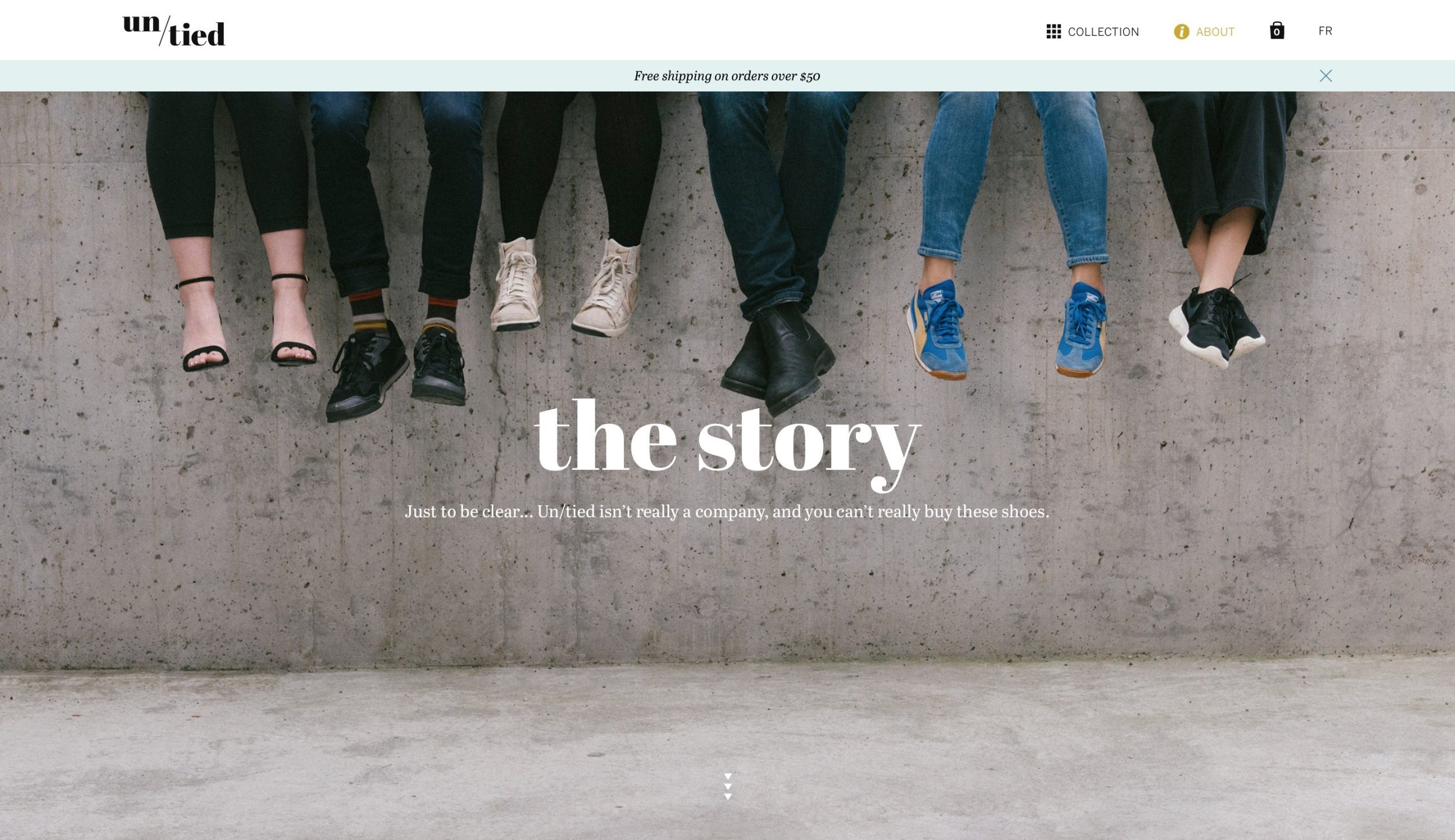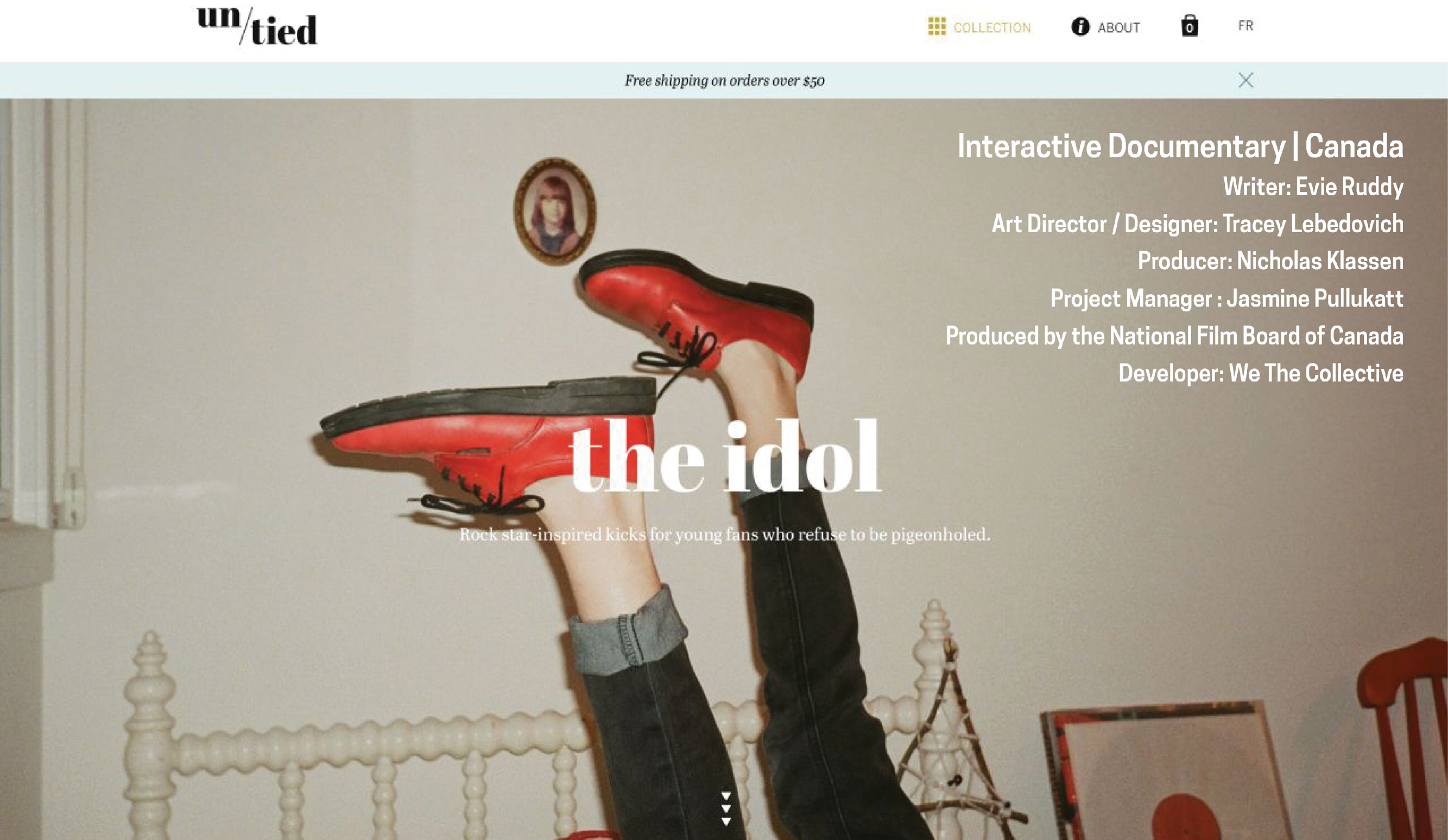 Un/tied Shoes
"I daydreamed of how his boots would look on me. Rugged and tough. Girls weren't supposed to like ugly things, but I barely felt like a girl, and I needed a way to communicate that."
— Evie Ruddy
Growing up, Evie Ruddy didn't quite feel like a girl, or a boy, and resisted gendered expectations. Only recently, with the growing awareness of non-binary identities, did Evie move toward a more androgynous gender performance and begin using they/them pronouns.
Un/tied Shoes
tells the story of how gender conventions have impacted Evie's life, with footwear as markers along the way.
Un/tied is presented as an online shoe company, but visitors expecting to browse the latest styles will instead find a first-person account of self-actualization and contesting categorization. Thanks to gendered fashion industry conventions, buying shoes and clothes that reflect their identity has been a lifelong challenge for Evie. Framing their story as an online shopping experience underscores the hardship many non-binary and transgender people face trying to reflect their gender identity in their outward appearance. It's an everyday illustration of the deep-rooted mores and social codes that determine who can wear what, and in which circumstances.
With Evie as our guide, Un/tied invites us to step into a future with more options, fewer labels, and shoes that come in all sizes, for all people.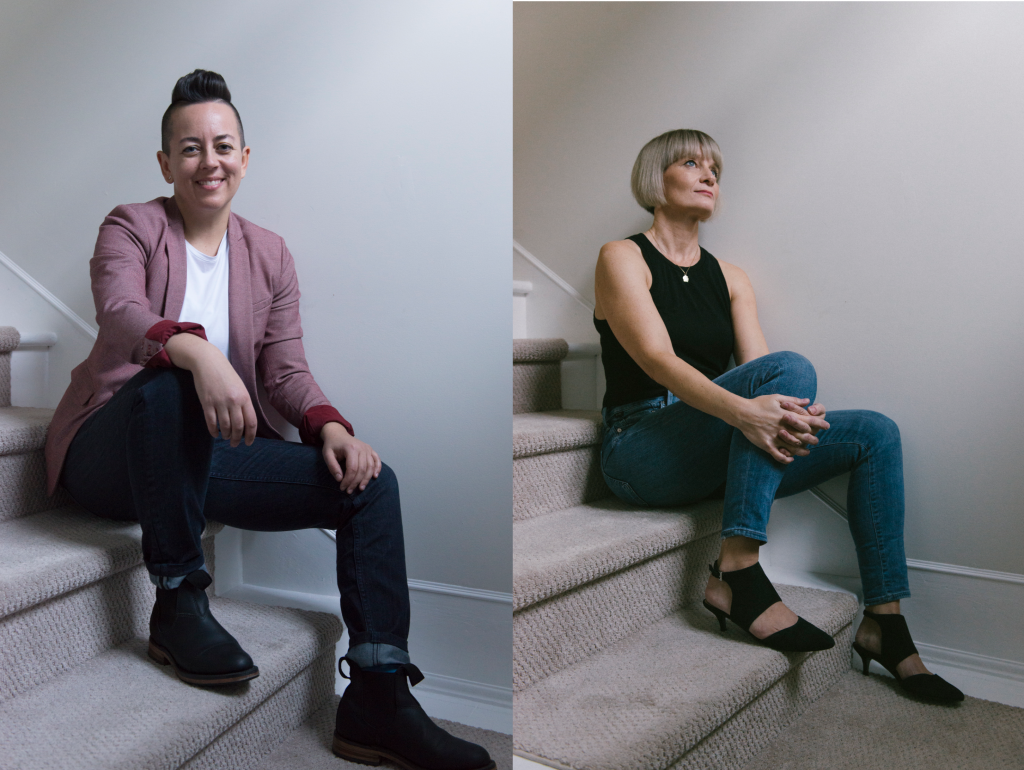 Evie Ruddy covets men's shoes. But at five feet tall, Evie faces shoe and clothing choices that are limited by the mainstream fashion industry's assumptions around gendered categories and sizing. Evie is genderqueer, uses they/them/their pronouns, and has long struggled to match their outward appearance to their trans-masculine gender identity. They live in Regina, Saskatchewan, where they work as a communications officer, freelance writer, and audio walking tour producer. Their short documentaries and essays have been broadcast nationally on CBC Radio, and their print work has appeared in the National Post, the Toronto Star and numerous other publications.
Tracey Lebedovich is an art director, designer and shoe-lover based in Vancouver, BC. With more than 18 years of experience, she has worked on award-winning projects for a wide range of corporate and cultural clients spanning every medium, from interactive to photography to documentary film.
Nicholas Klassen (producer) is an interactive producer with the National Film Board of Canada's Digital Studio. Drawing from more than a decade of experience creating and producing online content for the social and cultural sector, he works with filmmakers, writers and artists to produce interactive storytelling projects that push the boundaries of story, form and platform. Prior to his work at the NFB, he co-founded the creative and online strategy agency Biro Creative, where he advised leading movement-building organizations like Greenpeace, WWF, and Avaaz.org on a number of Webby Award-winning and -nominated projects. He has also served as Senior Editor at Adbusters, overseeing editorial content for the globally recognized magazine.
THREE QUESTIONS FOR THE CREATORS
Why this? Why now?
Evie Ruddy: For years, I've struggled to fit into the style of shoes and clothes that reflect my gender identity. As a small, masculine-presenting, non-binary person, I often leave shopping malls empty-handed and feeling defeated. The shoes that I long to wear — formal "men's" dress shoes — are nearly impossible to find in small sizes due to gendered assumptions within the fashion industry. These assumptions make it extremely difficult for people like me — who violate gender and sizing norms — to reflect our identities in our outward appearances. With people becoming increasingly educated about transgender and non-binary identities, we hoped that this project would create further awareness about harmful and unnecessary gender divisions, particularly within the fashion industry. We also hoped it would compel clothing-store owners, who market certain clothes to men and others to women, to question this practice and begin offering shoes and clothes in all sizes, to all people.
Tracey Lebedovich: I was excited to be brought on to this project with the talented National Film Board of Canada crew in order to help bring Evie's story to life in a unique way. We wanted to find a new approach to digital storytelling, to present the story in an unexpected way and in a format that could help put people directly into Evie's "shoes". After researching online and in-store fashion and shoe brands, it became clear to us how the vast majority of stores still force a decision of boy/girl or man/woman upon their visitors right off the bat. What about those who don't fit neatly into those labels? And what makes an article of clothing or style of shoe belong to one group and not the other? Gender labels and assumptions are so ingrained into our culture that they are often overlooked and rarely questioned. We were excited to be able to tell Evie's story in a way that subverts these norms and allows people to take a deeper look into the way things are the way they are. Evie's storytelling is personal and real and I was thrilled to be a part of introducing this story to a wider audience. It was also very fun to create a new brand from scratch — from naming, to logo, through to the brand look & feel and website.
What were you surprised to learn as you were making it?
Evie: I had initially started with the idea of laying out my shoes from over the years to show the progression of my gender identity. This idea surprisingly evolved into presenting my story as an online shoe store with a twist. When we began the project, we didn't foresee it taking this shape, so arriving at the final format was a nice surprise. I was also surprised by the number of people who told me they had wanted to buy the shoes, even though it was clear they weren't really for sale!
Tracey: What I came to realize during this project was how much gender roles are still defining the fashion industry. What a wonderful world it would be if everyone could present themselves on the outside as they feel on the inside, and still be equally accepted. As a cis woman, I have little interest in dressing in a "feminine" style and I think having the freedom to show the world who you are is so important for everyone. And as a mom, having to shop in "boy's" sections and "girl's" sections in particular, it just seems so ridiculous to me now. It should just say "kids" section. And for adults, just "people". Let the individual decide what works for them. When the project launched we received some great heartfelt support on social media, so much so that I wished we could have filled this need in the marketplace for real. The time is right for gender neutral fashion to go mainstream. And yes, Evie's old shoes would have been hot sellers!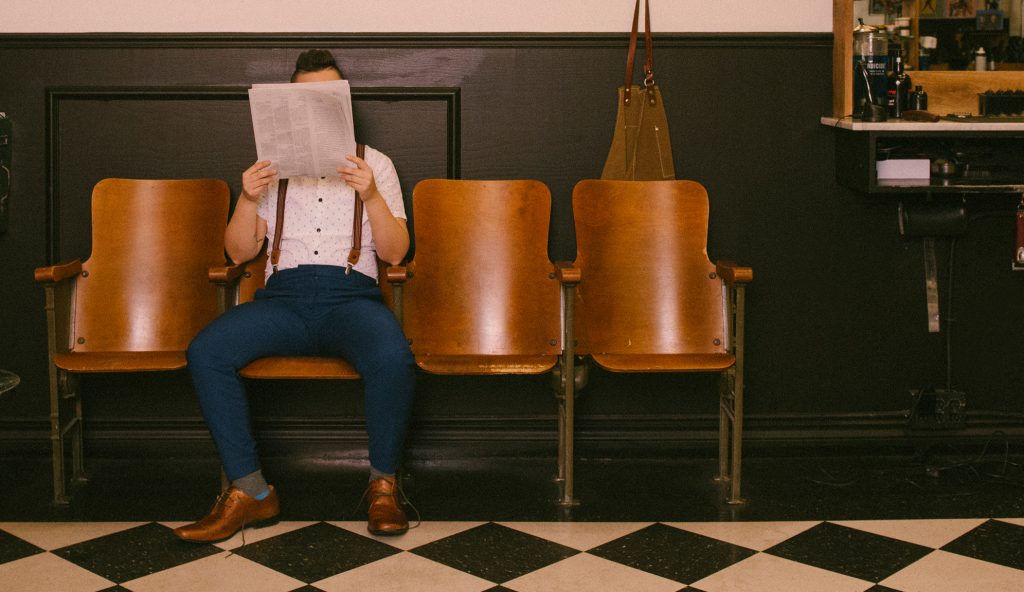 What was the most challenging aspect for you?
Evie: The biggest challenge for me was deciding if the online store should emulate my shopping experience or present an idealized shopping experience for people of all genders. We settled on a mix, but leaned more toward replicating the challenges I face as a non-binary person. For example, when users arrive at the site, they are asked to click on one of two gendered categories – men's or women's – in order to enter the online shoe store. Some of the shoes are also available in limited sizes (i.e. the high heels are only available in smaller sizes, whereas the "boys'" hiking boots are only available in larger sizes). We also added a genderqueer tax at the checkout to reflect the added cost of having to make alterations to clothes or pay added fees for custom orders. While these aspects reflect some of the challenges I face, we also wanted to present some possibilities for how the fashion industry could change, hence why we used a gender-neutral sizing chart.  
Tracey: For me, the biggest challenge was how to create the visuals of Evie's life, from babyhood to now, through original photography. We had to try to recreate small moments of Evie's life the best we could – from different eras, in different places, through different ages to reflect their story in an authentic way. And with a small budget. We did encounter a few challenges in making these images. We needed to shoot different kids for each part of Evie's childhood that was mentioned in the story, without people getting distracted by the fact these weren't Evie — so we decided to avoid showing faces until Evie revealed themself in their portrait at the very end. Which created a more personal, intimate ending. For most of the shoes featured on the site, Evie had kept them from their childhood for us to use, but a few key ones were missing. Many many hours were spent online shopping and going to thrift stores to find the exact shoes that Evie was writing about. We were beyond thrilled that we managed to track down the almost exact Salomon hiking boots from the 1980s. Unfortunately the rubber was so old that the soles of the shoes literally started to disintegrate as the model was walking on the day of the shoot. And the red Corey Hart shoes had to be driven up by a friend from the US as we couldn't get them shipped to Canada. For the photoshoots, we worked with an amazing young fashion photographer, Lauren D. Zbarsky, who nailed the '70s to '90s aesthetic by shooting film and using a vintage automatic flash pocket camera. Her creativity helped bring our vision to life.
"Launched in June 2019 in the guise of a fictitious online shoe store, 'Un/tied Shoes' takes viewers on a mock lifestyle-driven online shopping experience, the kind in which each customer envisions their journey reaping the-ultimate-pair-of-shoes-that-will-finally-make-my-life-complete. . . . Shoes, of course, being a metaphor for the much meatier matter of how mainstream fashion empowers — or denies — our ability to comfortably express our true identity. . . . Society has grown more accepting of trans and non-binary people, but the issues they face are still often neglected or misunderstood. But Ruddy believes everyone can relate to wanting a pair of shoes or a piece of clothing that informs their identity."
"A new kind of store has popped up in Regina's atmosphere, one that displays the struggles genderqueer and non-binary people face when they shop. 'Un/Tied Shoes' is an online shoe store, with each pair telling a story about what it's like to be non-binary in a gender-specific world. . . . Ruddy said they hope the site is a call to action for the industry to get away from the confines of two genders. . . . 'I invite them to think about making these styles of clothes for all sizes and all shapes of people.'"
Un/tied Shoes
Medium:
Interactive Documentary
Created by:
Evie Ruddy and Tracey Lebedovich