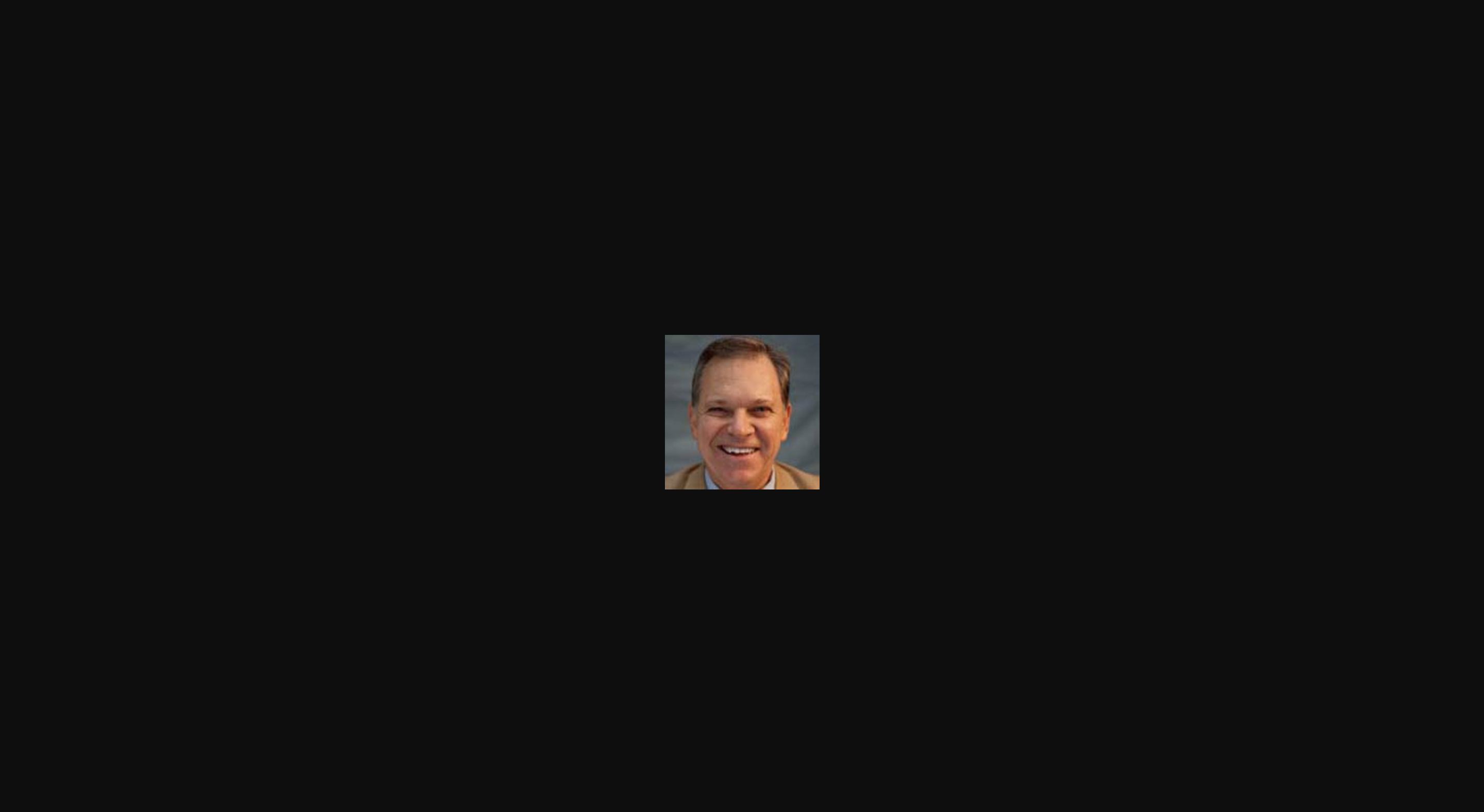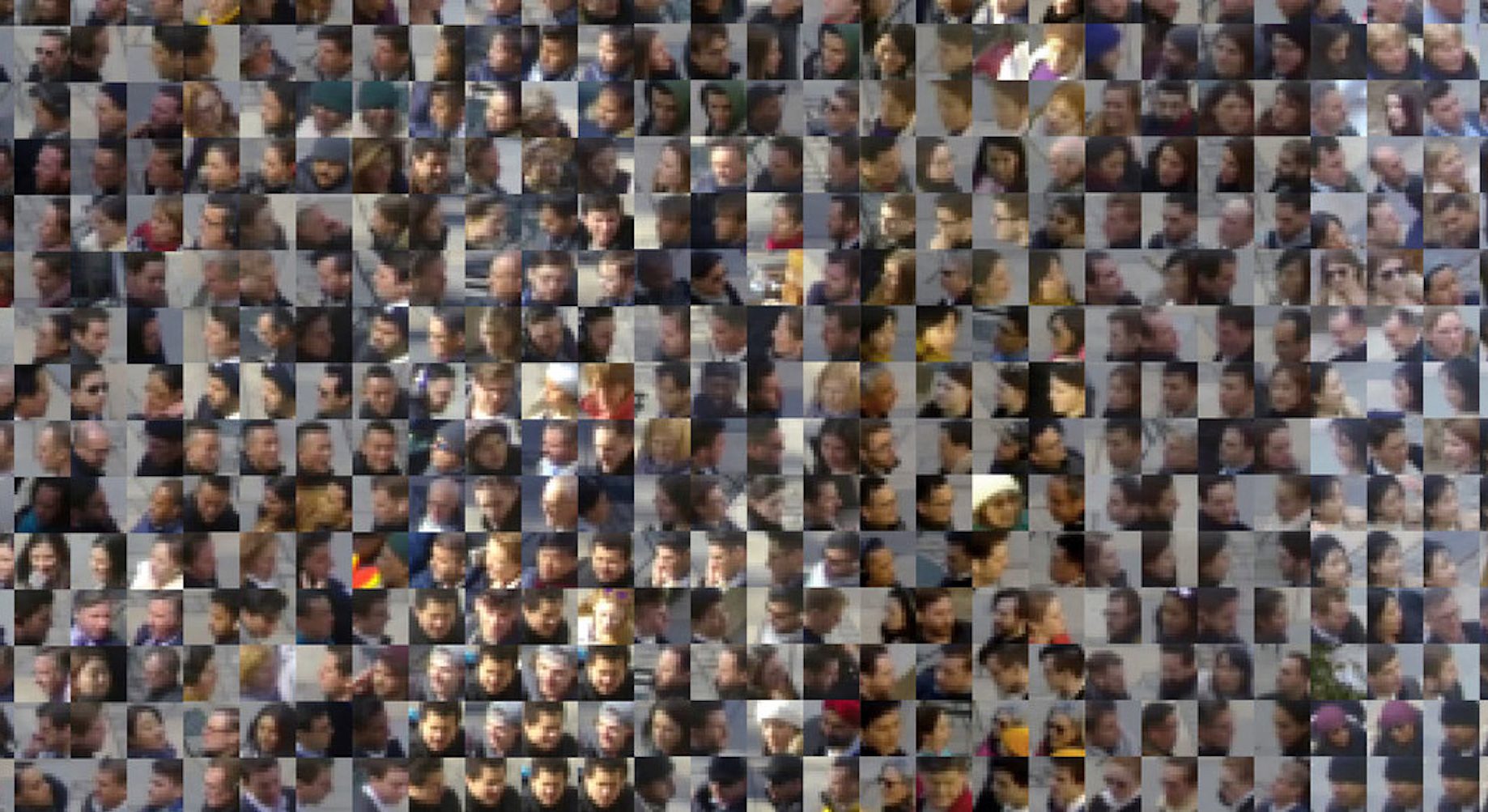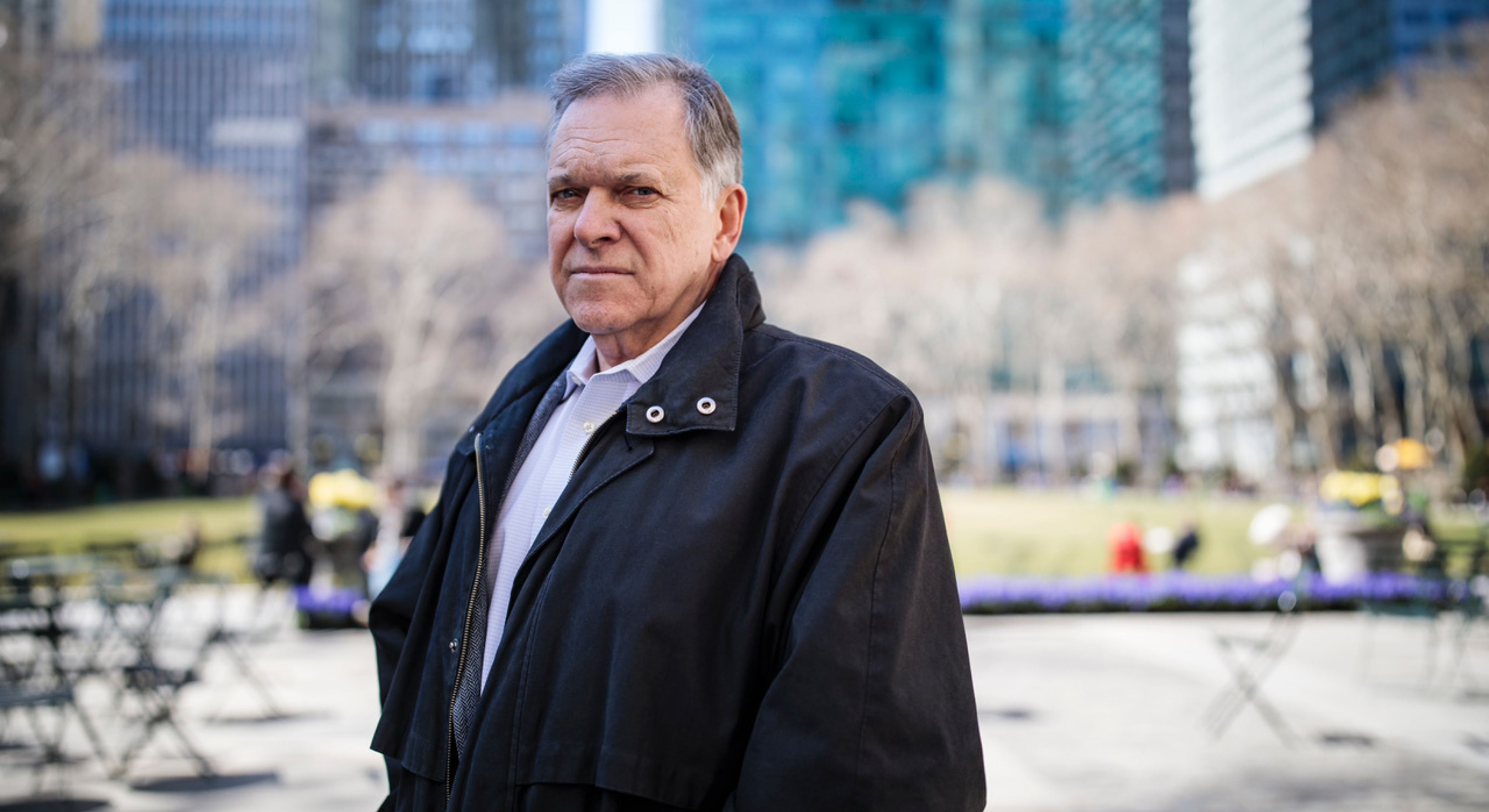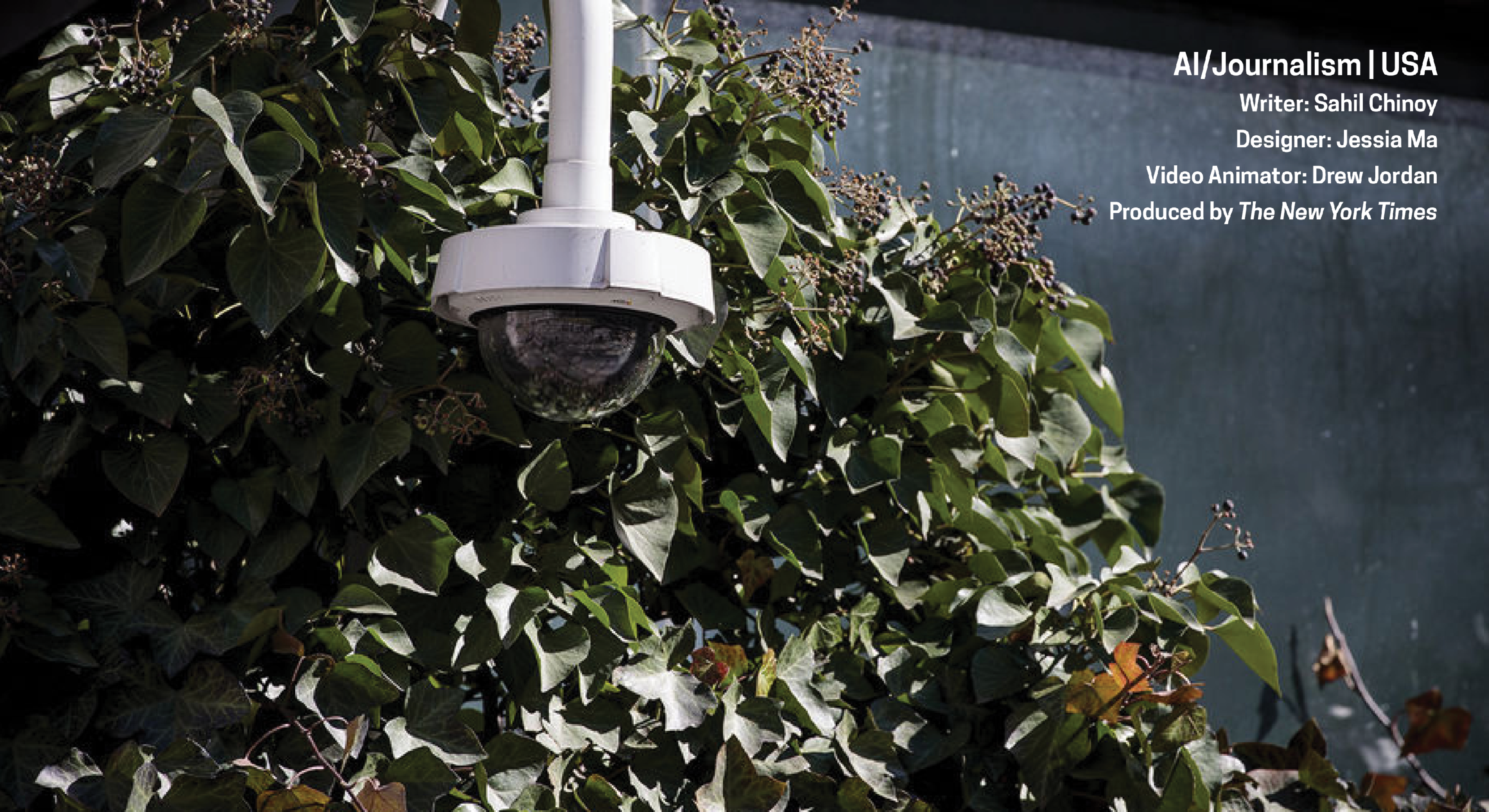 Facial Recognition Machine

On the east side of Bryant Park in Midtown Manhattan, three cameras on the roof of a restaurant film the lunch crowds, tourists and commuters — everything that goes on each day. The feeds are streamed publicly online. We were able to turn those cameras into a facial recognition-powered tracking system for less than $100 — using a service available to anyone with an internet connection and a credit card. The process was completely legal.
How easy would it be to figure out who was in the park? We built a database using public photos of people who work in the area and matched a college professor on his way to lunch. All it took was a few days' work. The cameras are just three among thousands across New York City. And if you're an adult in America, there's more than a 50 percent chance that you're already in a law enforcement facial recognition database, according to researchers at Georgetown.
— Sahil Chinoy, The New York Times
For its use of the advanced AI that powers facial recognition technology to report a story on facial recognition technology in a way that dramatically highlights its threat to individual freedom, the Digital Storytelling Lab grants its top award for 2020 to Sahil Chinoy and The New York Times.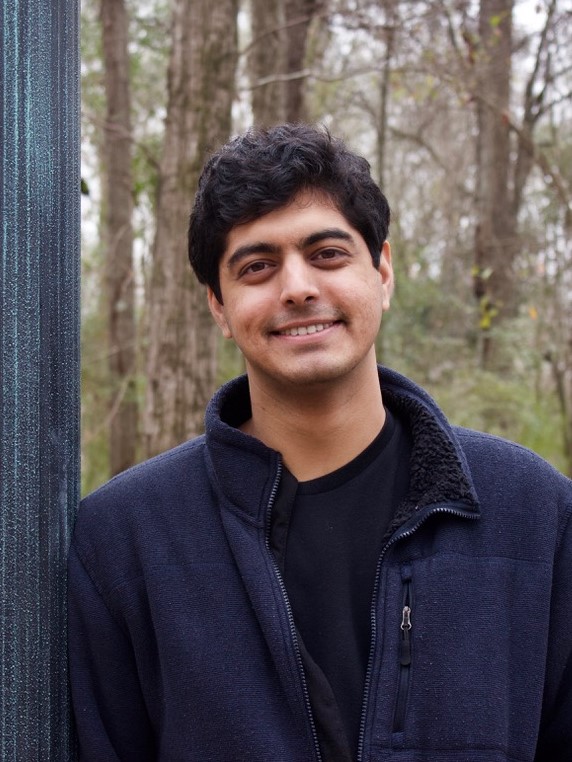 Sahil Chinoy was a graphics editor for The New York Times Opinion Section in the spring of 2019 when he reported and wrote a story called "We Built an 'Unbelievable' (but Legal) Facial Recognition Machine" for the Times Opinion Section's Privacy Project. Having already earned a B.A. in physics and economics at the University of California, Berkeley, he subsequently left the Times to pursue a Ph.D. in economics at Harvard.
THREE QUESTIONS FOR THE CREATOR
Why this? Why now?
Sahil Chinoy: The Opinion Section's Privacy Project wanted to provide a comprehensive look at the changing nature of digital privacy, and an important part of that landscape is technology designed to surveil and track our bodies. My editor, Stuart Thompson, was interested in doing something around facial recognition — it seemed to fit the thrust of the project quite well, and we had had a few researchers and academics who seemed quite concerned about it come to chat with the editorial board. Facial recognition technology has rapidly improved in the last few years and is now accessible to pretty much anyone with an Internet connection, so we wanted to create a demonstration of how good the technology has become and how prevalent it is in our daily lives, often without our knowledge.
We were kicking around ideas in a conference room one day and someone pointed out that there were a bunch of cameras in New York City that stream publicly online. I did a bit of looking and was pretty disheartened because most of the public ones are mounted too high or are too low-resolution for effective facial recognition — but this camera (really three cameras) in Bryant Park was an exception. I grabbed a couple stills and ran them through Amazon's Rekognition service (which I was familiar with from another project I was working on, a piece called "The Racist History Behind Facial Recognition"), and I was pretty shocked by how well it detected faces.
It's easy to dismiss facial recognition as innocuous — I commonly hear some variation of "I have nothing to hide, so why should I be worried?" — so we thought hard about how to make it clear that this technology has vast implications that threaten the civil liberties of even law-abiding, "ordinary" citizens. What could be more ordinary or innocuous than a midday stroll through Bryant Park?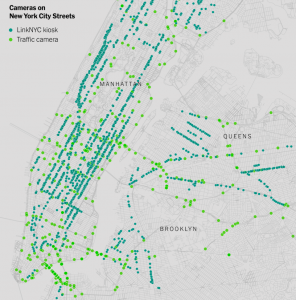 What were you surprised to learn when you were making it?
Chinoy: I was surprised by the gap between expert and public opinion on facial recognition. Technology researchers, academics and legal advocates were far more worried about facial recognition than I expected, and several argued that this technology is sui generis and needs to be heavily regulated or banned entirely. These are not the fringe opinions of conspiracy theorists, and some communities in the United States have already banned facial recognition. Yet I feel there's a large gap between those who are worried and the majority of people who think facial recognition is another useful technological boon — or who don't think much about it at all.
What was the most challenging aspect for you?
Chinoy: For me, the most challenging part of this project was pulling off a "stunt" that demonstrated the serious privacy implications of widely available facial recognition technology without crossing a line ourselves. We had to be careful not to unwittingly compromise anybody's privacy in our development, reporting or design, and we had long conversations about how to assemble and maintain a database of faces (we used only publicly-available photos from employers' websites) and about whether we could show pictures of the people who we captured images of but did not contact (we ended up pixelating them). We all felt that the final result would be worth it and would contribute to the debate about facial recognition, but we didn't want any errors in our own judgment to become the focus of the conversation.
"Dr. Richard Madonna knew there were cameras in the park near his office. 'If you're in the park enough and just look around, you could spot them,' he told CBC's 'Day 6.'
"Still, surveillance was the last thing on Madonna's mind when he strolled across Manhattan's Bryant Park on his way to get lunch on March 12. But about a week later, he got an unexpected call from The New York Times — asking him if he'd been in the park that afternoon around 1 PM. 'That day, now, will probably be etched in my memory forever.'"
"As government and private face databases expand and real time video detection accuracy improves, the cost of tracking us will fall ever lower. The Times notes that New York City police have access to 9,000 camera feeds in lower Manhattan alone. Jennifer Lynch, surveillance litigation director at the Electronic Frontier Foundation, told the Times that because of how quickly the technology has advanced, she would now support a wholesale ban on government use of facial recognition."
"A part of me finds this creepy. The other part wants to try out the system."
Facial Recognition Machine