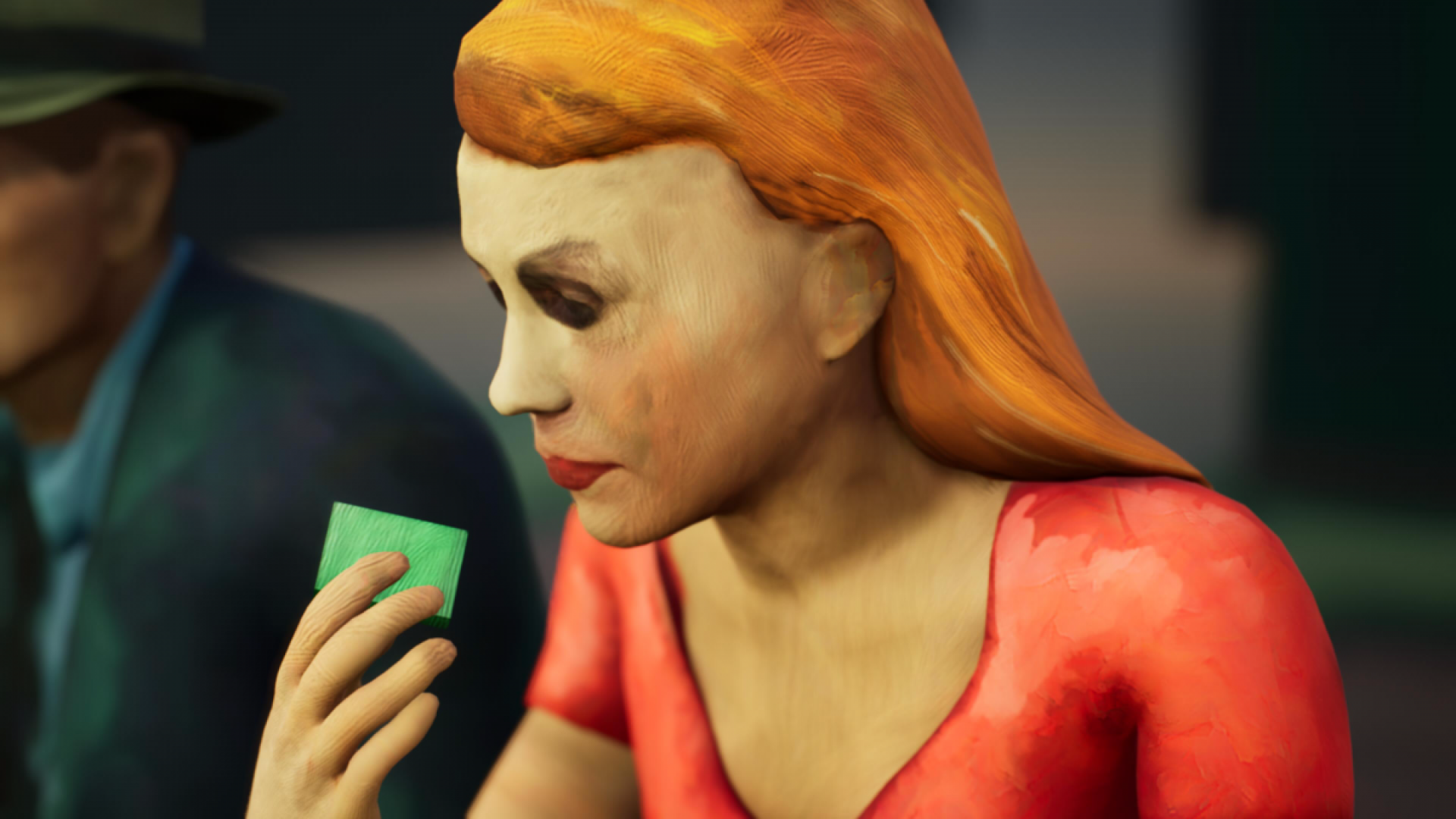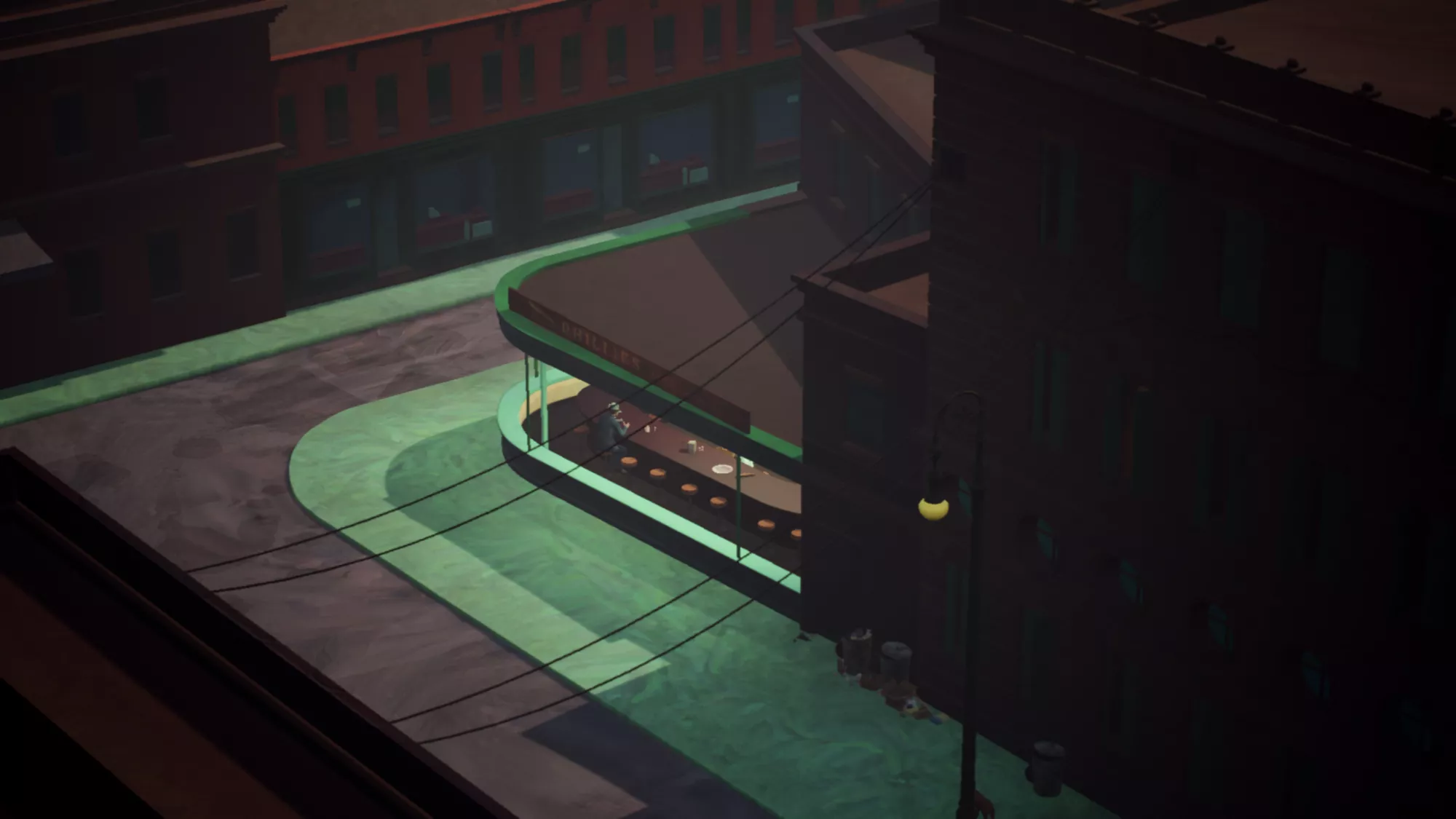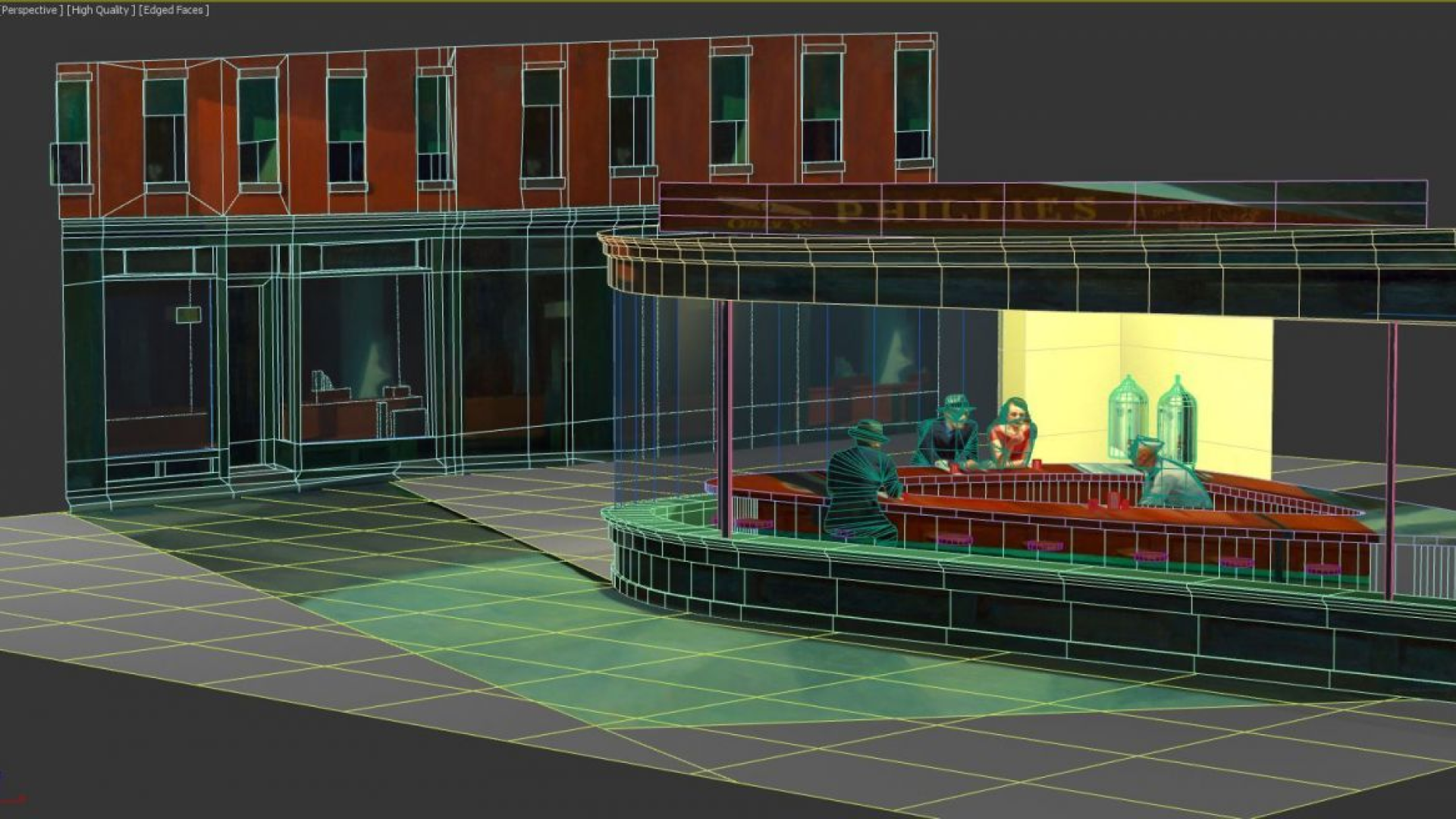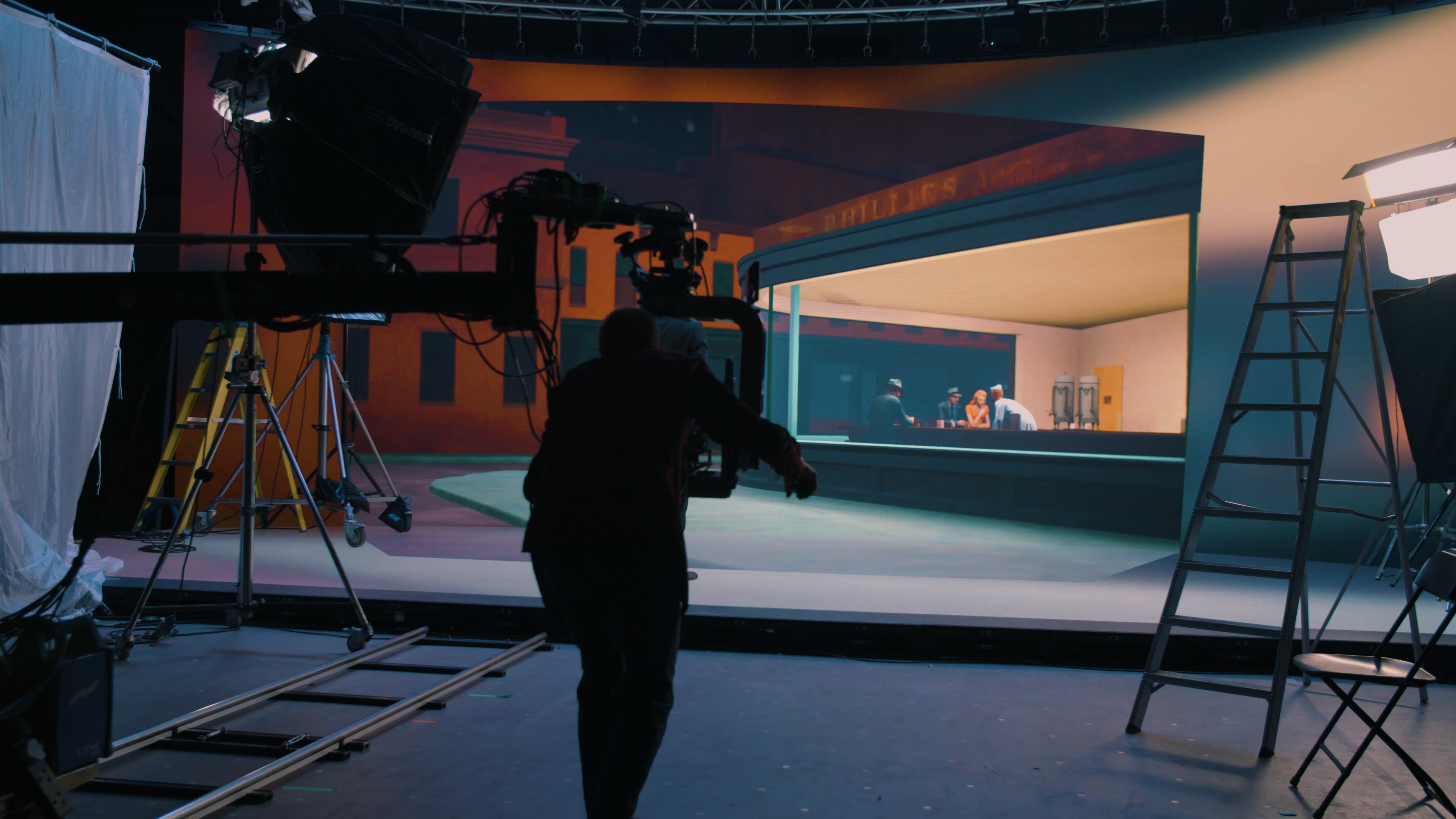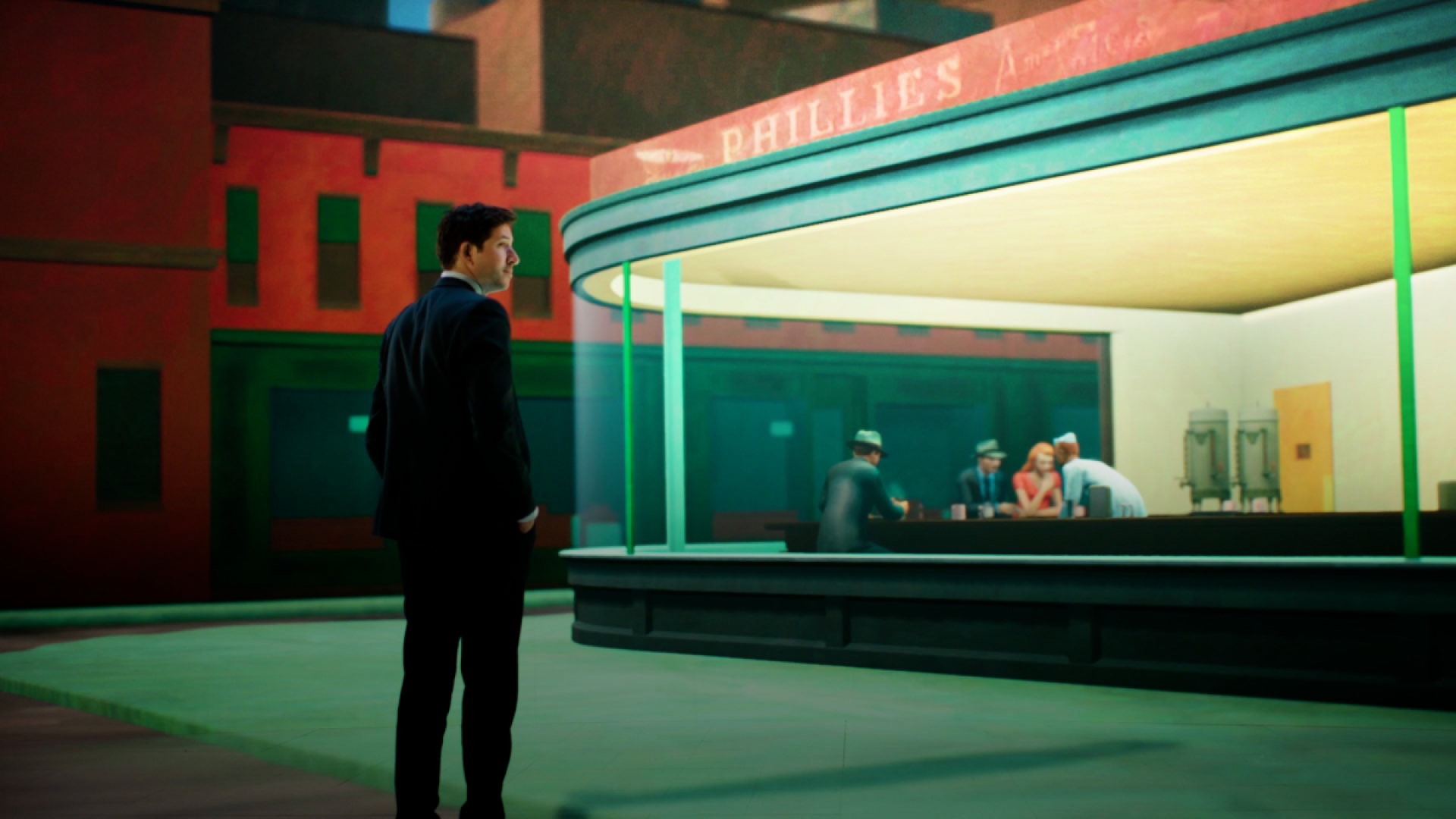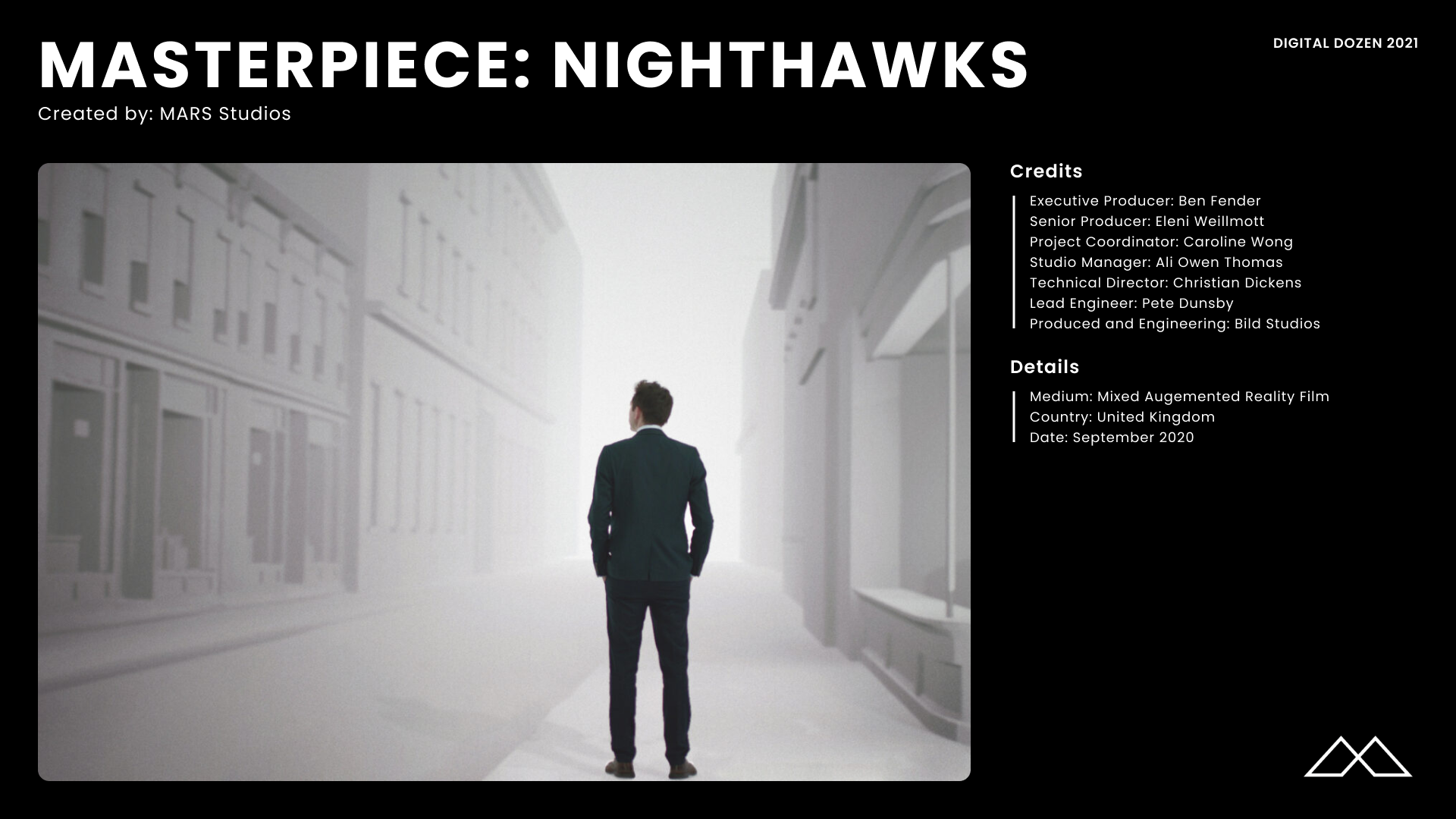 Masterpiece: Nighthawks
"Now we've turned the painting into a complete virtual world, we can manipulate it almost any way we like. We can introduce a cold winter fog that gets thicker and thicker, turning the light from the diner into a yellow haze. . . . We can even play with light conditions, turning darkness into dawn and dawn into midday, transforming 'Nighthawks' into 'Dayhawks.' "
— Dr. James Fox, in "Masterpiece: Nighthawks"
Masterpiece: Nighthawks places British art historian, BBC presenter and BAFTA-nominated broadcaster Dr. James Fox inside a virtual 3-D representation of Edward Hopper's Nighthawks — his famous 1942 oil on canvas portraying four people in a New York City diner late at night.
Considering Nighthawks as a narrative environment, the production and engineering team from London's Bild Studios worked closely with Dr. Fox and the creative team at The Experience Machine (TEM) to imagine how the painting could exist as a three-dimensional world. This gave them insights into the painting that had never been considered before—the shape of the bar; the relationship between the man and the woman at the far end; and on a more imaginative note, even the banner headline on the newspaper the other man has put on the counter: "1500 DEAD IN HAWAII".
The 3-D representation of Hopper's painting was created as carefully extracted 3-D geometry, with detailed layers of texturing, partly handmade, partly AI-generated, added to resemble Hopper's brush strokes. The 3-D scene was then imported into the Unreal game engine at MARS, Bild's new virtual production studio in London, and rendered in real time based on the position of the physical film camera.
Created as a pilot for the Masterpiece series and as a showcase for the potential of MARS, the project meshes the virtual and the physical worlds within a single lens-based journey. Real-world effects such as time of day, virtual depth of field, environmental lighting and other properties can be controlled through a tablet by the director on set. Using optical analysis to inform the digital reconstruction, the team uncovered new and unknown aspects of the painting's geometry. By enabling Dr. Fox to step into this virtual environment, they can craft the narrative journey from an entirely new perspective: the inside of an artwork.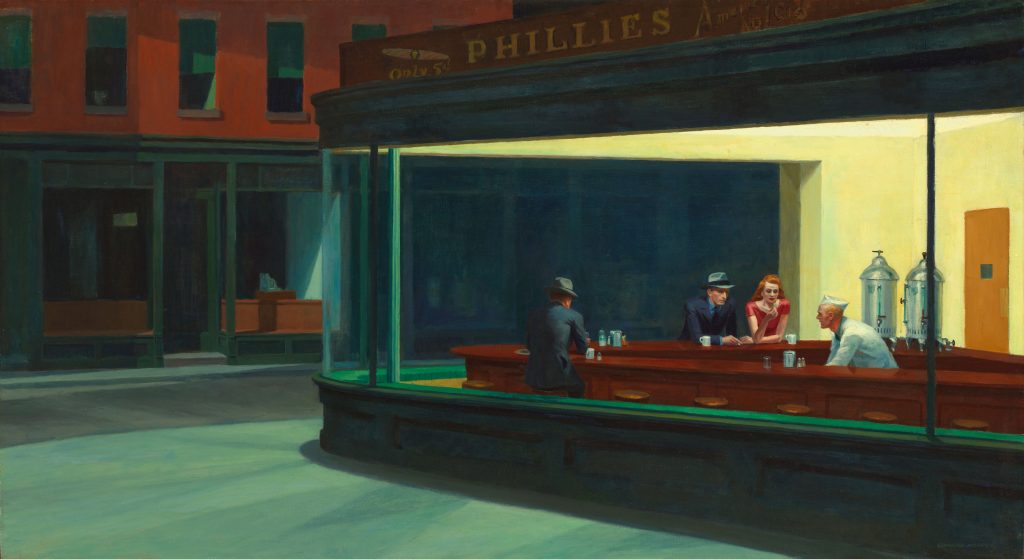 Edward Hopper (American, 1882–1967), Nighthawks, 1942. The Art Institute of Chicago.
ABOUT THE PAINTING
"What accounts for Hopper's widespread recognition today? The scenes and subjects he painted, from isolated houses and industrial landscapes to figures perched on beds in bleak hotel rooms or sitting silently in all-night diners, are unremarkable, even banal; his painting style is reserved. I argue that Hopper's enduring appeal relates to his visualization of modern American feeling and, in particular, his navigation of an 'emotional regime' that governed twentieth-century American life. Hopper's brooding and restrained pictures embody an emotional style that surfaced around 1900, flourished through the 1950s, and remains an iconic representation of modern American character, now vanished. As Peter Stearns explains, the early twentieth century saw the rise of 'American cool,' an inhibited emotional culture 'markedly different from its Victorian predecessor.'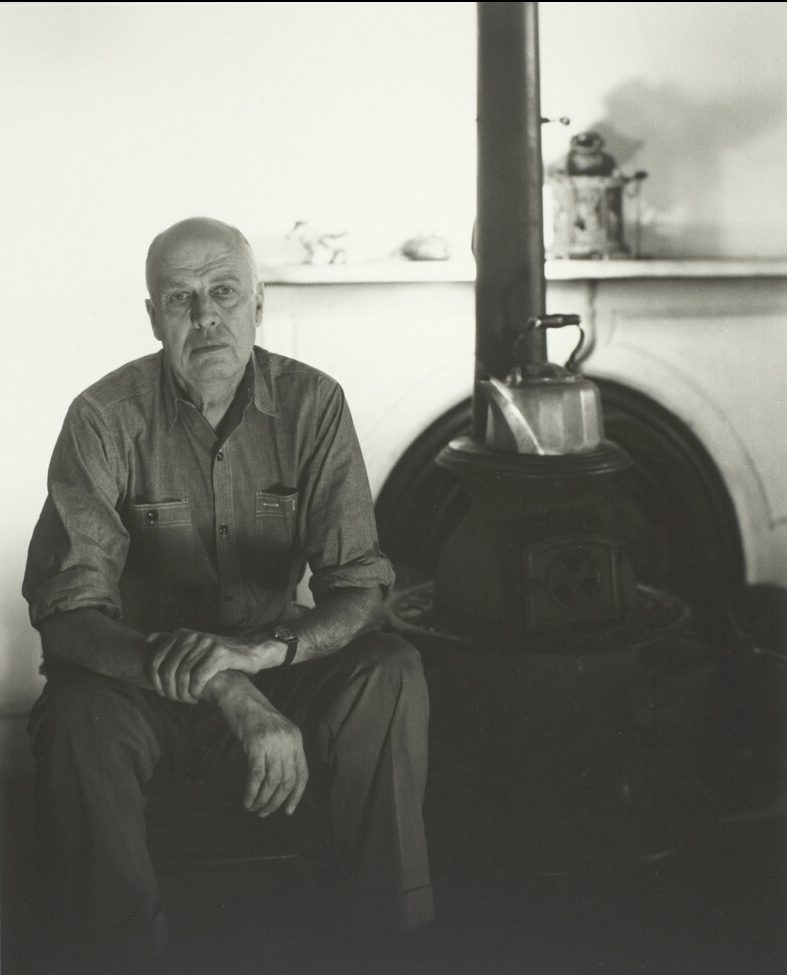 "If, broadly speaking, late nineteenth-century Americans embraced especially intense affective modes, from passionate declarations of romantic love to obsessive rituals of mourning and grief, early twentieth-century American emotional life was tempered by expectations of disciplined self-control. Multiple factors contributed to this shift, including widely held assumptions that certain feelings, in particular those deemed heated, rowdy, or unpleasant, were adverse to modernist scripts of rational thought, or coolheadedness. New patterns of social regulation and economic organization, including changes in middle-class family and gender relations, increased reliance on experts for advice and guidance, and the growth of managerial bureaucracies that imposed certain standards of appearance, collegiality, etiquette, and propriety in the workplace helped shape a modern culture of emotional self-restraint and social policing. New kinds of consumerism developed as compensatory outlets, encouraging Americans to transfer their unruly passions for pleasure, indulgence, and excess to modernism's regulated realms of shopping, entertainment, and spectator sports. . . . Drawing on popular and vernacular sources, including advertising and the movies, Hopper distilled the subjects and scenes of this newly cool American scene into emotionally restrained pictures that reflected the changed conditions of class, communication, intimacy, and work in twentieth-century America. . . .
"Links between Hopper and the movies, especially film noir, are well established; the critical point here is that in terms of both style and sensibility, paintings like Nighthawks and movies like The Maltese Falcon and The Big Combo exemplify twentieth-century American cool. Hopper's nighttime scene focuses on a diner plunked in an oddly empty urban landscape. In a 1960 interview, he remarked, 'Nighthawks seems to be the way I think of a night street . . . I simplified the scene a great deal and made the restaurant bigger. Unconsciously, probably, I was painting the loneliness of a large city.' Utterly still and oddly suffused in yellowish-green tones—fluorescent lights became commercially available in 1938—Nighthawks centers on the cast of four trapped inside: three customers leaning over a highly polished countertop and a white-capped busboy methodically attending to some kitchen duty. Silent and self-absorbed, the troupe is emotionally and physically detached from one another and the outside world. The icy female in the red dress stares at her fingernails or whatever she's holding in her right hand—a pack of cigarettes? a book of matches? a compact?— while the sharp-faced figure next to her, a tight-lipped tough guy in a dark suit and steel-gray fedora, gazes into space and smokes a cigarette.
"Dominated by themes of distrust, miscommunication, and hopelessness, the film noir universe similarly featured disaffected characters—hard-boiled detectives, femmes fatales, psychotic killers, tormented grifters, doomed lovers—entangled in enigmatic and fatalistic plots. Like many of Hopper's paintings, film noir focused on isolated individualism: the lack of intimacy in Nighthawks and other canvases is echoed in hundreds of noir films whose characters are similarly incapable of prolonged human contact, connection, or communication. Both similarly refuse narrative certainty, leaving viewers with more questions than answers. Grappling with issues of purpose and meaning, Nighthawks and film noir evoke and embody modernism's emotional regime of restraint and alienation."
—Erika Doss, "Hopper's Cool: Modernism and Emotional Restraint," American Art, Fall 2015
Erika Doss is a professor of American Studies at the University of Notre Dame and the author of American Art of the 20th and 21st Centuries and Elvis Culture.
"What many people do not know is that Nighthawks was Hopper's response to one of the greatest crises of his generation: the bombing of Pearl Harbor on December 7, 1941, and the entrance of the United States into World War II. Hopper enjoyed walking the city, but the experience must have felt remarkably different during those grim months that followed.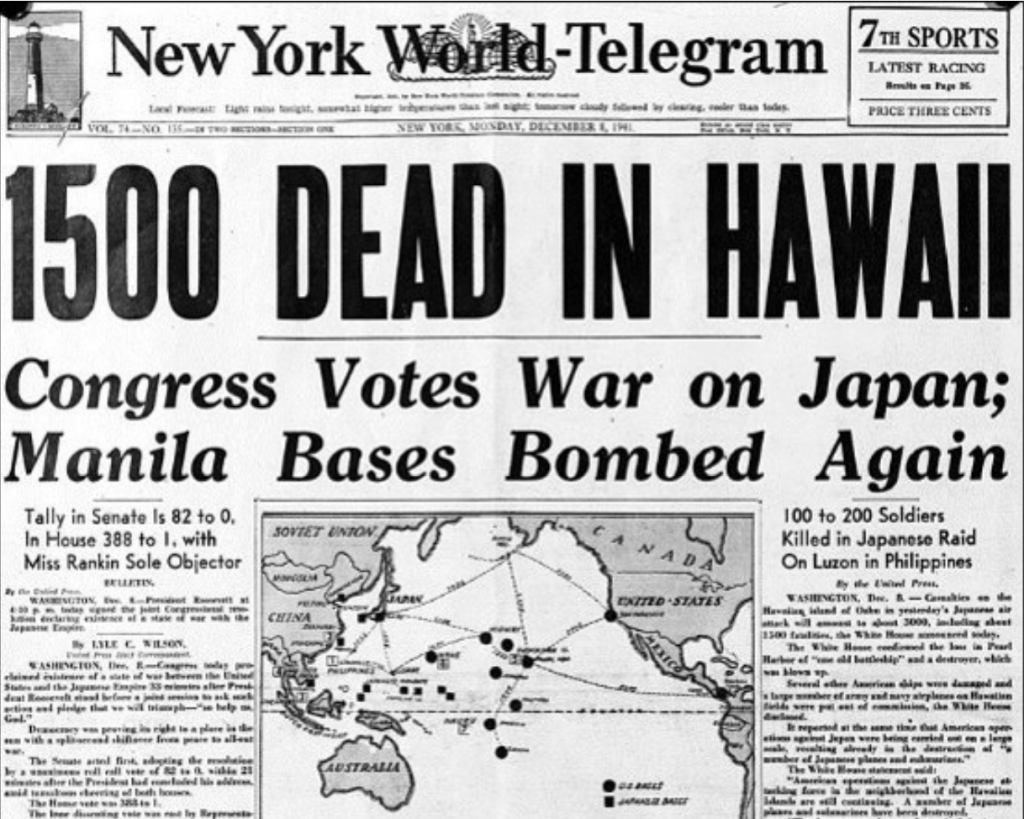 "Fearing attack by the Nazis, New Yorkers were subject to blackout drills and dimmed lights in public spaces. Hopper's walks were thus taken around a city literally and figuratively darkened by crisis. He later recalled how this darkness inspired Nighthawks and imagined what it would be like to come across a brightly lit diner in the middle of the night, with people—the 'nighthawks'—within.
"So what happens if we explore Nighthawks through the lens of Hopper's experience of a city at war? Does that influence how we read the painting? Perhaps Hopper saw this brightly lit diner not as a place of disconnection but as a beacon of light and hope against the darkness, a moment of finding community when everything outside seemed grim and unbearable. After all, he very purposefully included four figures, not just a lone figure as in many of his other paintings. What if Hopper's compositional decisions spoke to some inner need for social connection in a time of fear and isolation? . . . The enduring power of Hopper's Nighthawks is that we cannot know. We can only ever attempt to fill the void of uncertainty with our own interpretations—to find in the painting what we need to see."
—Sarah Kelly Oehler, Field-McCormick Chair and Curator of American Art, Art Institute of Chicago
ABOUT THE CREATORS
Bild Studios is the joint venture of experienced industry professionals Rowan Pitts and David Bajt. Based in a one-time metalworks factory in Hoxton, East London, they have worked with some of the the biggest music acts, production houses and shows around the world, including concerts and tours for Beyoncé, Lady Gaga, Jay Z and the Red Hot Chili Peppers, shows for major brands such as Nike, Samsung, Adobe, Mercedes, Cartier, Heineken and O2, and large-scale productions for Cirque de Soleil, Eurovision, Coachella and Glastonbury, among others.
MARS, Bild's newly constructed Mixed Augmented Reality Studio, opened its doors to the global creative industries in September 2020. MARS combines video game engines, camera-tracking technology, xR workflows and LED screens to create an immersive performance stage and studio. On MARS, virtual 3-D environments are mapped onto an LED stage, enabling performers, actors, presenters and products to be blended into a photo-real or imaginary virtual environment in real time. This helps give performers a visual reference by which to orient themselves—in contrast to a conventional green screen shoot, where visual elements are added in post-production. MARS has also proved suitable for use during the Covid-19 pandemic, since visual content can be produced without the need to travel to faraway locations and work can be carried out while maintaining the social distancing practices that suddenly became so important.
The Experience Machine, formed in 2015 by Christopher Pearson and Christopher Davenport, takes physical engineering, lighting design, moving image and visual programming to new places by embracing emerging techniques, new technologies and novel materiality. Headquartered in De Beauvoir Town in London's East End, TEM is a multi-disciplinary studio that hosts a growing community of thinkers, designers, technical experts, producers and collaborators as it explores the evolving possibilities for experience in both live and virtual spaces.
THREE QUESTIONS FOR THE CREATORS
Why did you create this work? Why now?
MARS was created to be the perfect environment to offer artists, creatives, broadcasters and art events' organisers unparalleled access to the highest quality, state-of-the-art Extended Reality (xR), Mixed Reality (MR), Augmented Reality (AR) and Virtual Production studio facilities. Masterpiece was created to provide a taster of the immersive art events and experiences possible when shot at MARS.
"Access to high-end xR platforms such as MARS alongside advances in game engine software has opened the opportunity to craft narrative journeys from an entirely new perspective: the inside of an artwork," said Christopher Pearson, founder and director of The Experience Machine. "Working closely with Dr. James Fox, we have been able to reimagine how a painting could exist as a three-dimensional world. This process has allowed the technology to reveal insights into the painting that have never been considered before."
What did you learn during the making of this work that surprised you?
Learning that the bar painted in Nighthawks could not have physically existed in real life was a particularly surprising takeaway. When we were building the 3-D world and virtually exploring the true geometry of the architecture, this exercise in perspective shed light on the unfeasible nature of the bar due to its angles and design.
In regards to the actual making of the work, I don't think anyone expected to feel so much when working at MARS. Because we had essentially built a new version of the painting to experience it as a world we could physically walk around in, navigating a space in person that we had only seen onscreen was incredibly surreal and liberating at the same time. We hadn't expected to feel so immersed in the world we had made.
What was the most challenging aspect of making this work? 
One of the most challenging aspects of making the work was replicating Hopper's artistic style. His painting style is unique and very textured, and the shading of his figures and the bar are also distinctive. To overcome this challenge, we achieved our replication of Hopper's technique through analysing the painting using AI and applying it as brush strokes in texturing software, painting digitally as if we were painting physically.
Masterpiece: Nighthawks
Medium:
Mixed Reality Film
Created by:
Bild Studios/The Experience Machine