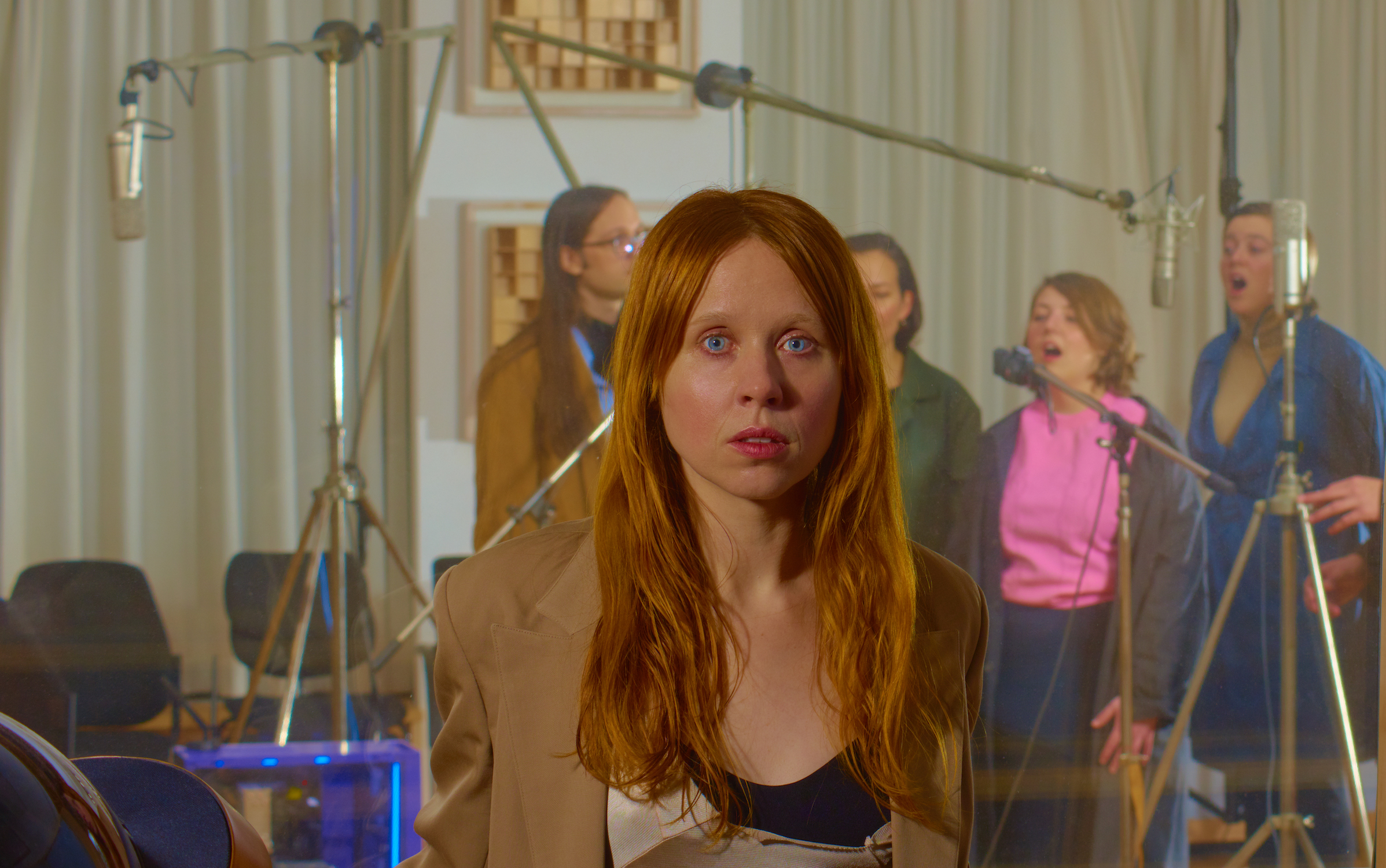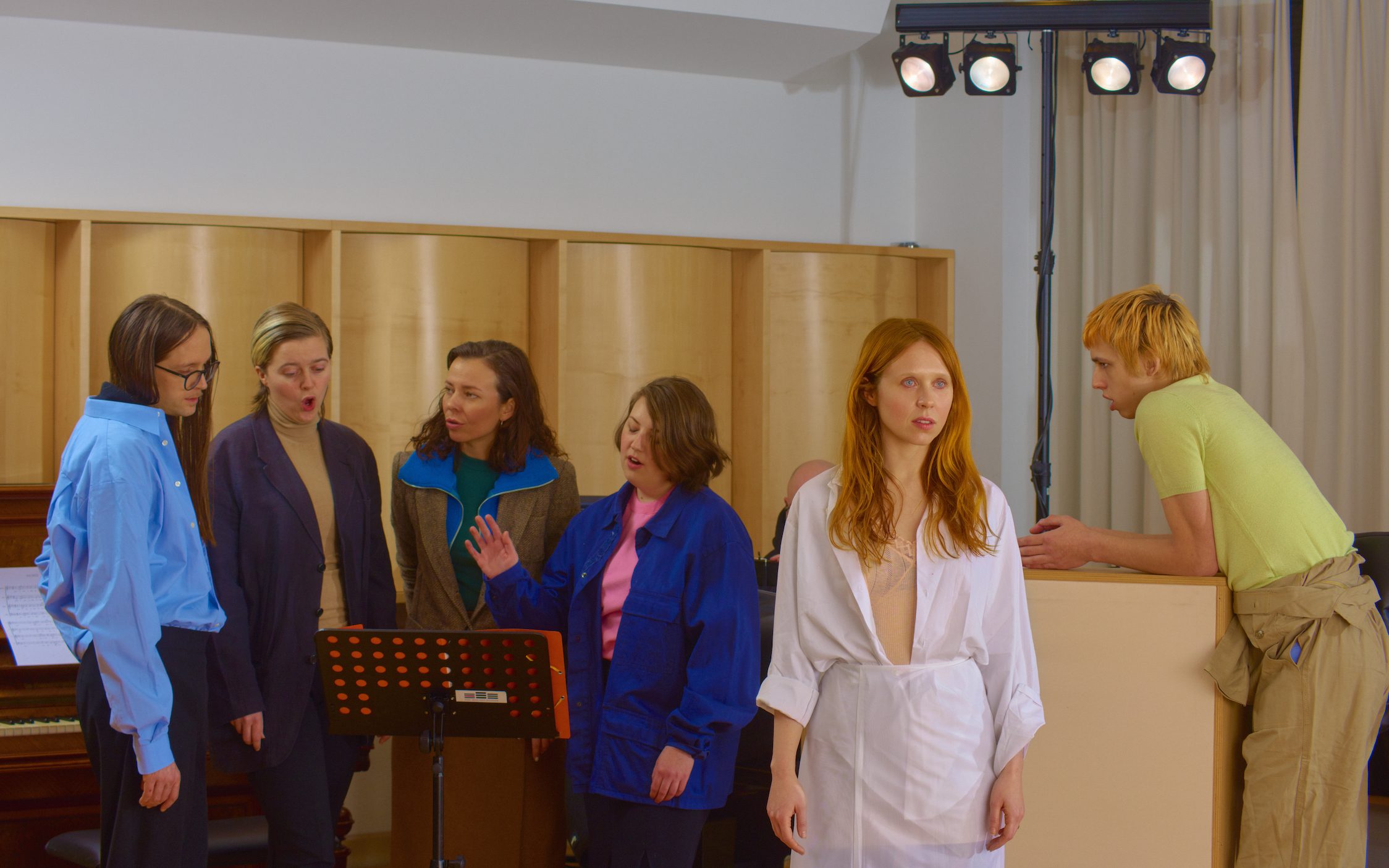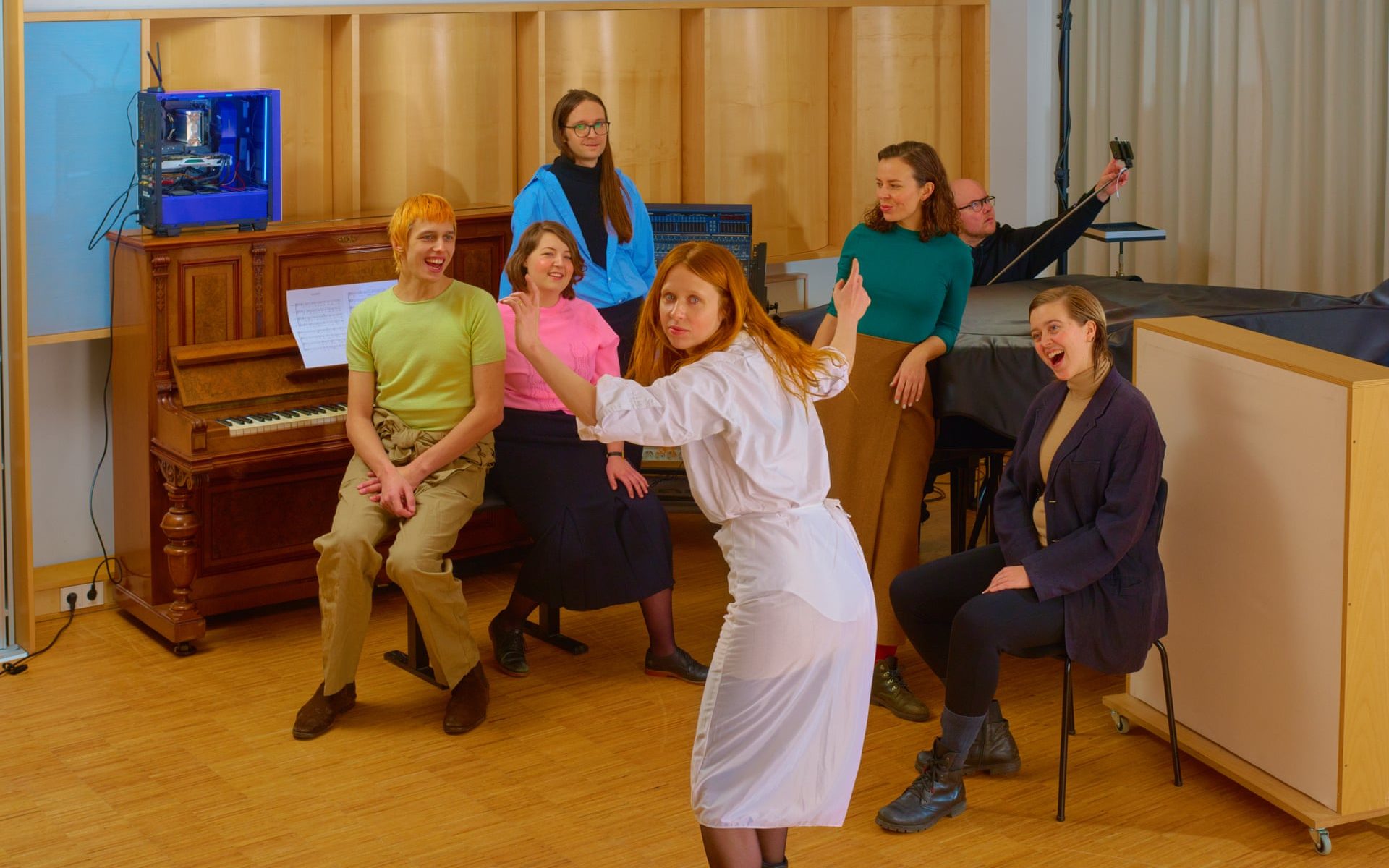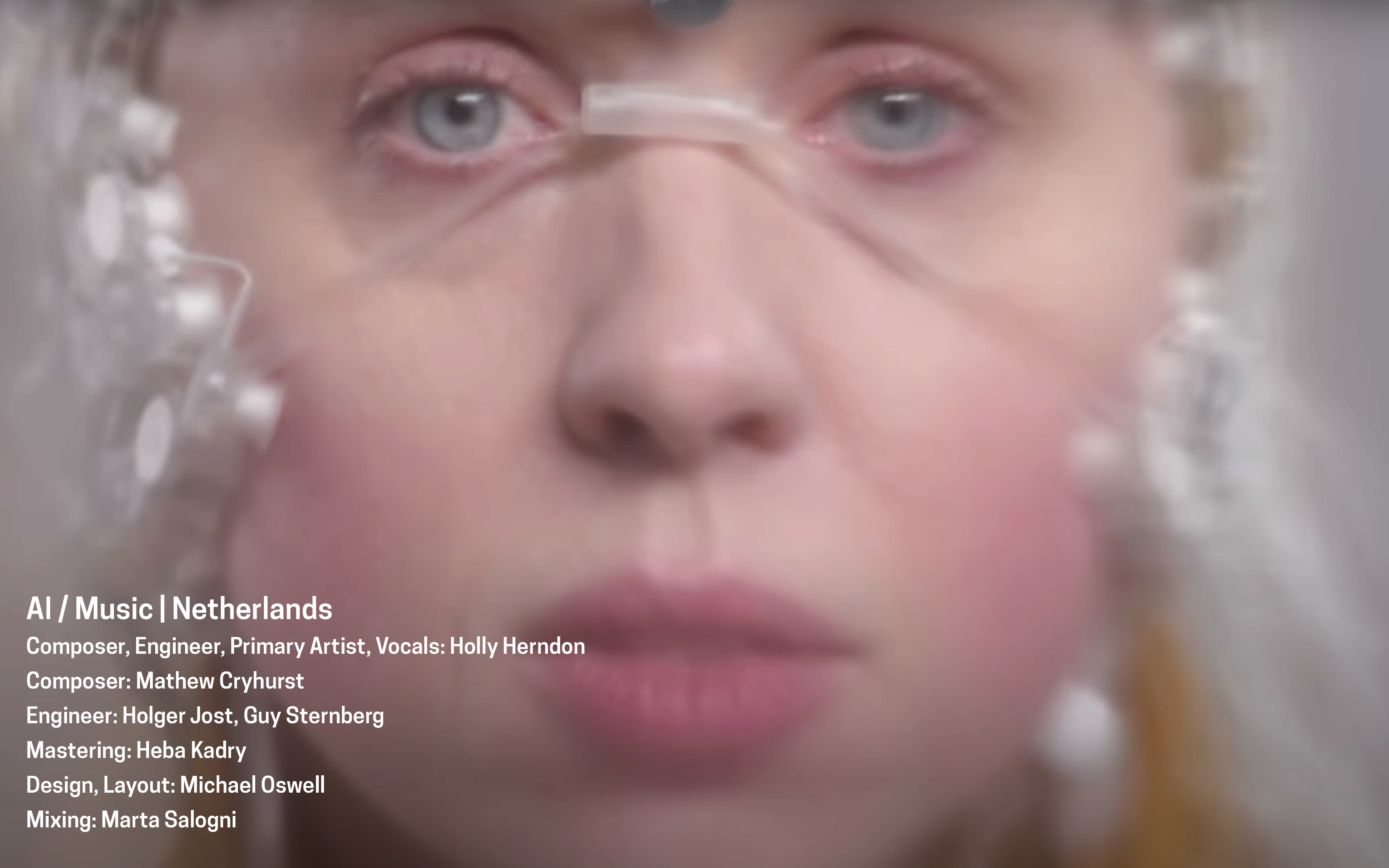 Proto
"There's a pervasive narrative of technology as dehumanizing. We stand in contrast to that. It's not like we want to run away; we're very much running towards it, but on our terms. Choosing to work with an ensemble of humans is part of our protocol. I don't want to live in a world in which humans are automated off stage. I want an A.I. to be raised to appreciate and interact with that beauty."
— Holly Herndon
Holly Herndon operates at the edges of electronic and avant-garde pop and emerges with a dynamic and disruptive canon of her own.
Born in the mountains of East Tennessee, she went from singing in church to enrolling in a German student exchange program. Eventually adopting Berlin as a second home, she cut her teeth performing in the city's clubs prior to her undergraduate work at Mills College. On her 2012 debut album Movement, Herndon utilized the laptop as "the most intimate instrument," cultivating live voice processing systems and developing custom vocal patches to construct experimental pieces performed in real time.
Researching platform politics for her Ph.D. at Stanford, she assembled her 2015 sophomore offering Platform. Telematic performance at Stanford fueled the piece "DAO" and integrated custom sampling of daily activities online into the songcraft of "Chorus" and "Home." As it sparked commentary on "platform politics," Platform was primarily composed alongside collaborators online and was "the first commercially released album to include a track intended to trigger autonomous sensory meridian response (ASMR)." Platform closed out year-end lists from Pitchfork, The Guardian, NME and The Wire, and Radiohead picked Herndon to open up the band's European tour. 
In 2019 she released her third full-length, PROTO, while simultaneously completing her doctorate at Stanford. On PROTO,  Herndon fronts and conducts an electronic pop choir comprised of both human and A.I. voices over a musical palette that encompasses everything from synths to Sacred Harp stylings. CNN noted that Herndon is "shaping the future of A.I.," and she has demonstrated this nexus of technological evolution and musical catharsis with performances at The Barbican (London), Volksbühne (Berlin), Sónar (Barcelona), Unsound (Krakow), and Club 2 Club (Milan).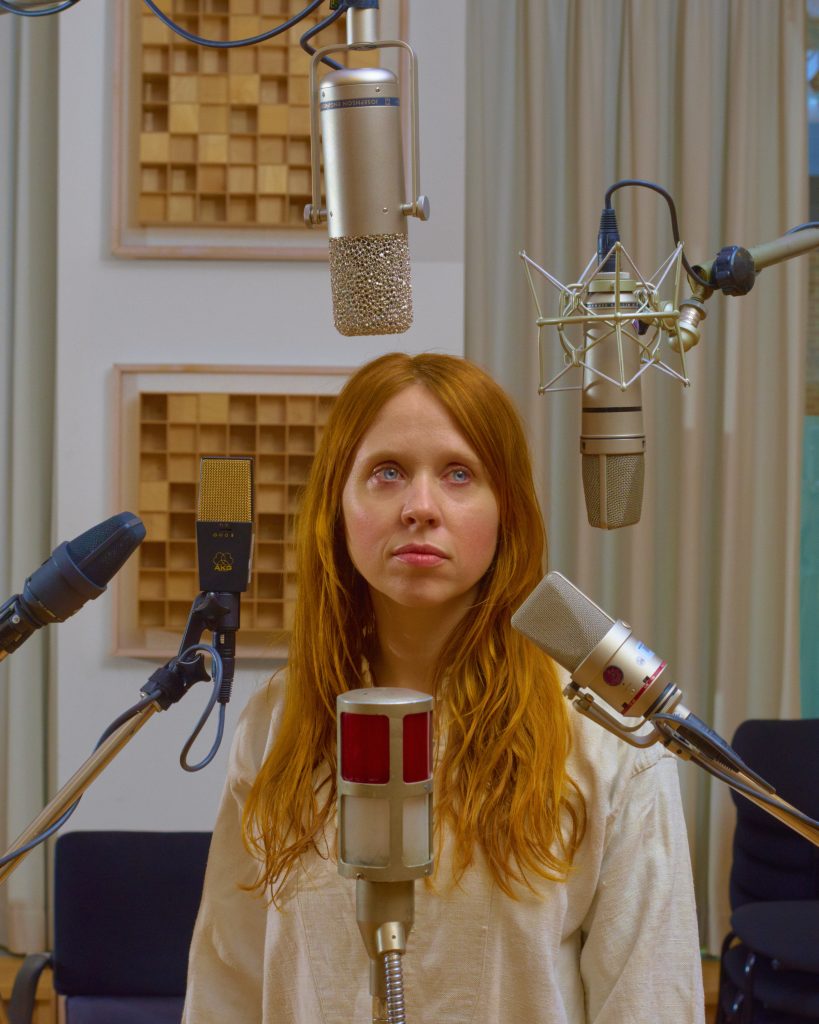 All photos by Boris Camaca
THREE QUESTIONS FOR THE CREATOR
Why this? Why now?
Holly Herndon: Recent breakthroughs in machine learning have created a flurry of activity and renewed attention on the field. I was interested in the possibilities and implications of these developments for music, and always feel that the best way to approach a technology is to try and work directly with it. That way you can tell quite quickly what to get excited about and what to dismiss as hype. Spawn, our "AI baby," is the result of these home-brew experiments.
Common narratives of AI and music tend to fixate on the goal of creating automated composition systems, a pursuit that can sometimes carry with it themes of human displacement that I don't find very inspiring. Instead I was interested in developing an AI system to serve as a performer and collaborator, or perhaps a welcome and informed outsider perspective on my composition process. These common narratives also tend to focus on midi or sheet music information to train systems, and I was more interested in the possibilities of working with audio, which is a far richer representation of music.
We formed a vocal ensemble in parallel, in order to draw parallels between the early human coordination system of singing and this newest iteration. Spawn was trained on these community voices to assist in the making of 
PROTO
.  The process of training an AI system immediately raised questions about the importance of attribution and remuneration in this area. What most people understand Artificial Intelligence to be is just us, in aggregate — often behind the spectacular results of machine learning systems lies a database of uncredited and uncompensated labor. It really is another dimension of sampling and extraction, and it became clear that in music or greater society we are not yet conceptually tooled to deal with the implications of that.
What were you surprised to learn as you were making it?
There is a lot of hype and misconception around the topic of AI, but I think perhaps the greatest surprise was that I came in from a very skeptical position and am now convinced that these technologies are going to reorder a great deal of what we know. Even in our small experiments you can hear the embers of something astonishing. Machines will soon be able to generate indistinguishable voice. 
What was the most challenging aspect for you?
Our joke is that contrary to the promises of seamless automated generation of artworks, developing these works with machine learning has been by far the most human laborious process I have ever participated in. It took 18 months of experiments and training to generate anything I was content with, and a great deal of coordination and patience. It was worth it.
"Herndon's new album, 'PROTO,' is the result of a collaboration with a two-foot-tall gaming PC, which houses an artificial neural network that she designed with her husband, the artist Mat Dryhurst. For the past two years, they have been teaching this 'AI baby,' which they named Spawn and refer to using female pronouns, how to use her voice. They trained Spawn by talking and singing to her. Herndon, Dryhurst, and Spawn's 'godfather,' the artist Jules LaPlace, even formed a choir that would perform hymns for her. In time, Spawn began to produce sounds that weren't built on sampling. We often say that people find their voice; Spawn iterated hers."
"Holly Herndon is not interested in creating her own replacement. The composer-musician saw the rise of machine intelligence in music as major labels and tech companies, hungry for cheap production, began pushing AI songwriters. But rather than fight it, Herndon decided to raise a robot bandmate herself. Herndon, who completed her Ph.D. at Stanford's Center for Computer Research in Music and Acoustics, trained an artificial neural network built into a 'DIY souped-up' gaming computer to find its voice from scratch and sing with her. For two years, Herndon nourished the AI baby, known semi-affectionately as Spawn, with her own vocals, composing, cooking, and living alongside it. Instead of sampling directly from her voice, Spawn created its own sounds using rules it could discern from the patterns it heard. The results are spliced throughout Herndon's recent album 'PROTO,' on which Spawn stumbles into uncanny beauty — an alien child moaning and wailing in harmony with its mother."
"'PROTO' is a patient album and a technologically transparent one. Two tracks, 'Canaan' and 'Evening Shades,' document the process of training Spawn. Unmodified human voices sing and then Spawn responds with her interpretations of what she's heard, like a young child in speech therapy. Rather than simply dazzle listeners with a perfectly honed AI, Herndon invites us into the awkward but beautiful process behind Spawn's capabilities, the mistakes the computer makes as it learns. These two live-training tracks are a welcome reminder of the human labor behind automated systems."
Proto
Created by:
Holly Herndon