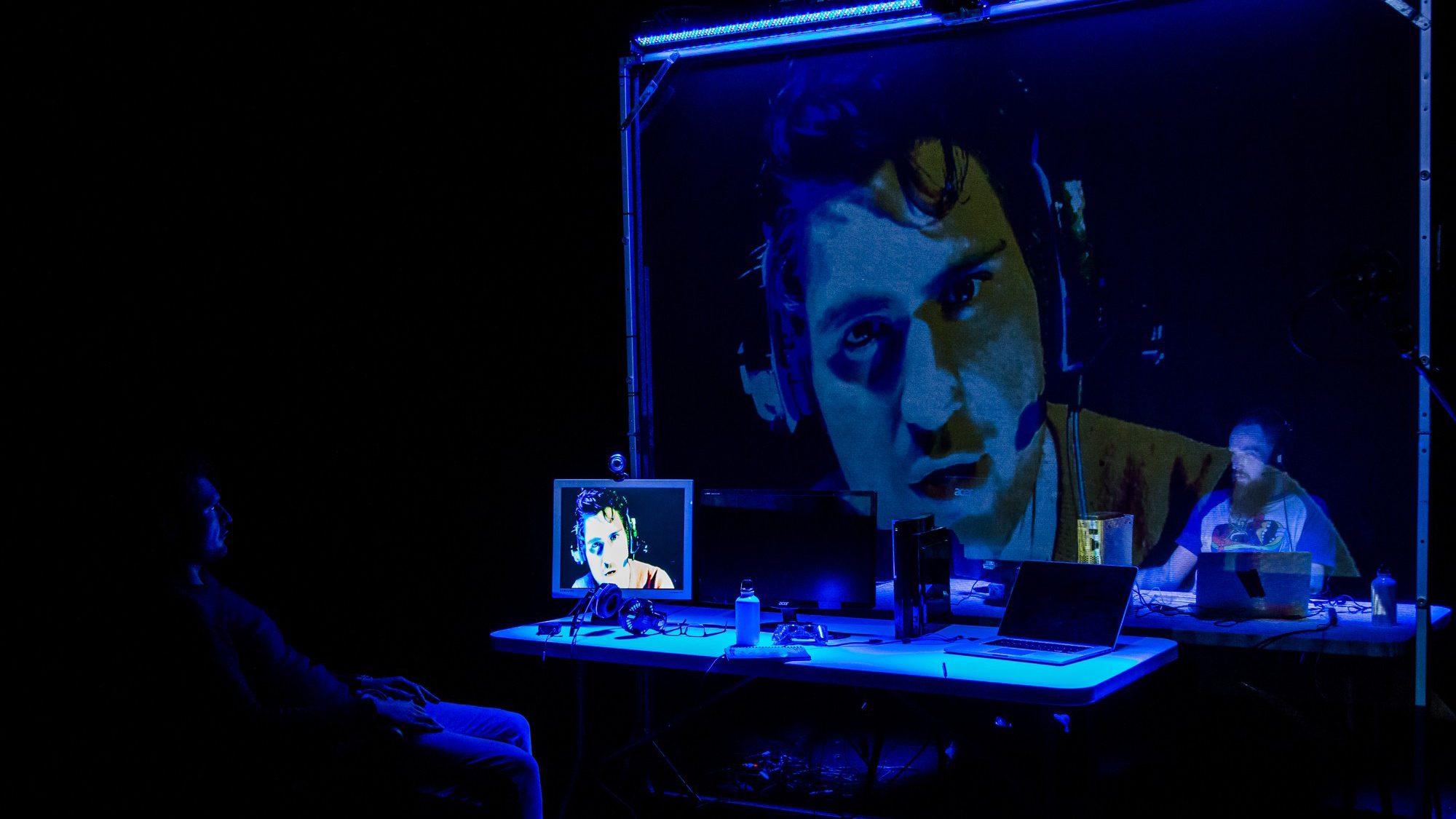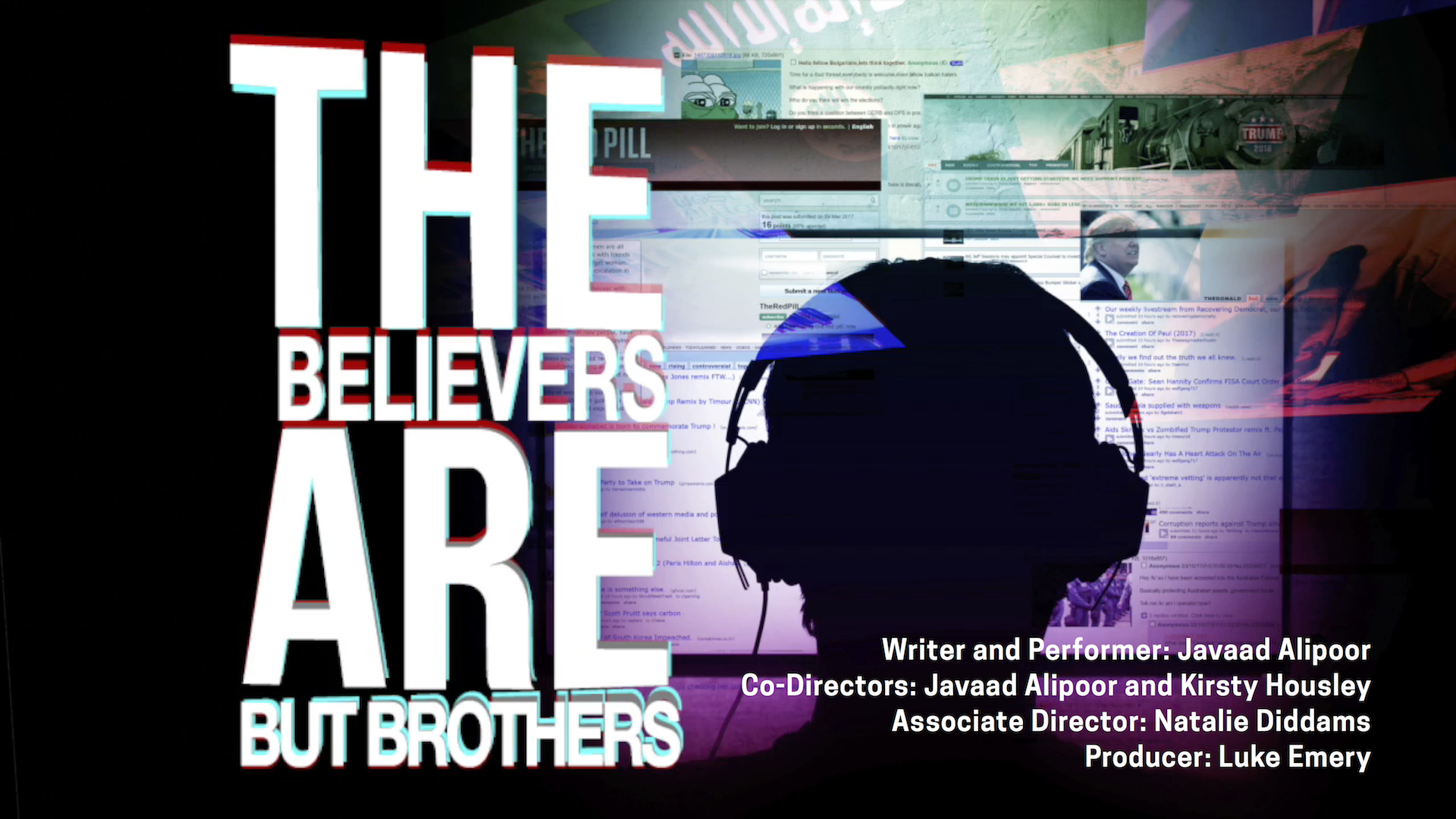 The Believers Are But Brothers
Billed as an electronic maze of fantasists, meme culture, 4chan, the alt-right and ISIS, The Believers Are But Brothers is a play that addresses political and religious extremism, digital technology and male violence. Javaad Alipoor invites the audience to witness the resentment and violence that are eating away at the structures of the 20th century and, with the rise of the far right across the globe, giving birth to the 21st.
Four months after its premiere at Transform 17 in Leeds, The Believers Are But Brothers emerged as the buzz production of the 2017 Edinburgh Festival Fringe. Two years later it was re-staged at the Fringe and made into a film that was broadcast on BBC4 as part of a series marking the 30th anniversary of the World Wide Web. "No one I know watches on a TV set now," Alipoor told The Observer. "I have made my film expecting most people to watch on their laptops."
"Like everyone else in this theatre, I've left my mobile turned on and have signed up for an encrypted WhatsApp-style group. The phone hums with messages. 'How many Muslims live in this country?' reads one message from Alipoor. The guesses from the audience are wild, between 10 and 12 million, when the real figure is three million. 'How many joined Isis?' he asks. The guesses range from seven to 70. 'Bloody liberal arts audience under-guessing,' messages Alipoor.
". . . Soon the messages I'm receiving turn darker and I don't know who they are coming from. There is threatening talk of whiny feminists and what the sender would like to do to them, language reflecting the Gamergate saga. . . . Meanwhile, young men with uncertain futures watch glossy, Hollywood-style Isis propaganda and reckon that being a jihadist looks a lot like 'Game of Thrones' and might beat a life stacking shelves in Tesco."
"As Javaad explores the world of online extremism, it soon becomes clear that what is being sold there is not so much any one set of beliefs, as a belief in extremism itself; a young male-dominated world driven by pornography, resentment and sexual neurosis, where the "grey zone" of civic peace and liberal values can no longer survive. . . . It's the texture of his writing – combined with stunning visual images by Jack Offord and Adam Radolinski – that makes this tentative but brilliant show a vital Fringe event, full of dark poetry and sheer analytical power in its understanding of how the internet can alter the minds of a generation at frightening speed."
"'The Believers Are But Brothers,' which takes its name from a line in the Quran, is a sprawling, aggressively contemporary and thoroughly unnerving piece of theater. . . . It explores a world in which the Taliban and the United States Army trade insults on Twitter, in which young people watch horrifying propaganda videos for entertainment and in which 'becoming radicalized' can be no more (or less) meaningful than a game of 'Call of Duty.'"
The Believers Are But Brothers
Medium:
Interactive Theatre
Created by:
Javaad Alipoor
Date:
April 2017 (Transform 17, Leeds)