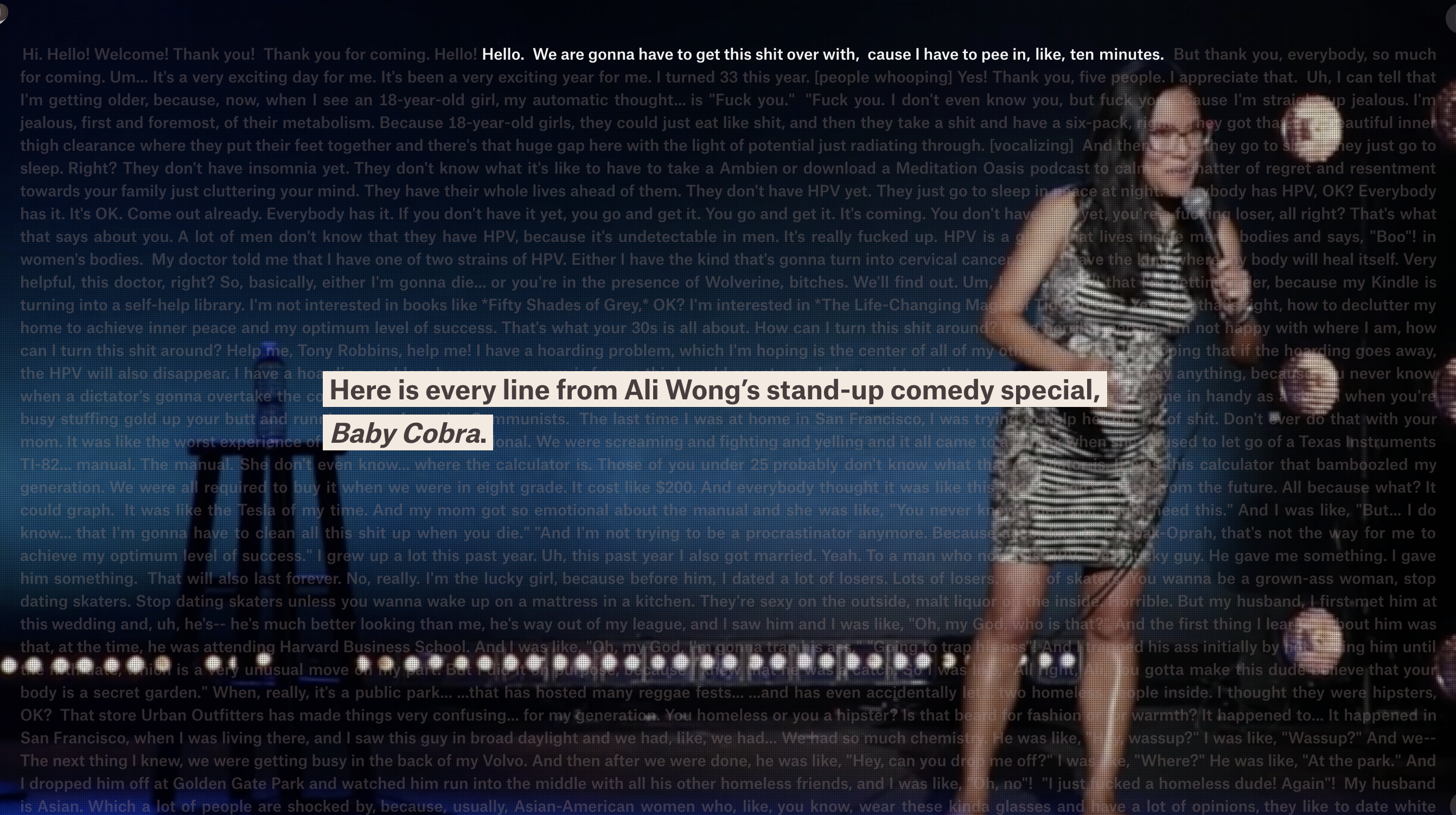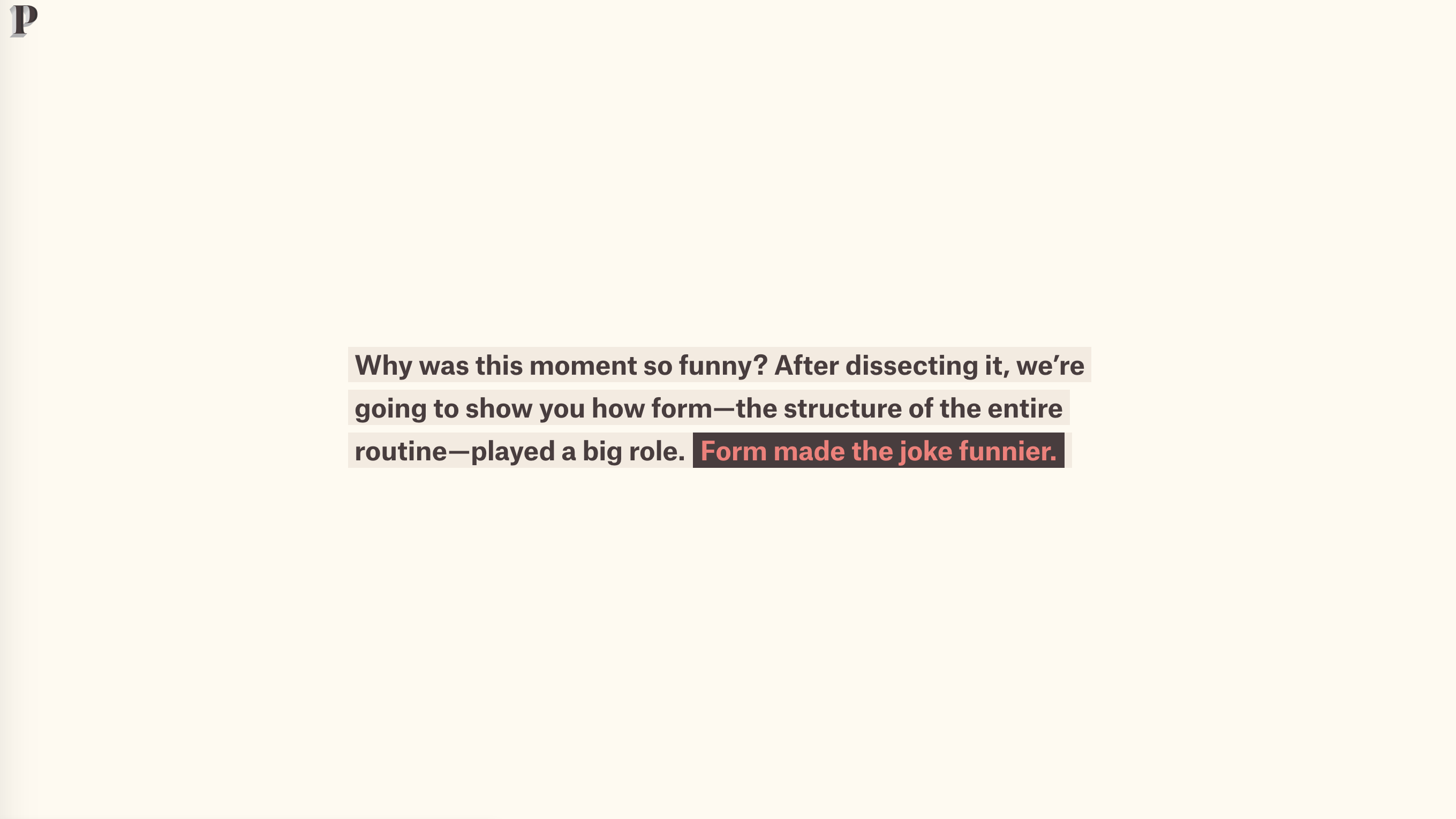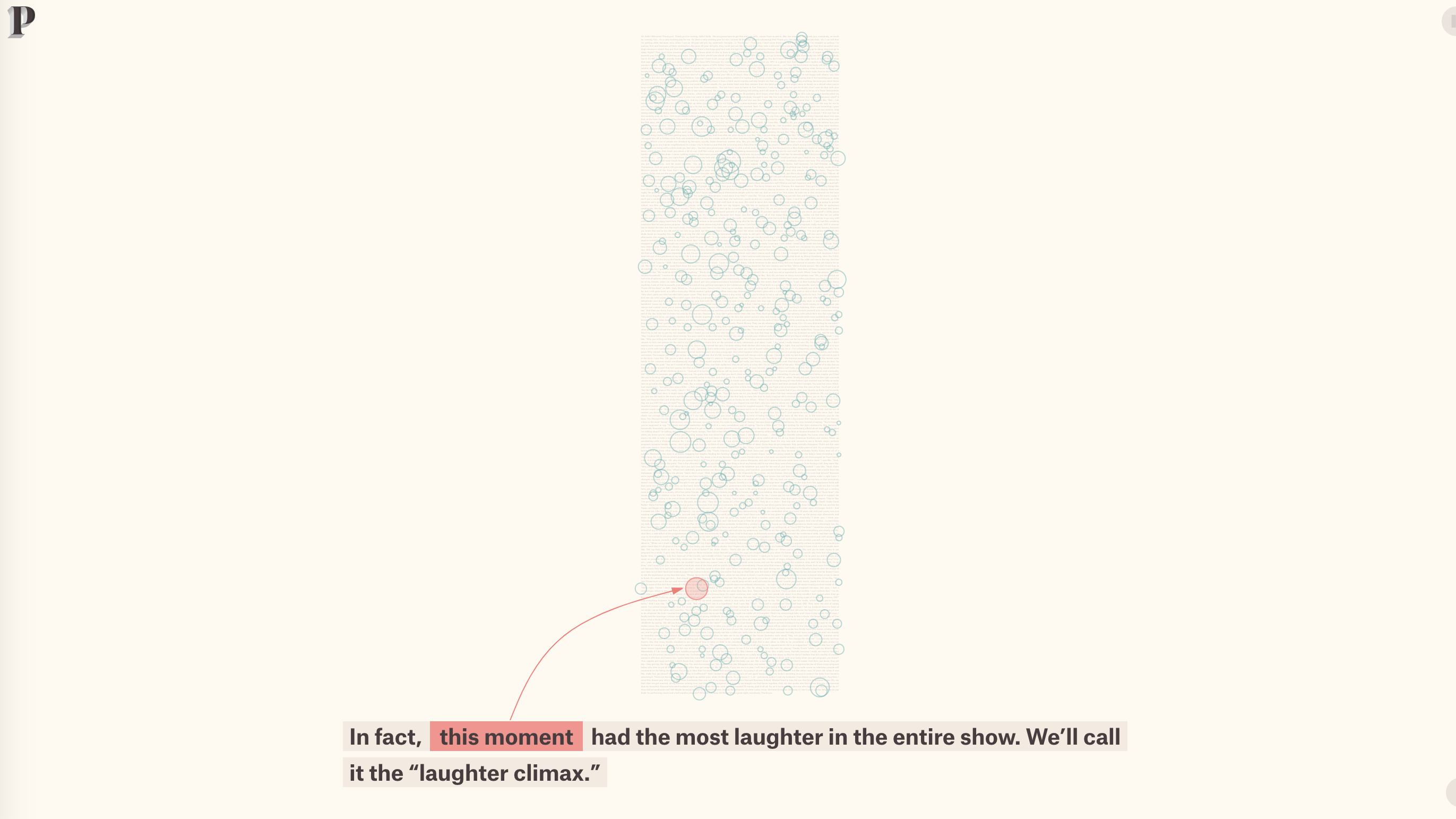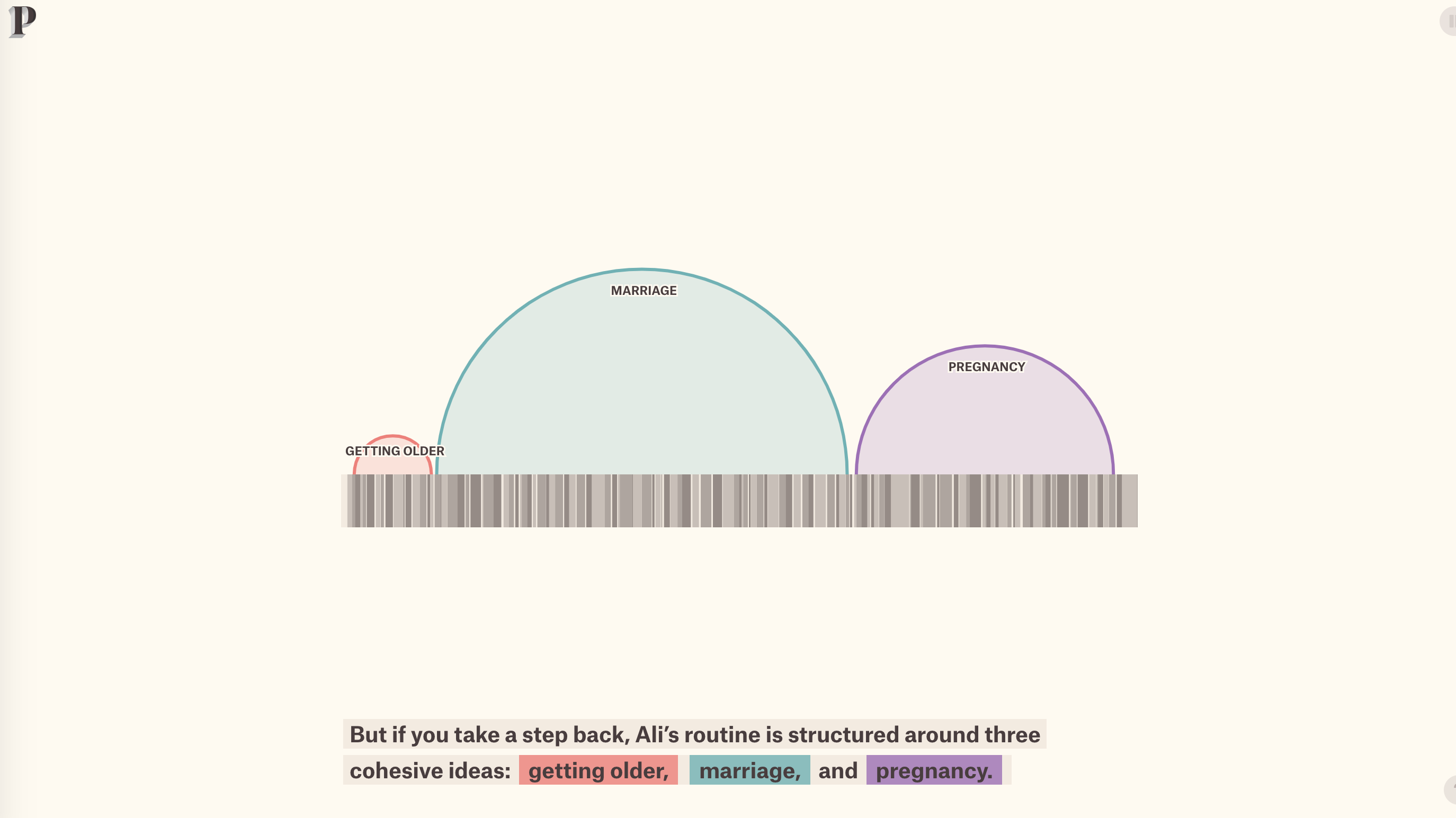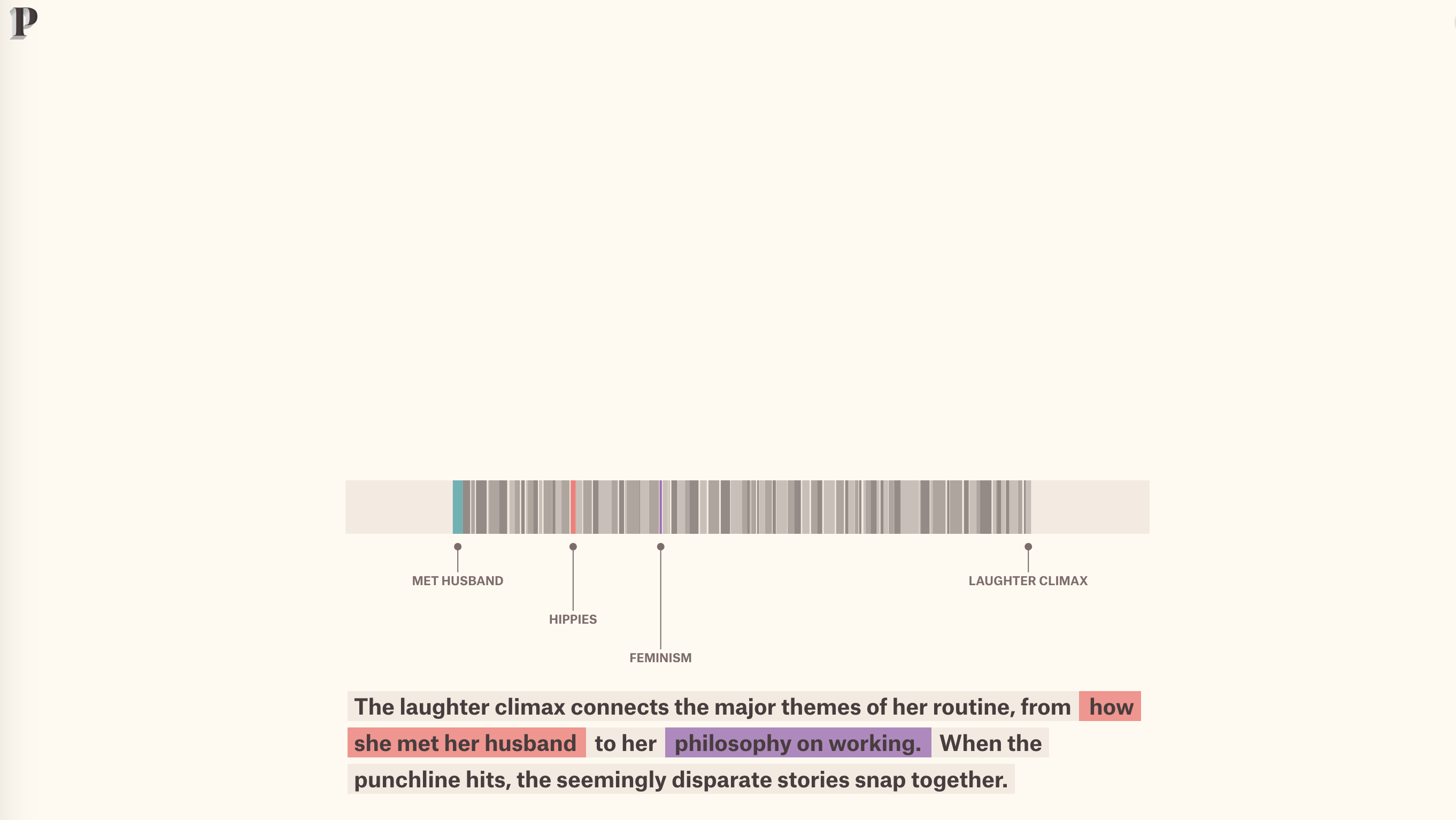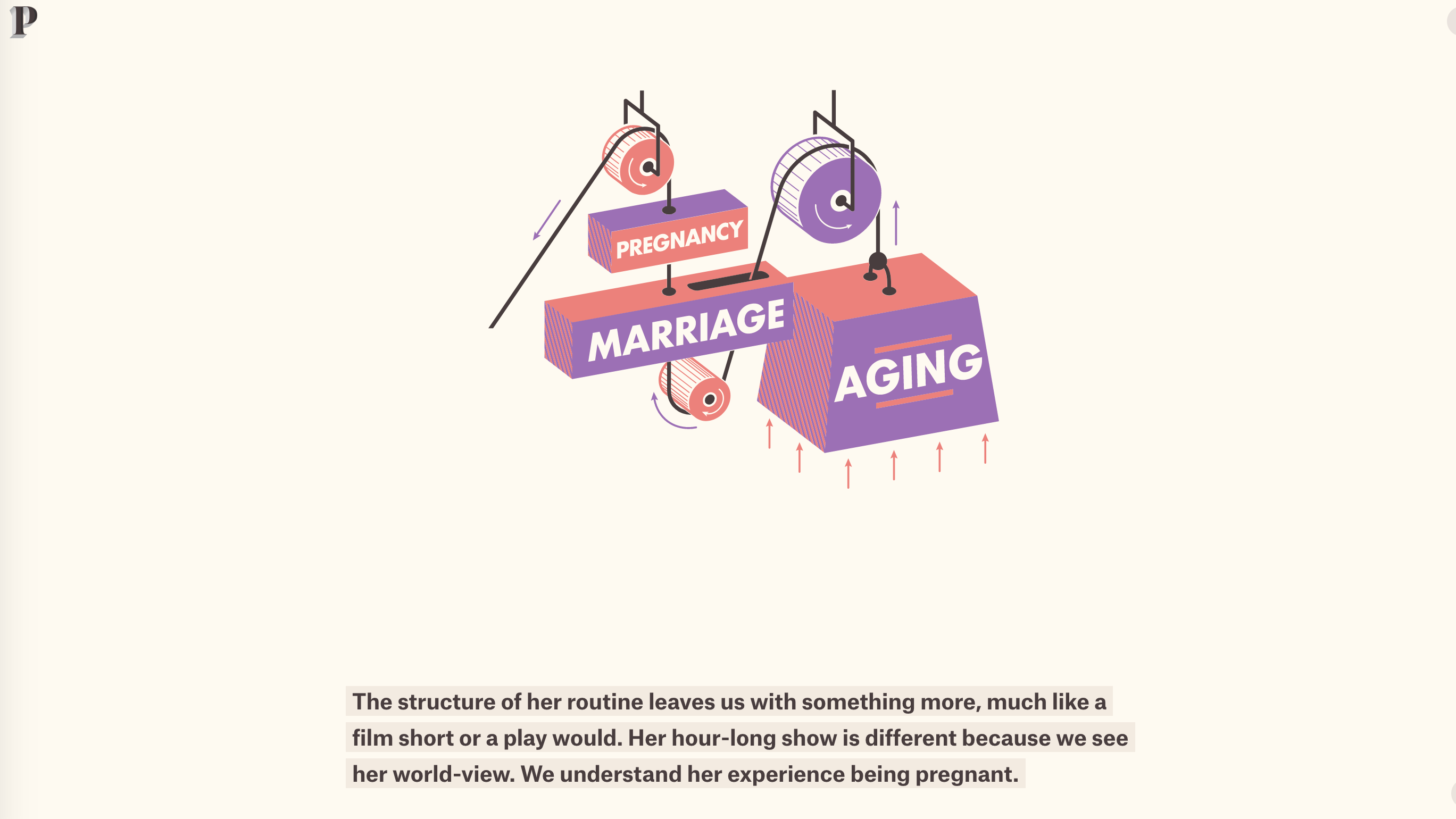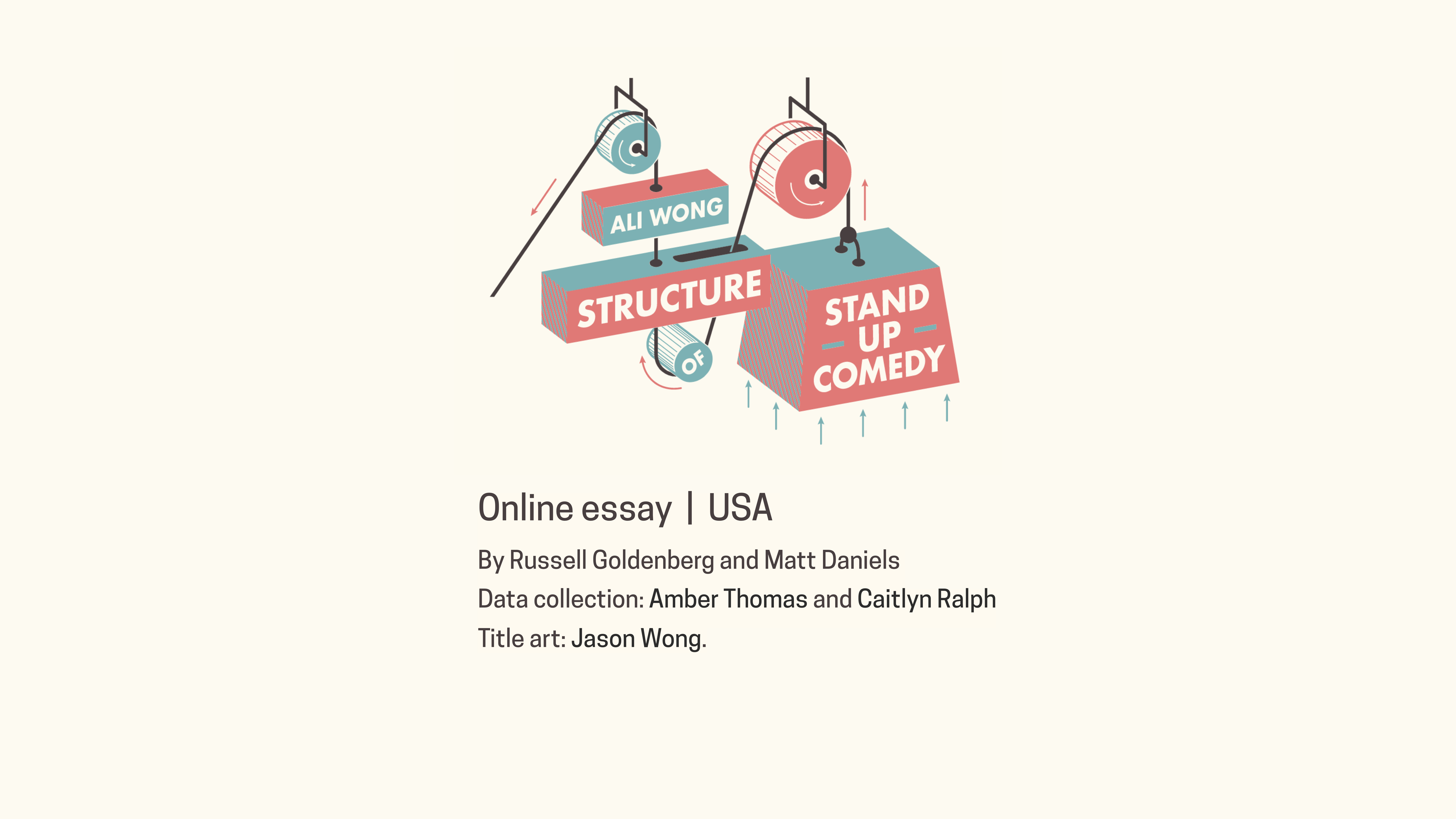 The Structure of Stand-Up Comedy
Visual essays are an emerging form of journalism. Some of the most complex, debated topics get lost in "too long; didn't read" 10,000-word articles. Visual storytelling makes ideas more accessible.
At The Pudding, our goal is to advance public discourse and avoid media echo chambers. We're not chasing current events or clickbait. We choose topics where visuals both entertain and inform. This means that we invest in research and ignore news cycle noise.
We're six full-time journalist-engineers who operate as a collective rather than hierarchical team.
Much of our work is done autonomously, with individuals choosing their essays and owning the whole story, from research to code. Each team member can do every step: research and reporting, data analysis, design, writing, and code.
One luxury that separates us from traditional newsrooms is our approach to publishing urgency. There are no deadlines because we are not tied to news events. With breaking news, it's difficult to gamble on weird, ambitious ideas if they must be published. No one will take on risky, creative projects when they're staring at a deadline.
So we experiment, a lot. The creative process feels more like workshopping a movie script than critiquing a bar chart. Consequently, many of our ideas are killed during production, but we wouldn't have it any other way! It means we're trying unproven, never-done-before things.
We're also trying to advance the craft. Visual journalism is still in its infancy. We don't have an established pattern language found in traditional reporting. Sometimes we'll attempt an unfamiliar visual approach—not because it's guaranteed to work, but because we won't know until we try. Rarely do organizations have the liberty take such risks, yet we're small enough to experiment in the pursuit of quality.
—The Pudding
THREE QUESTIONS FOR THE CREATORS: 
Why this? Why now?
We created this story because after watching a lot of stand-up routines, we noticed a deeply nested and hidden structure that we thought could be revealing when codified and visualized.
What surprised you while you were making it?
The most surprising discovery was how expertly comedians weave together these seemingly wandering jokes and stories making subsequent jokes even funnier.
What was the most challenging thing you ran into?
There was no data that existed to analyze comedy, so we had to manually watch and encode multiple shows a few times over since we weren't even sure what we were looking for. Since there is a lot of subjectivity involved, we had a few people process the same performance and then consolidate the discrepancies to a single dataset.
"Stand-up is transcending a stream of one-liners. Now, the best specials tell stories. Comedians can elevate their humor by weaving multiple stories throughout the set, and finding the perfect punchlines to tie them all together. . . . In 'The Structure of Stand-Up,' Goldenberg and Daniels find that narrative form makes jokes funnier: rather than simply setting up a joke, spiking the punchline, and moving on, comedians are crafting multi-plot stories, and snapping them together to bring screenplay-like satisfaction to comedy."
"The effortless weaving of audio, graphics, and narrative storytelling into the stand-up comedy piece is this year's example of multimedia storytelling at its best."
"As always, The Pudding's research is intricate and thorough, and it should prove eternally helpful for budding standups who might not realize just how unconsciously hardwired audiences are to the beats of traditional narrative. Time to bone up on that Aristotle, kids."
The Structure of Stand-Up Comedy
Created by:
Russell Goldenberg and Matt Daniels/The Pudding