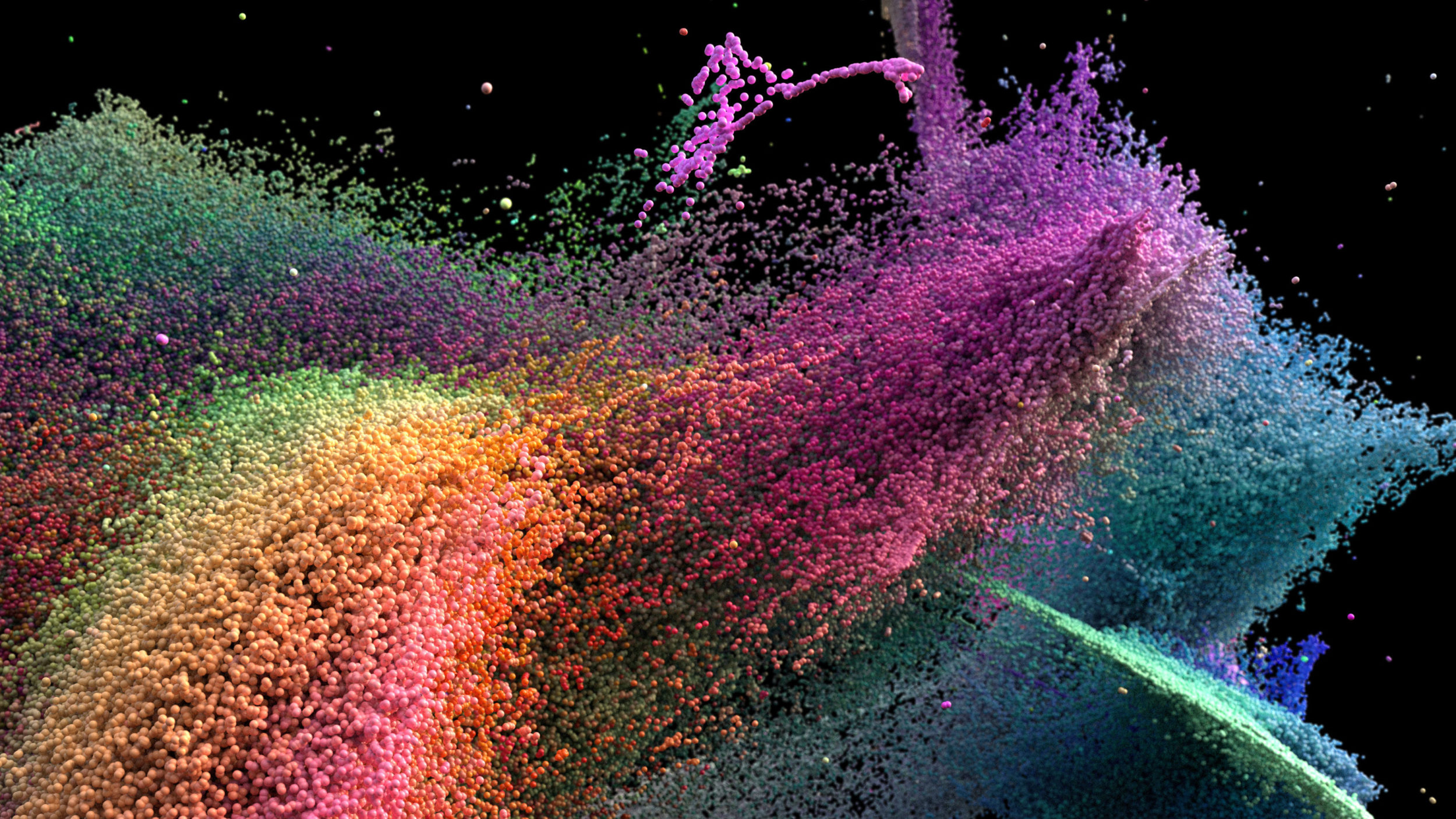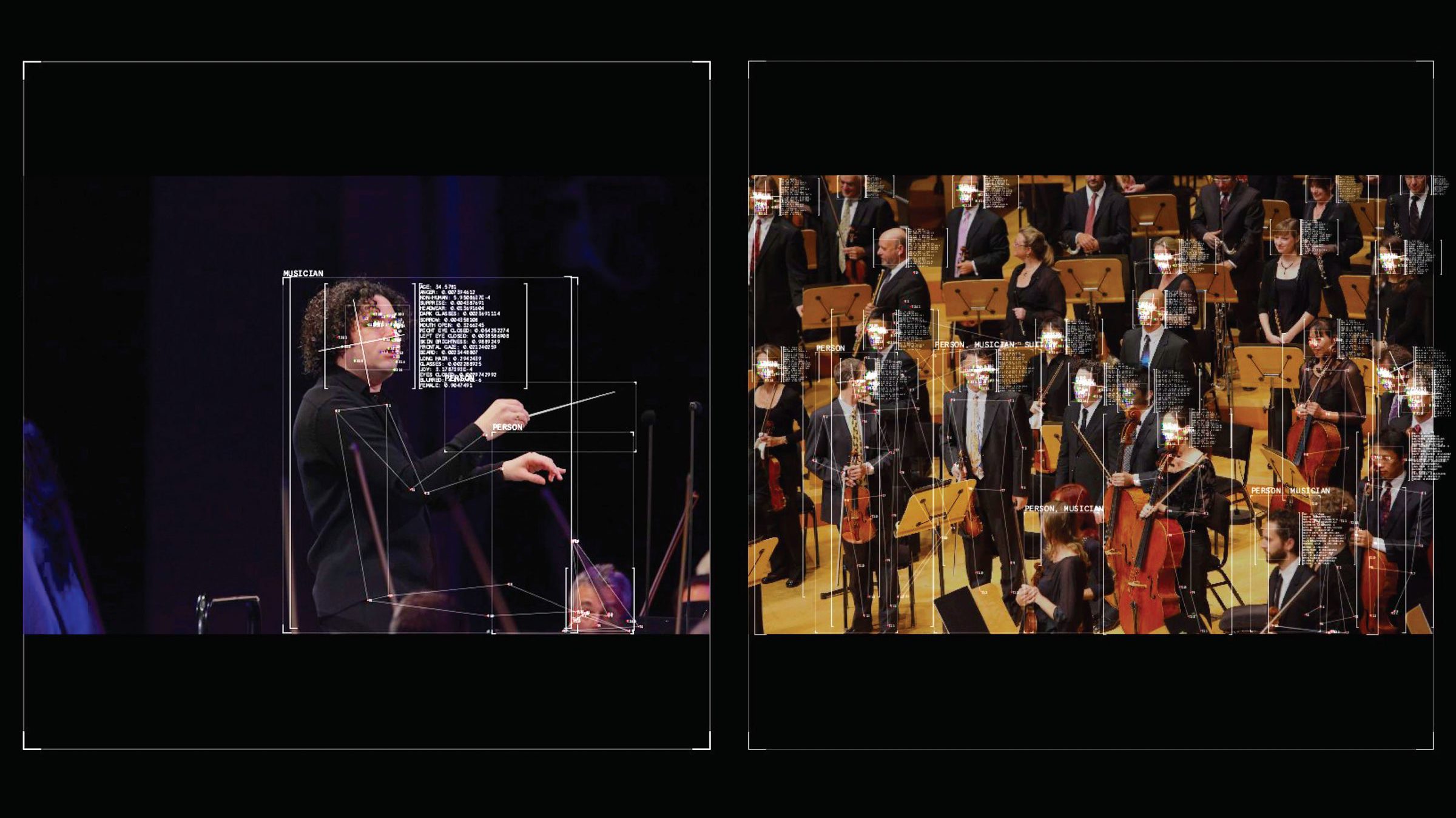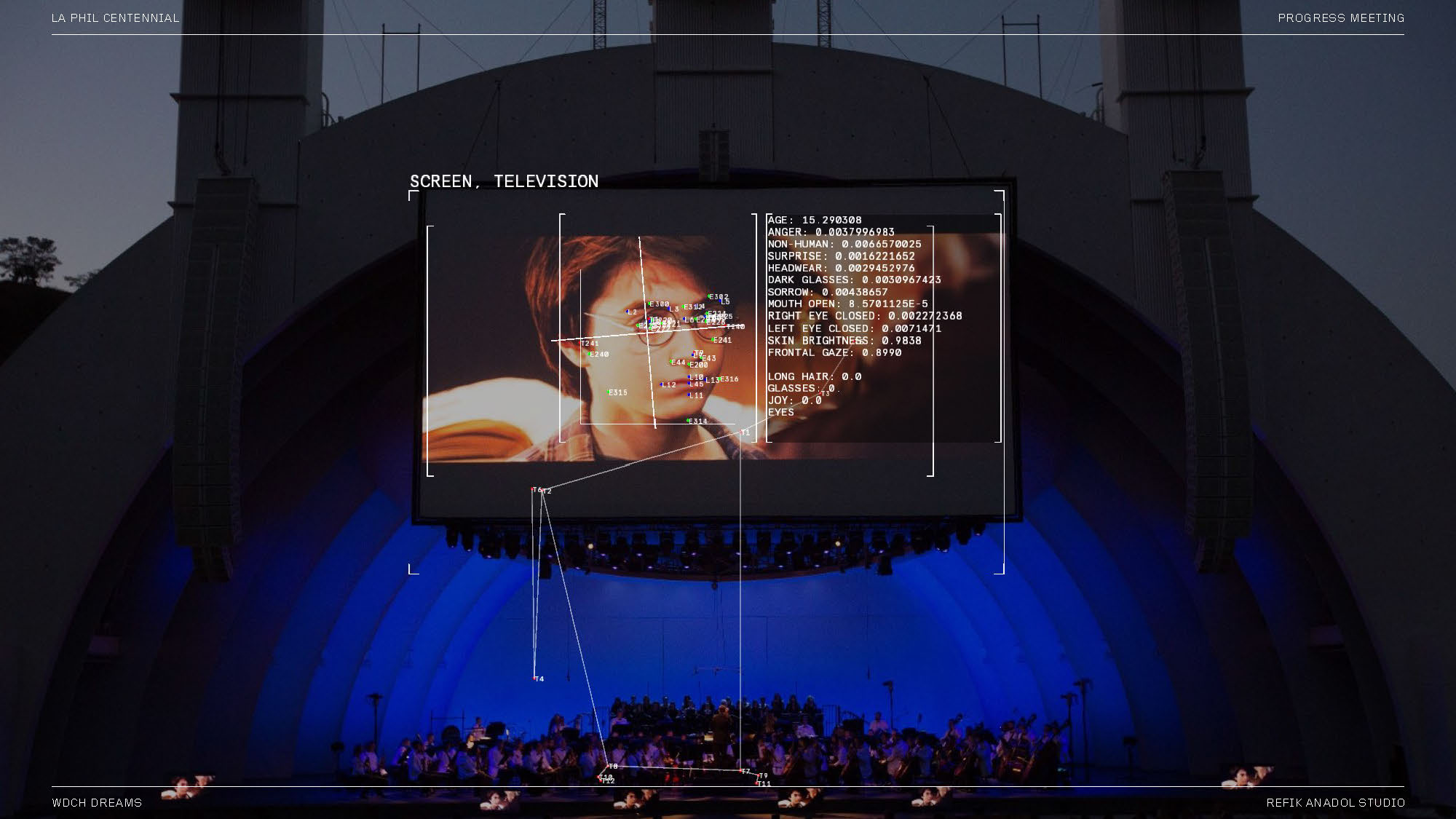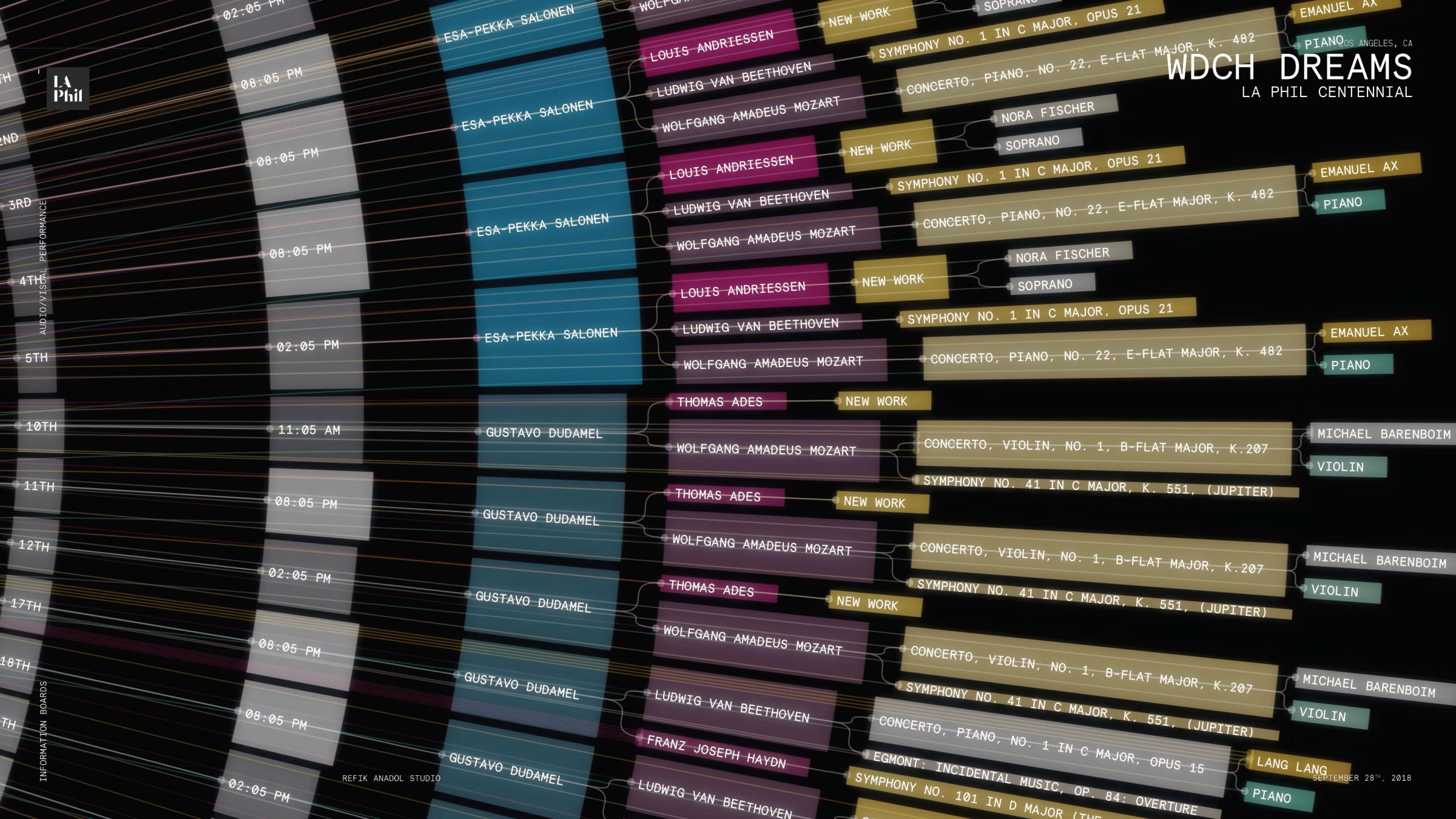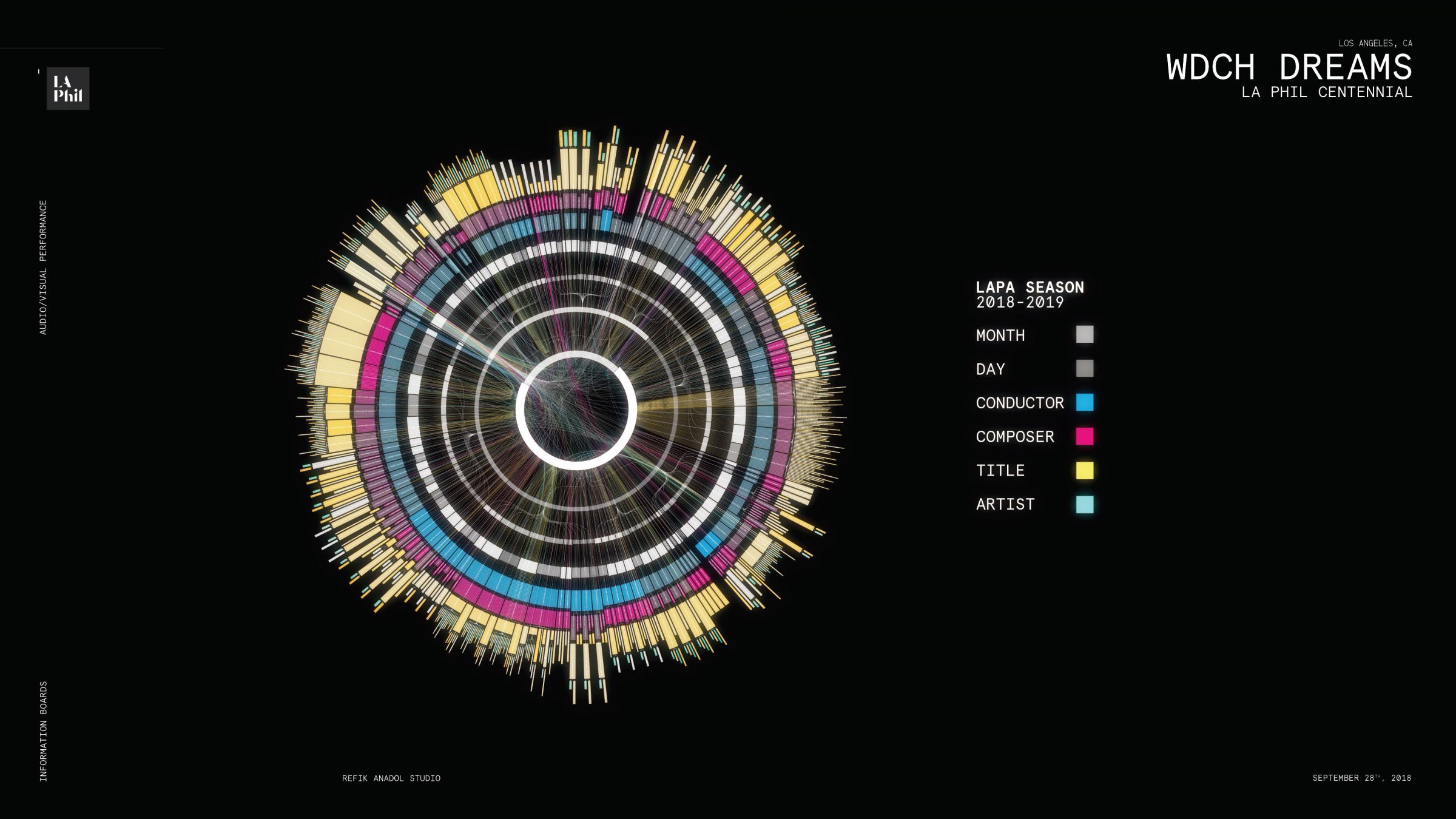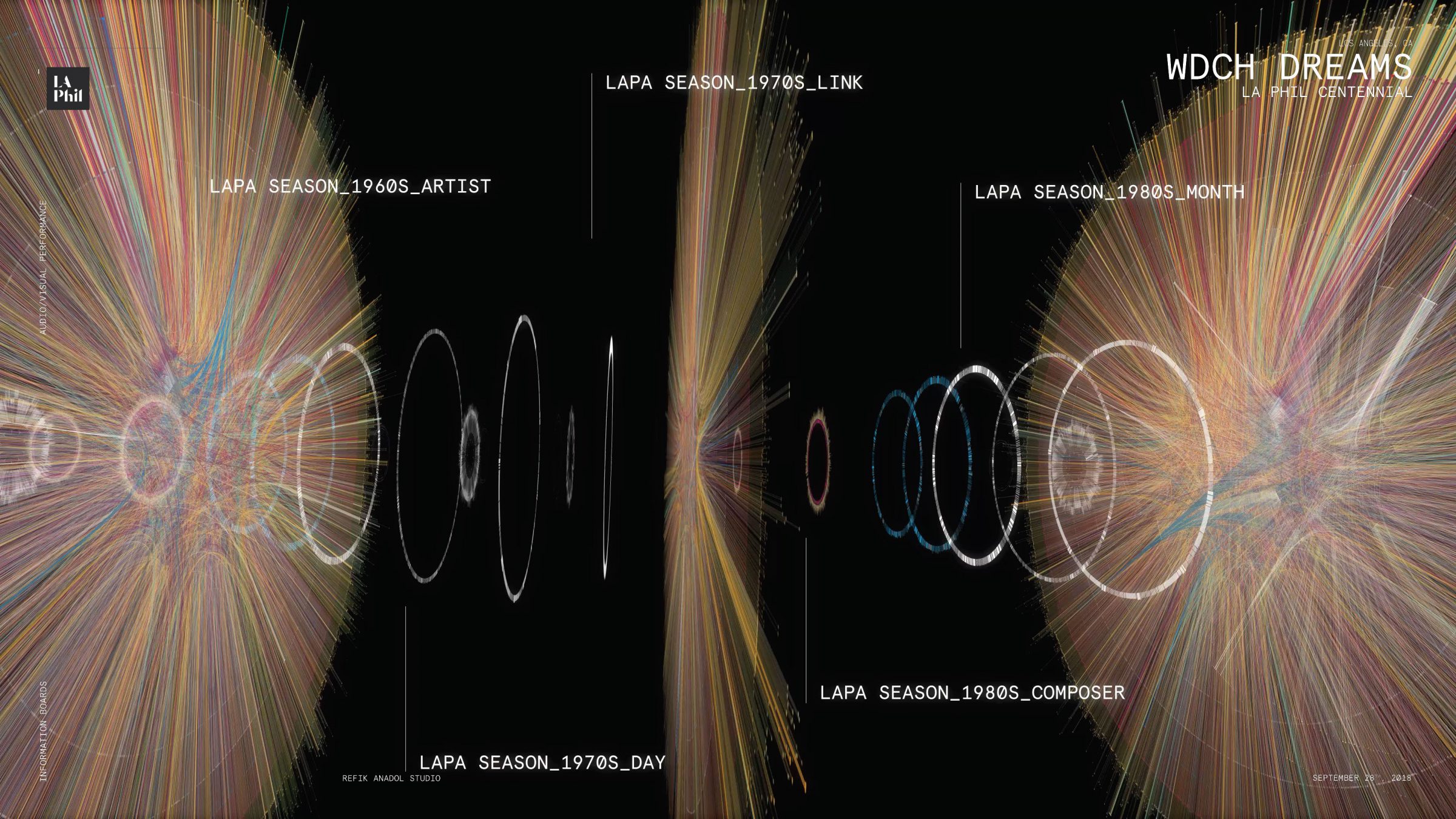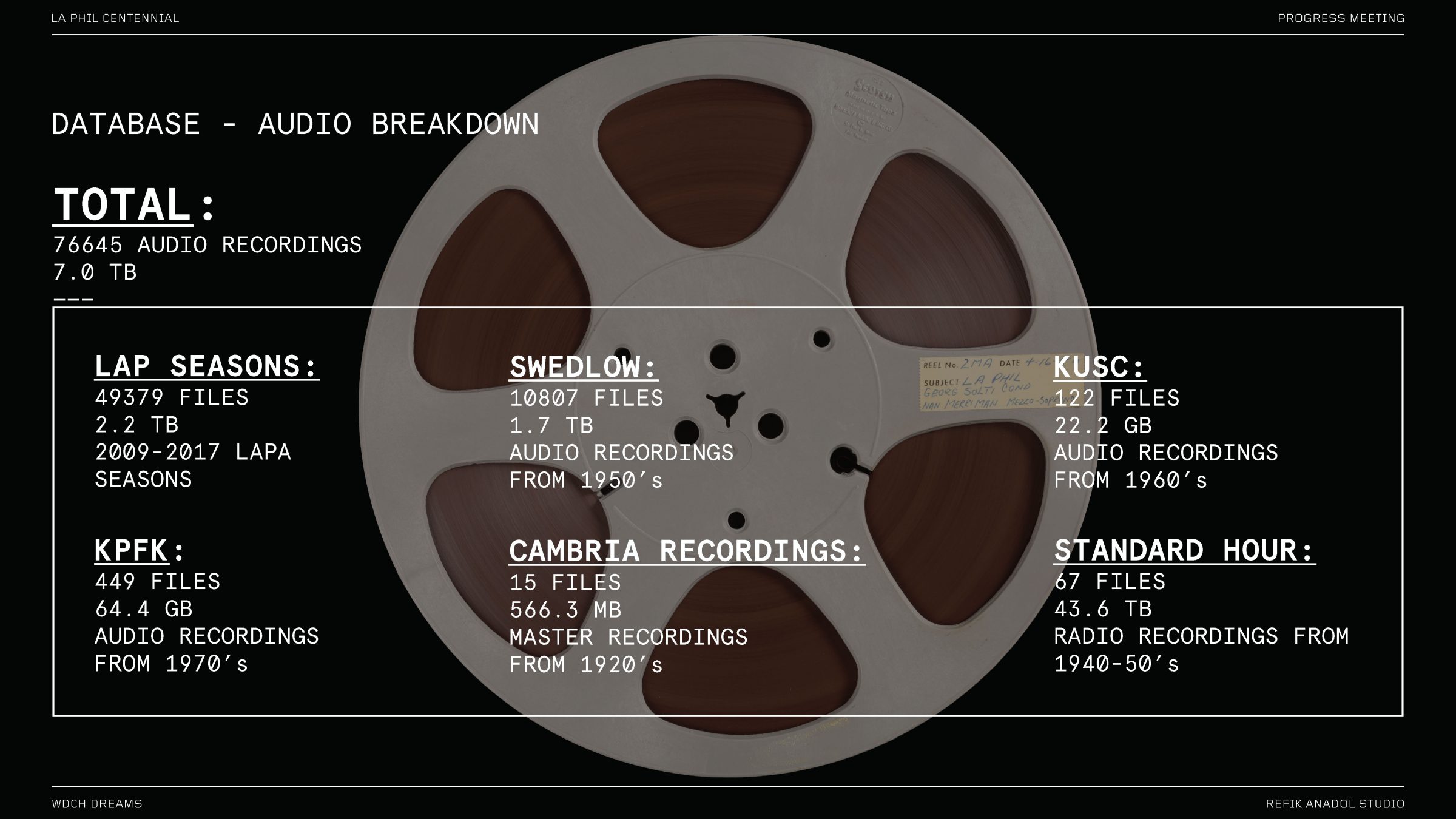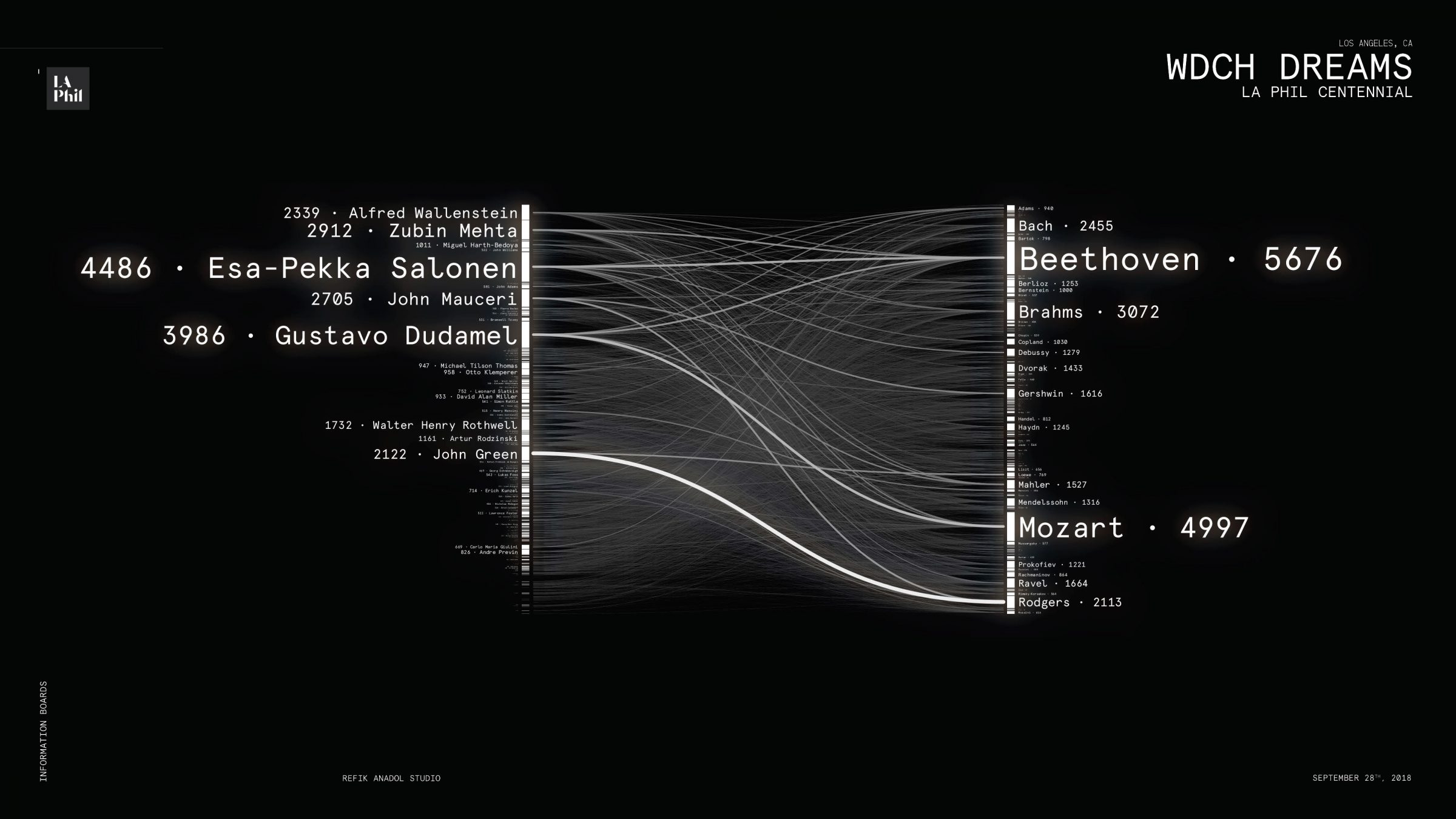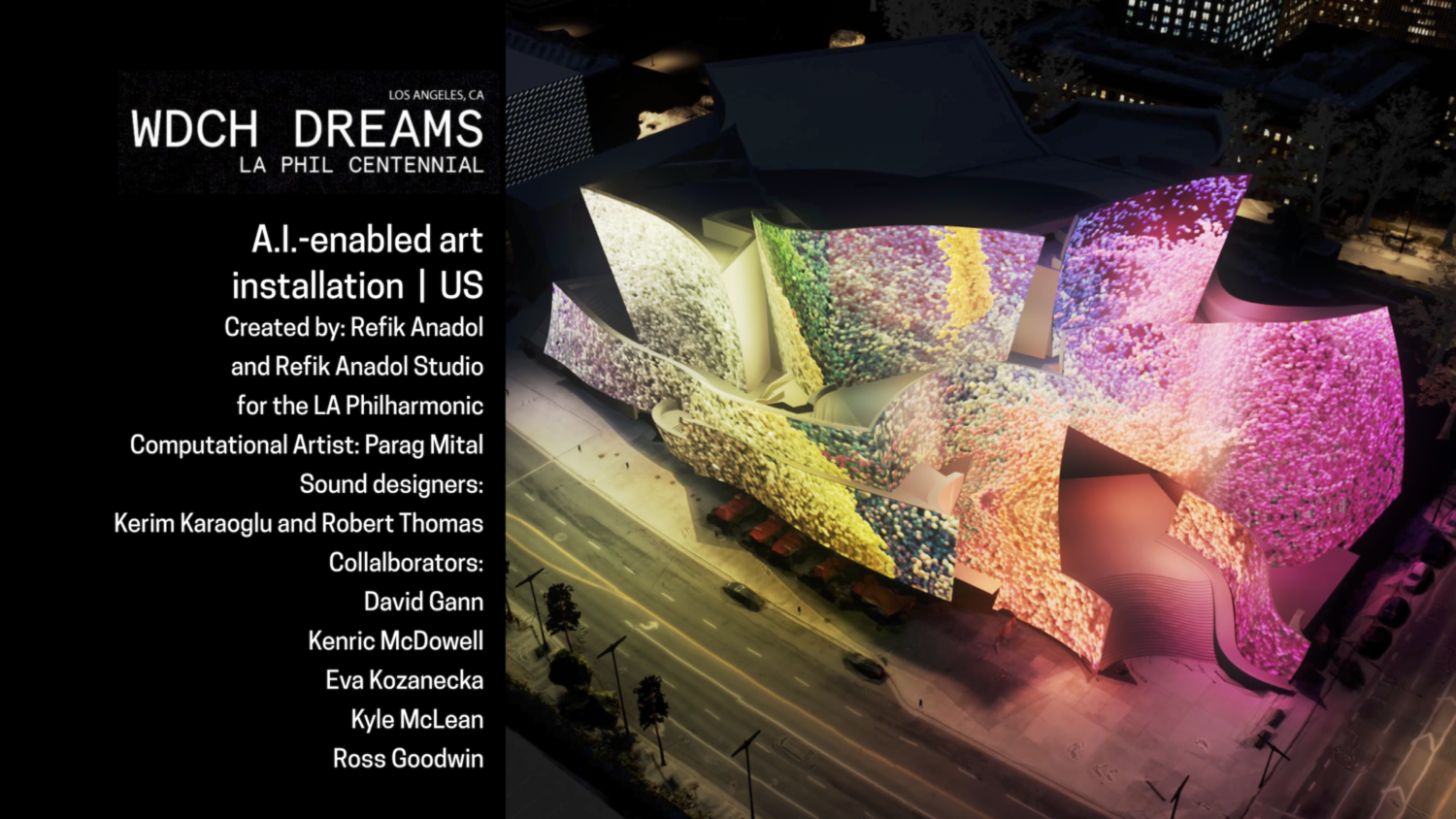 WDCH Dreams

WDCH Dreams creates an immersive journey of both time and space analyzing 100 years of LA Phil performances with machine intelligence. This installation augments information from every concert season to procedurally generate a tangible and interactive representation of LA Phil's repertoire. 
—Refik Anadol
The Los Angeles Philharmonic collaborated with media artist Refik Anadol to celebrate its history and explore its future. Using machine learning algorithms, Anadol and his team developed a unique machine intelligence approach to the LA Phil's digital archives – 45 terabytes of data. The results are the stunning visualizations of WDCH Dreams, comprising both a week-long public art installation projected onto the building's exterior skin and a season-long immersive exhibition in the Ira Gershwin Gallery inside.
To make Walt Disney Concert Hall "dream," Anadol utilized a creative, computerized "mind" to mimic how humans dream – by processing memories to form a new combination of images and ideas. To accomplish this, Anadol worked with the Artists and Machine Intelligence program at Google Arts and Culture and with researcher Parag K. Mital to apply machine intelligence to the orchestra's digital archives – 587,763 image files, 1,880 video files, 1,483 metadata files, and 17,773 audio files (the equivalent of 40,000 hours of audio from 16,471 performances). The files were parsed into millions of data points that were then categorized according to hundreds of attributes by deep neural networks with the capacity to both remember the totality of the LA Phil's "memories" and create new connections between them. This "data universe" is Anadol's material, and machine intelligence is his artistic collaborator. Together, they create something new in image and sound by awakening the metaphorical "consciousness" of Walt Disney Concert Hall. The result is a radical visualization of the organization's first century and an exploration of synergies between art and technology, between architecture and institutional memory.
In order to realize this vision, Anadol employed 42 large scale projectors with 50K visual resolution, 8-channel sound, and 1.2M luminance in total. The resulting patterns, or "data sculptures," formed by the machine's interpretation of the archives were displayed directly onto the undulating stainless-steel exterior of Walt Disney Concert Hall. The accompanying soundtrack was created from hand-picked audio from the LA Phil's archival recordings. Sound designers Robert Thomas and Kerim Karaoglu augmented these selections by using machine-learning algorithms to find similar performances recorded throughout the LA Phil's history, creating a unique exploration of the LA Phil's historic audio recordings.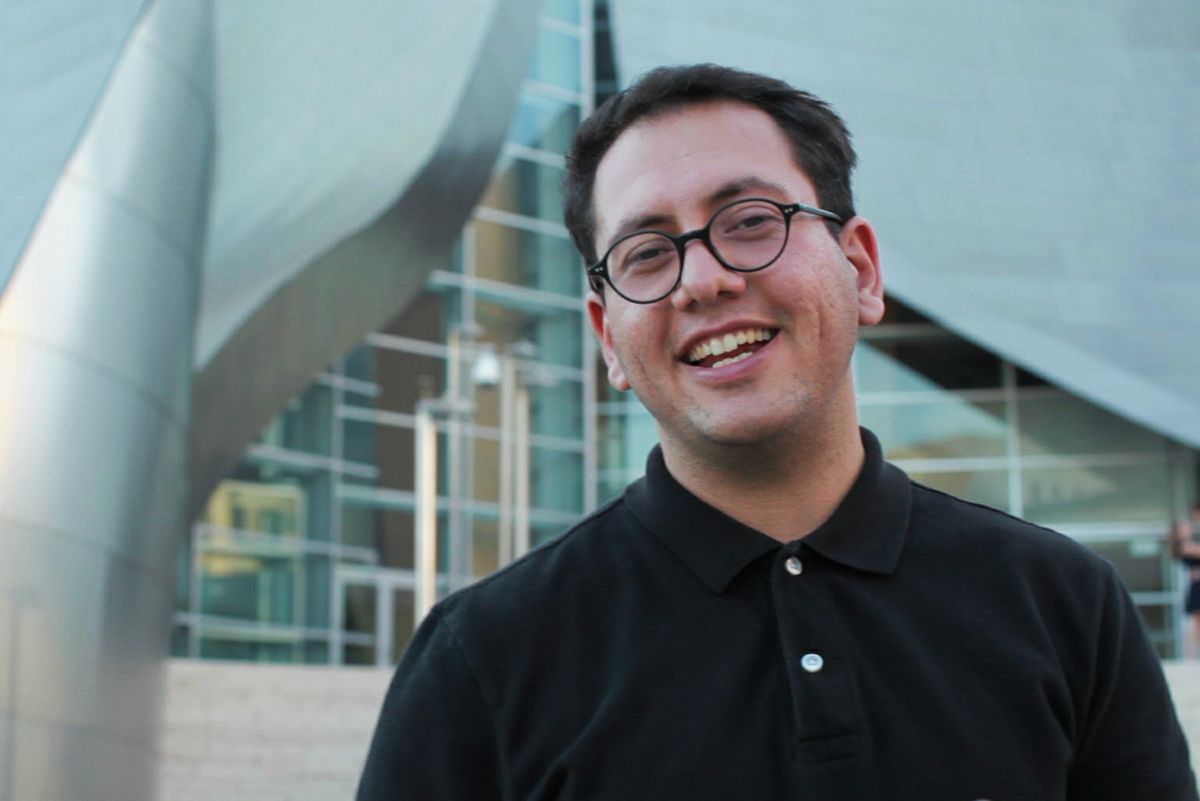 Refik Anadol
is a media artist and director. Born in Istanbul in 1985, he currently lives and works in Los Angeles. He is a lecturer and visiting researcher in the Department of Design Media Arts at the University of California, Los Angeles, and co-founder and creative director at
Antilop
, a design studio in Istanbul.
Anadol works in the fields of site-specific public art with a parametric data sculpture approach and live audio/visual performance with an immersive installation approach. His works explore the space among digital and physical entities by creating a hybrid relationship between architecture and media arts with machine intelligence. Embedding media arts into architecture, he questions the possibility of a post-digital architectural future in which there are no more non-digital realities. His work suggests that all spaces and facades have the potential to be utilized as media artists' canvases.
As a media artist, designer, and spatial thinker, Anadol faces the new challenges that the gradual development of an enriched immersive environment and ubiquitous computing impose on architects, media artists, and engineers. How is our experience of space changing, now that digital objects ranging from smart phones to urban screens have all but colonized our everyday lives? How have media technologies changed our conceptualizations of space? How has architecture embraced these shifting conceptualizations? These are the three main questions that Anadol tackles by translating the logic of new media technology into spatial design.
He holds a Master of Fine Arts degree from UCLA in Media Arts and an MFA in Visual Communication Design from Istanbul Bilgi University.
"'I thought it was time to take these beautiful memories and organize them into a story,' Mr. Anadol said later as we sat in his studio, a former auto repair shop just down the street from the site of the Disney complex where Mickey Mouse was created in 1928. Where car mechanics once labored, a half-dozen designers in their 20s now work behind enormous computer screens. 'It's kind of a science fiction story,' he added. 'We have concern about the future because that's where we all live' — so when the building 'dreams' in his story, it's using information from the past to project itself into the future."
"When Frank Gehry conceived Downtown L.A.'s shimmering Walt Disney Concert Hall, he wanted to shoot projections onto its undulating, stainless steel surface. That didn't happen. Until now.
"From September 28 through October 6, L.A.-based media artist Refik Anadol — with the help of a team that includes Gehry's own firm — will launch 'WDCH Dreams,' a barrage of vibrant three-dimensional projections fired onto the building's facade. . . .
"To achieve this, Anadol and his studio, employing Artificial Intelligence (AI) algorithms created with Google Arts and Culture's Artists and Machine Intelligence program, organized millions of data points scanned from the L.A. Phil's archives into hundreds of attributes. . . .
"'Every single shape will represent a data point from the archive,' sums up Anadol. 'It's treating algorithms like a brush.'"
"Sometimes, no matter the hype you hear or the videos you scour, an encounter with artistic expression surpasses any expectation. Such is the case with Refik Anadol's latest project. Using advanced methods of data compression, algorithmic processing, machine learning, and light projection, Anadol has catalogued the 100 archival years of the Los Angeles Philharmonic, transforming the information into a stunning visual celebration that brings the Walt Disney Concert Hall — the fantastical Frank Gehry-designed home of the orchestra — to vivid life. Anadol's work exemplifies the cutting edge."
WDCH Dreams
Medium:
AI-Enabled Art Installation
Created by:
Refik Anadol for the LA Philharmonic
Date:
September-October 2018