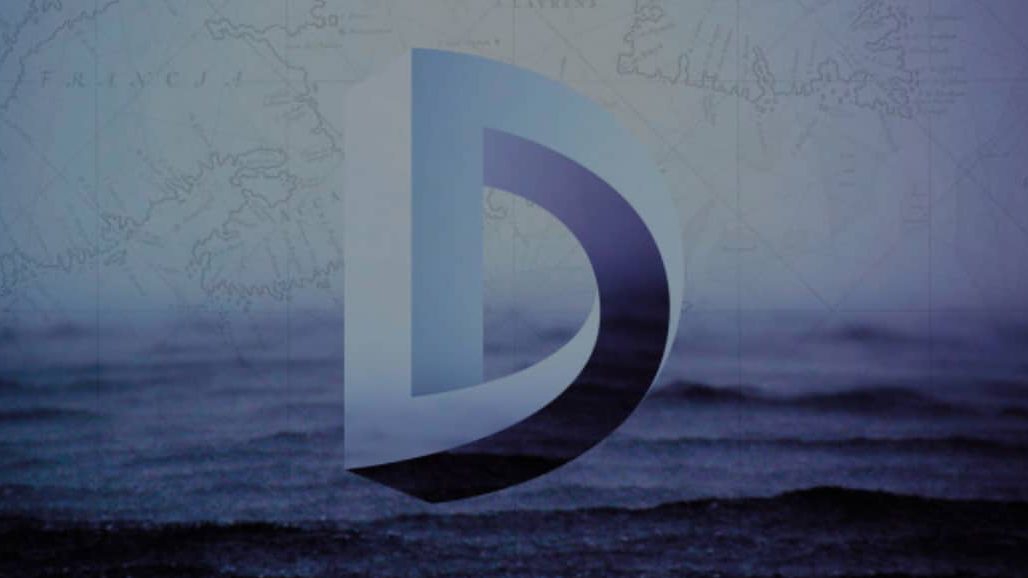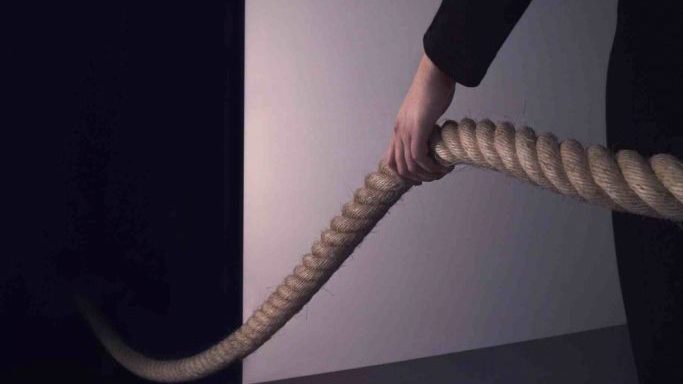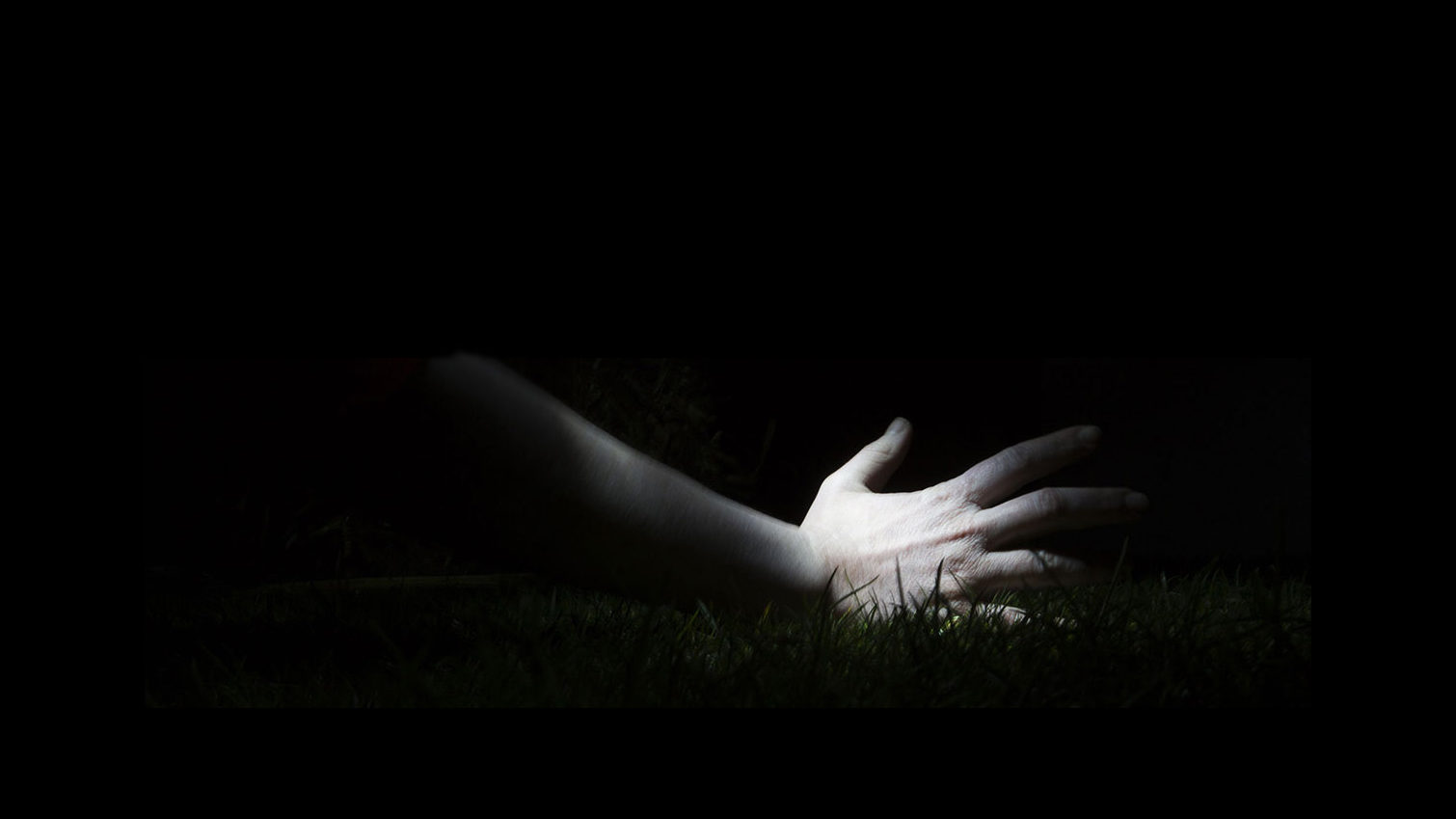 Door into the Dark
For most of us, being lost is a discomfiting experience. May Abdalla and Amy Rose have managed to get people to line up for it. In April 2015, for its North American premiere in the Tribeca Film Festival's Storyscapes competition, Door into the Dark induced festival-goers to take off their shoes, put darkened goggles over their eyes and headphones on their ears, and walk into the void alone with only a rope to guide them. As they felt their way through a labyrinth, iBeacons triggered the low, oddly soothing voices of individuals telling their own stories about what it means to be lost — a university lecturer who wrote a book about losing his sight, a mountain climber who nearly died, a man who ended up in psychiatric care after walking the streets at night in an attempt to lose himself.
Billed as "an immersive documentary experience about what it means to be lost in an age of infinite information," Door into the Dark triggered a wide range of reactions — mild panic, disorientation, claustrophobia, compassion, wonder, euphoria, a sense of discovery and even liberation. "It offers a meticulously crafted storyworld that allows us to cerebrally, emotionally, and quite literally leave our baggage behind," the Storyscapes jury said in awarding it the prize. ". . . Ambitious, simple, and profound, this work marks a fresh and promising direction for the field of immersive theater."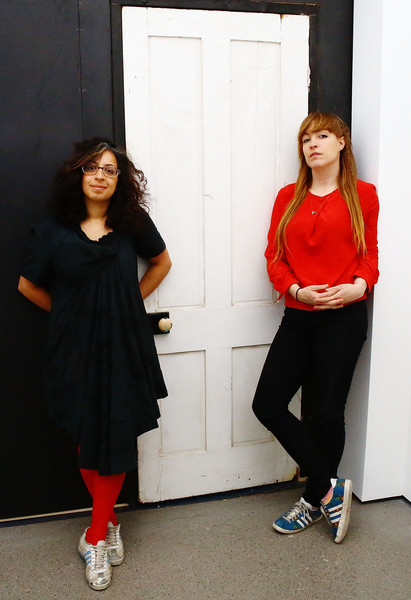 Anagram are an award-winning creative company specializing in interactive storytelling and immersive experience design. Almost all of their projects use technology in surprising and recently-possible ways. However, the team firmly believe that an experience should not be about technology unless it is actually about technology – so even through there is a lot of innovation behind the scenes to make these experiences work, the average audience member may never know. At its core, the work invites people to consider what it means to be alive today, in this society and alongside these people. Through understanding the experience of others, they seek to challenge the way we see ourselves and the world around us.
The core of Anagram are Amy Rose and May Abdalla, two ex-documentary filmmakers who in April 2013, during a residency with Blast Theory, decided to form a partnership. Their intention was to make stories that would be augmented by movement and actions taken by the participant, and to explore what meaningful agency in a story might look like. They are based at the Pervasive Media Studio, a dynamic space in the Watershed on the docks of Bristol, England. A subsequent project, The Collider, was named to the 2019 Digital Dozen.
"In the inky void of 'Door Into the Dark,' there are words to guide you. They pour into your ears from a headset attached to a helmet whose translucent visor allows stray beams of light to enter. John Hull, the blind theologian who wrote 'Touching the Rock,' describes the feelings of losing sight as you grasp a thick rope and pull your way through the twists and turns of a labyrinth. And then the rope ends.
"'We came to this through immersive theater,' said Amy Rose, who develops immersive art in a variety of forms with May Abdalla under the name Anagram. 'We wanted to know, can the body be an opening to a story, and can you design something that is about surrender?'"
"'Door Into The Dark' . . . pushes the intersection of technology and storytelling in a surprising new direction, creating a deeply moving hybrid between immersive theater, audio documentary and geolocation technology. . . .
"POV: What is it like to guide your viewers through this experience? How is it different from watching people view your films in a theatre?"
"May Abdalla: It's unbelievably beautiful. It's very different."
"Amy Rose: People are deprived of certain senses in our project and are therefore truly being themselves, and we're looking after them. They feel alone, but we are actually in the room with them, guiding them along the way. We're having an intimate experience with this person and they have no idea who we are."
"As with any piece which involves darkness and approaching the light, 'Door into the Dark' is ultimately about death, and its theme of being lost resonates on multiple levels, including the spiritual. What initially is a discussion about the inability to get lost in our geo-mapped world turns into a deeper exploration."
Door into the Dark
Medium:
Interactive Experience
Created by:
May Abdalla and Amy Rose/Anagram
Date:
Premiered April 2015 (Tribeca Film Festival Storyscapes)