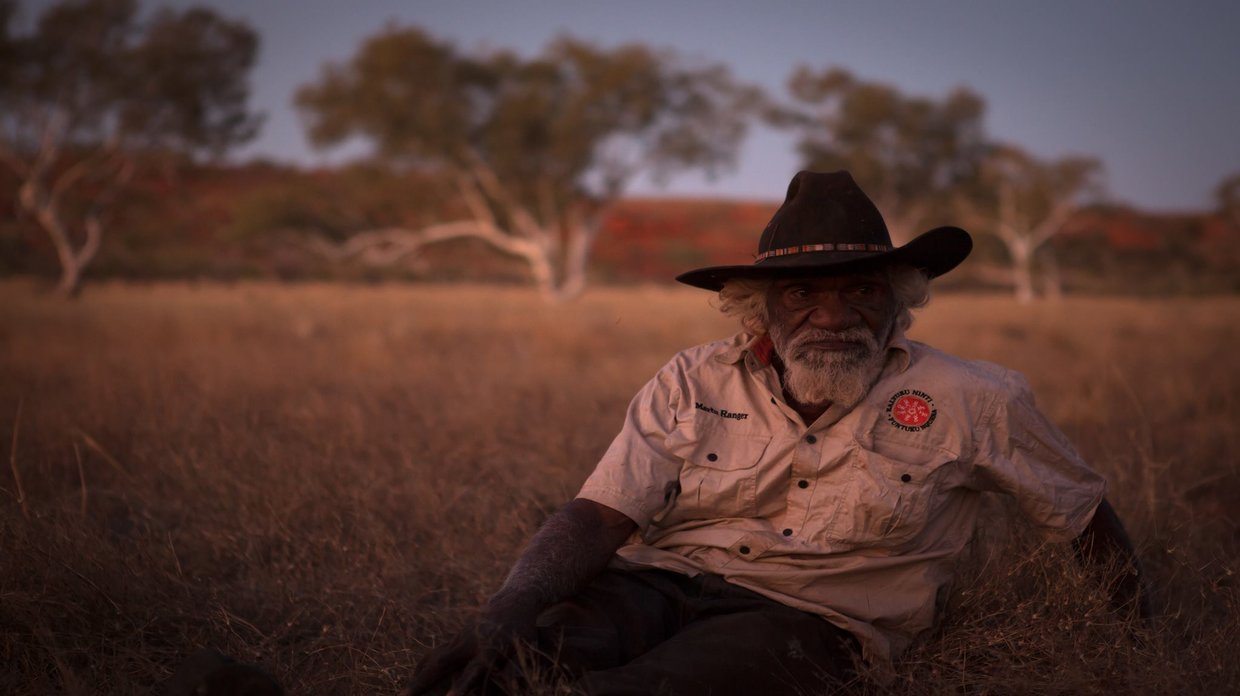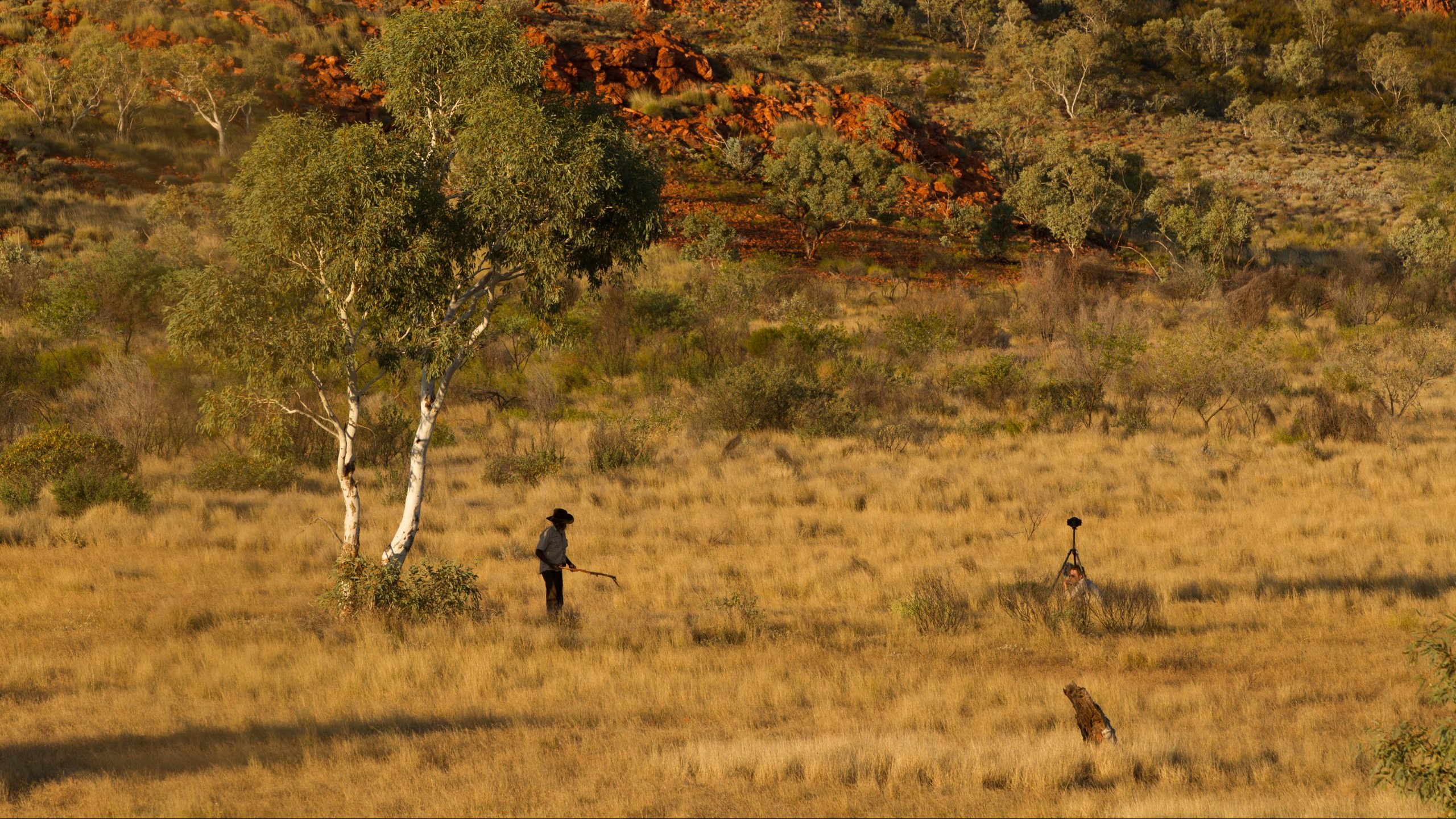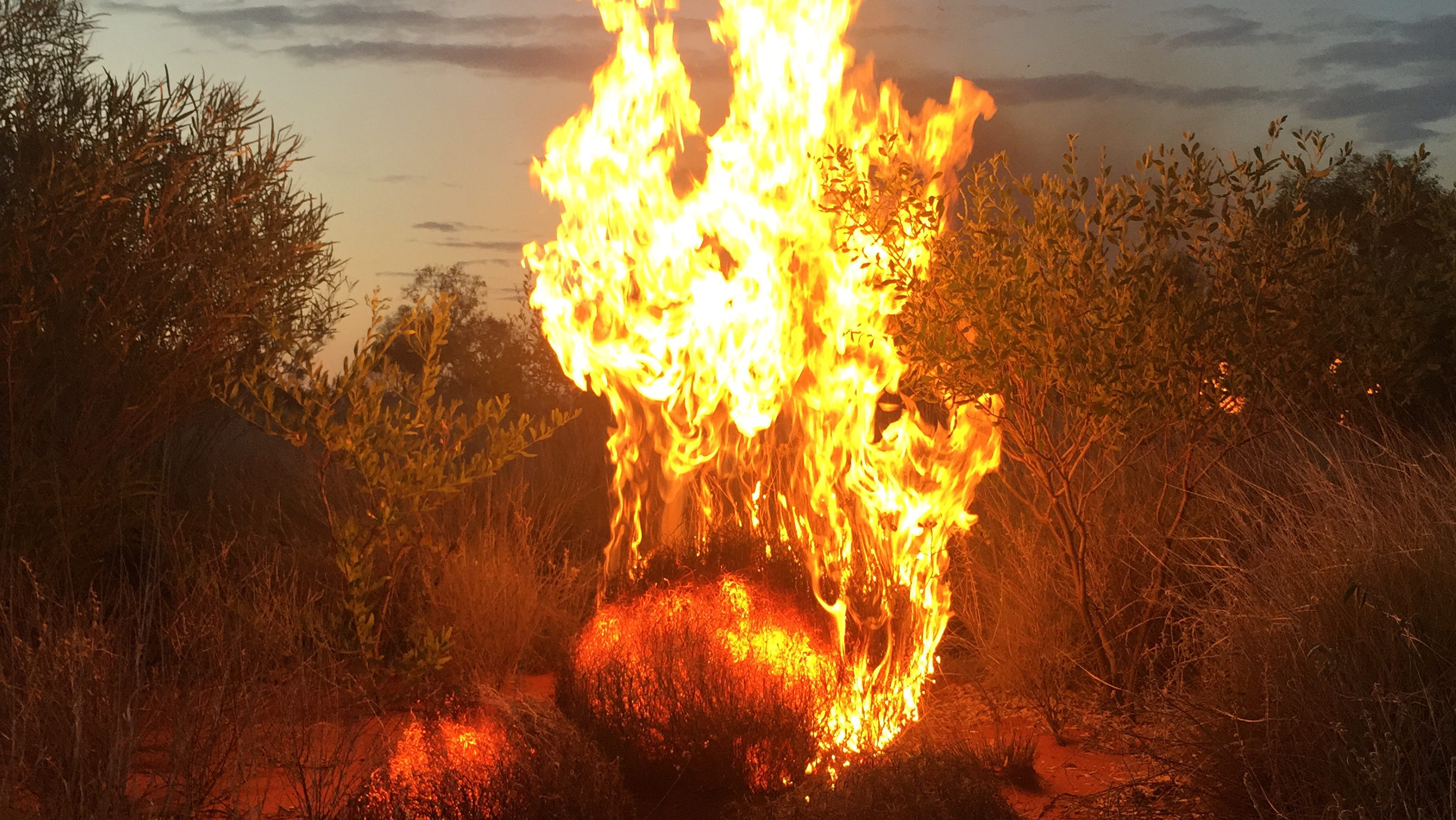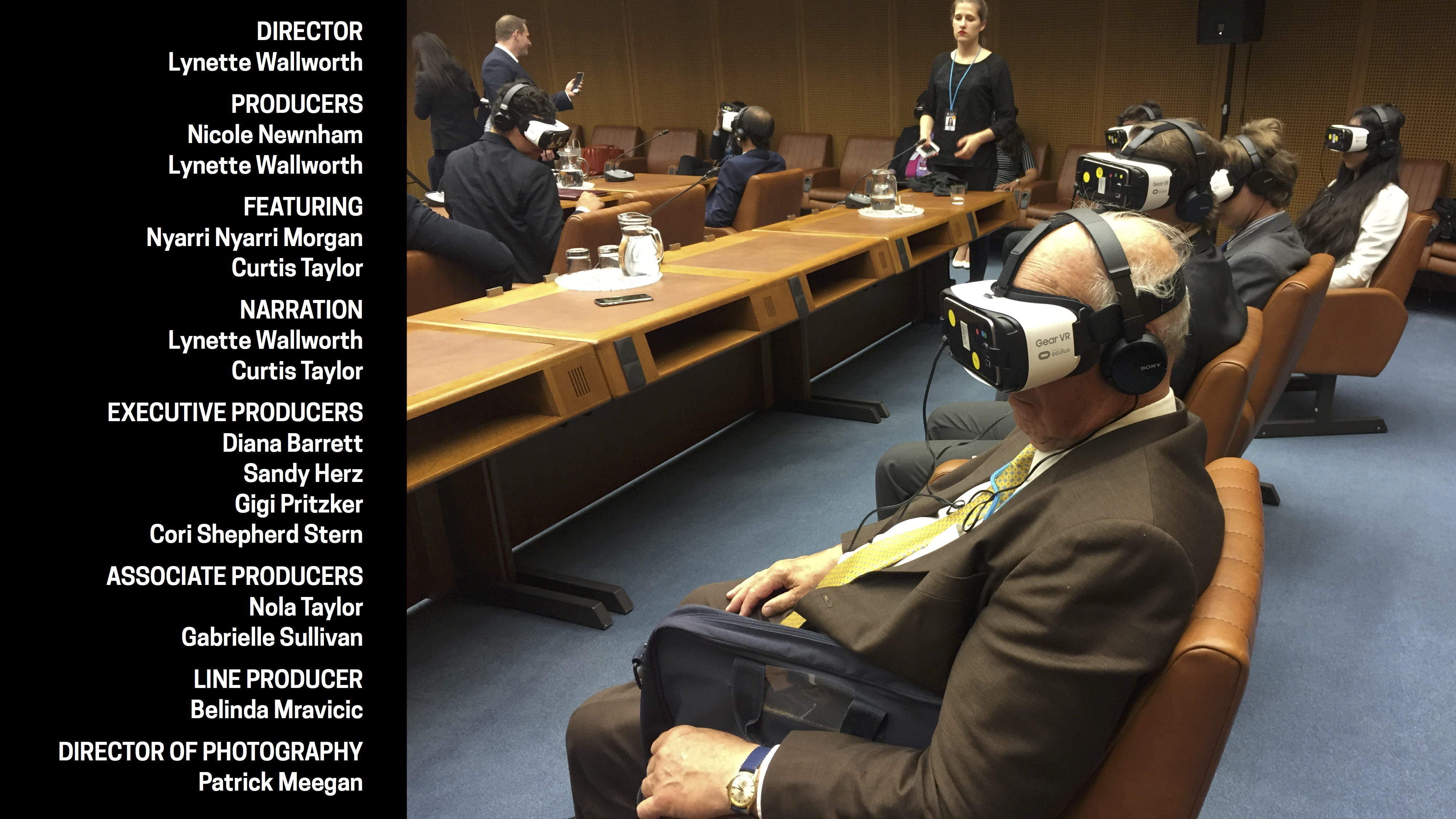 Collisions
Collisions is a virtual reality journey to the homeland of indigenous elder Nyarri Morgan and the Martu tribe in the remote Pilbara Desert in Western Australia. The Martu lived largely untouched by Western culture until the 1960s. Nyarri's first contact came in the 1950s, when he witnessed, firsthand and with no context, an atomic test. In Collisions, Nyarri offers us his view of what he saw and shares his perspective on the Martu way of caring for the planet.
We see an epic tree surrounded by charred, smoldering ground. We watch as Nyarri begins to set ablaze the low spinifex surrounding the tree. This is Martu knowledge, creating mosaics of controlled burning to prevent wild fires and generate new growth. We are seeing in action what 1400 generations of habitation in one place leads to: a form of relationship with country that sustains and preserves it. As Nyarri leaves the growing blaze he asks, "Who will take care of this fire for the ones who are on their way?"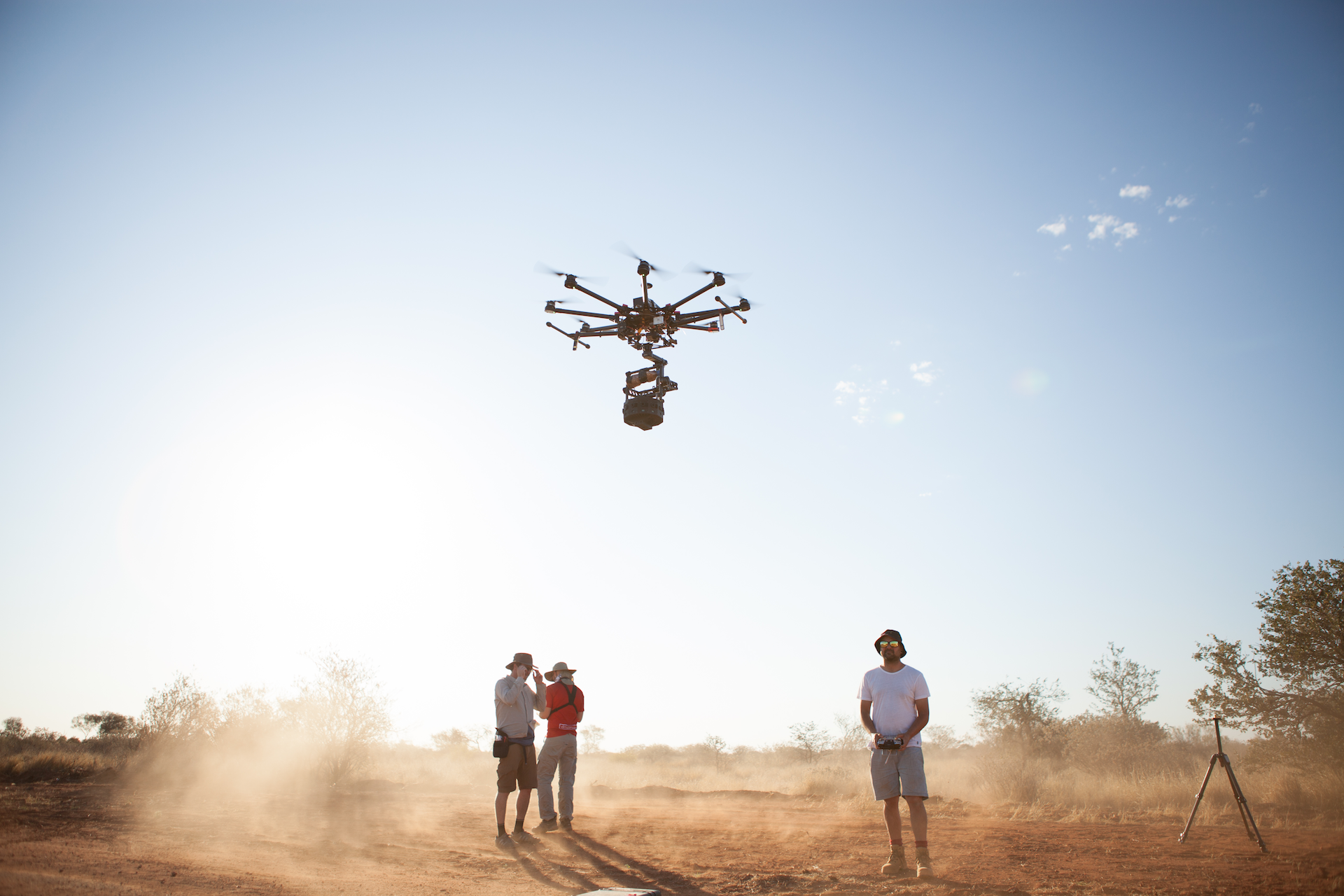 Shooting on location in Western Australia
FILMMAKER STATEMENT
I first heard of Nyarri's story four years ago on a hunting trip with the Martu women painters in the Western Desert. Hearing that I had been to Maralinga where Britain tested atomic bombs in the 1950's, Nyarri's wife Nola turned to me with what felt like an instruction.
"You have to talk to Nyarri."
A year later I did just that and I heard a short powerful parable that Nyarri had waited almost his entire life to share. So this work was born, as a thought or an imagining.
I hadn't yet experienced Virtual Reality and I was waiting to decide the form that would best suit this work. I experienced my first VR film, almost a year ago to today and when I saw it I knew how to make Nyarri's story come alive.
I have worked in immersive environments for over 20 years and I felt like VR was the technology I had been waiting for. At the same time Sundance New Frontiers Institute co‐directors Shari Frilot and Kamal Sinclair had exactly the same thought. A partnership with Jaunt VR has made Collisions a reality but only with the inexhaustible, unflappable energy of producer Nicole Newnham.
I love new technology. I love the moment when the viewer experiences a new sensation for the first time. I know that moment gets seared into memory. I also believe in the power of story to reshape us collectively. I think the two belong together.
VR will soon hit in a big way, very possibly to become ubiquitous. In the window of time that exists before then I wanted to make a work that has protocols of meeting at its core. Nyarri's world is only available to me to visit, and in this work through the technology, that invitation is extended to the viewer. The agency in Collisions belongs to Nyarri. When I put the camera down in front of him he said, "It has sixteen eyes." I replied that it has sixteen eyes and four ears. From that moment Nyarri become the one who decided what was seen and what was not to be seen, what was told and what was not told. The powerful sense of presence of VR makes everything personal. Nyarri knew who it was he was speaking to.
So this work is something of a gift sent out from a private world. It contains an old story, held close till now. It is a film that bridges cultures, it has two narrators and it has two old men at its heart. It contains an old story, held close till now. It is a technological message in a bottle to a world that teeters on the edge of climate catastrophe but it is a message shared with a fundamental hope in our capacity to contemplate more carefully the consequences of our actions.
— Lynette Wallworth
Lynette Wallworth
is an Australian artist and director whose immersive installations and films reflect connections between people and the natural world. Her work uses immersive environments, interactive technologies with gestural interfaces and narrative long form film to engage with viewers. The environments often rely on activation by the viewer/participant. The activation of the work becomes a metaphor for our connectedness within biological, social and ecological systems.
Often engaged with emerging technologies, Wallworth has previously exhibited her works—the interactive installation Evolution of Fearlessness, a moving portrait of 11 women who lived beyond the state of fear (many of them political prisoners and survivors of war and trauma), and the fulldome feature Coral: Rekindling Venus, which has an accompanying augmented‐reality poster collection—at the Sundance Film Festival, New Frontier. Her film Tender won an AACTA (Australian Academy of Cinema and Television Arts award) for best televised documentary and was nominated for a Grierson Award in the UK. Collisions was edited by Tender editor Kaz de Cinque with sound recording by Tender sound designer Liam Egan.
Wallworth's work has been shown at the World Economic Forum in Davos. Switzerland, at the Lincoln Center for the Performing Arts and the American Museum of Natural History in New York, at the Australian Centre for Contemporary Art, at the Smithsonian Institution, and at the Royal Observatory Greenwich for the London 2012 Cultural Olympiad.
In September 2017, Collisions was awarded an Emmy for Outstanding New Approaches in Documentary Film.
"Standing alone in the Pilbara desert, dusty and desolate sun-scorched land stretches out in every direction. Occasional kangaroos are the only signs of life in a vast, brown, natural nothingness.
"But the peace is about to be shattered. An atomic bomb explodes somewhere in the distance, creating a monstrous mushroom cloud that rises into the sky as ash falls from above, showering me like rain.
"I look up in awe and horror. I can almost see a figure of something otherworldly – a kind of mythical monster or spirit god – emerge from the smoky formation.
"A few minutes later I take my headset off. This is a virtual reality film, a milestone VR production, in fact – the first in history to tell an Indigenous Australian story."
Collisions
Created by:
Lynette Wallworth
Date:
January 2016 (New Frontier at Sundance Film Festival)