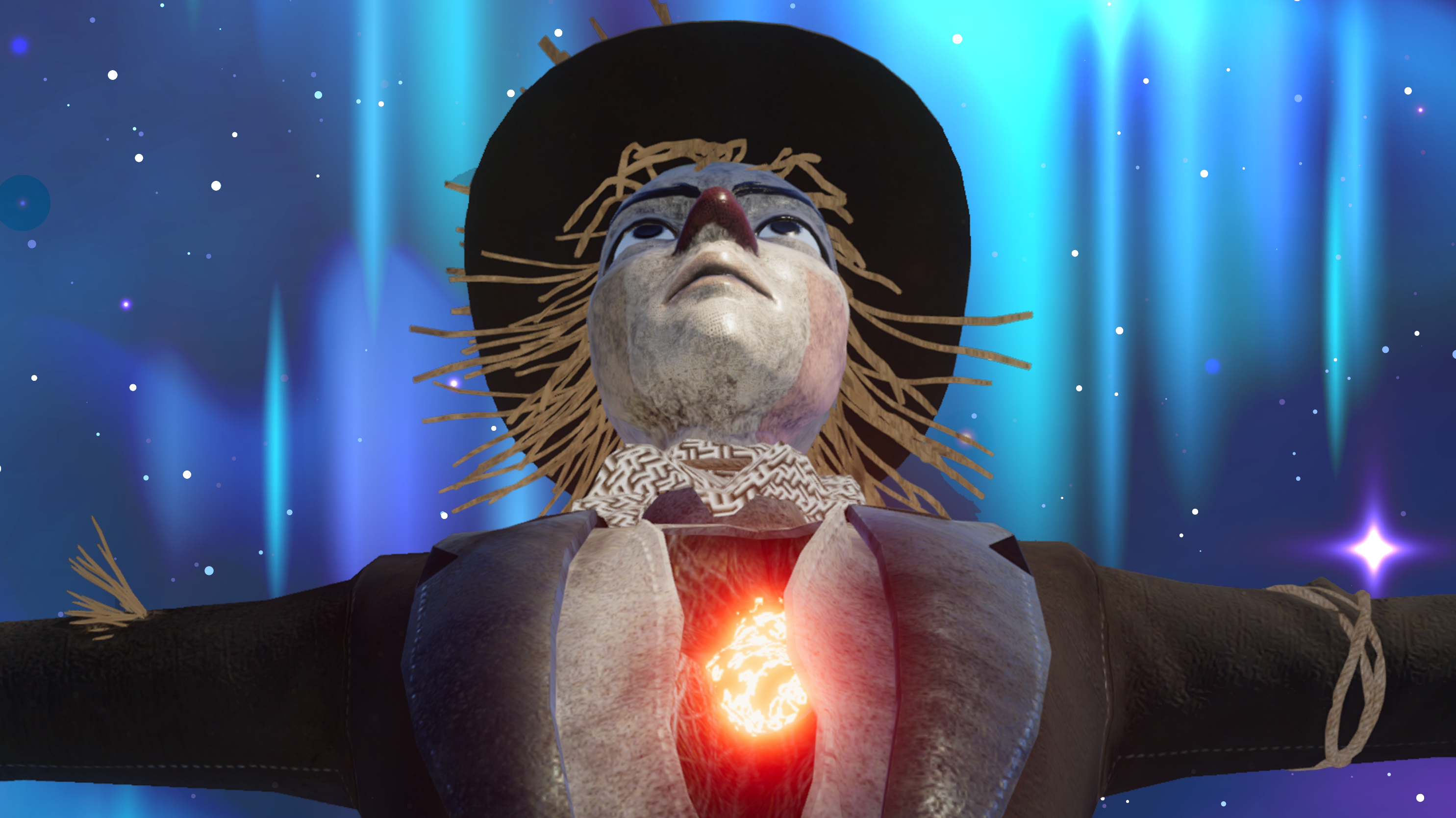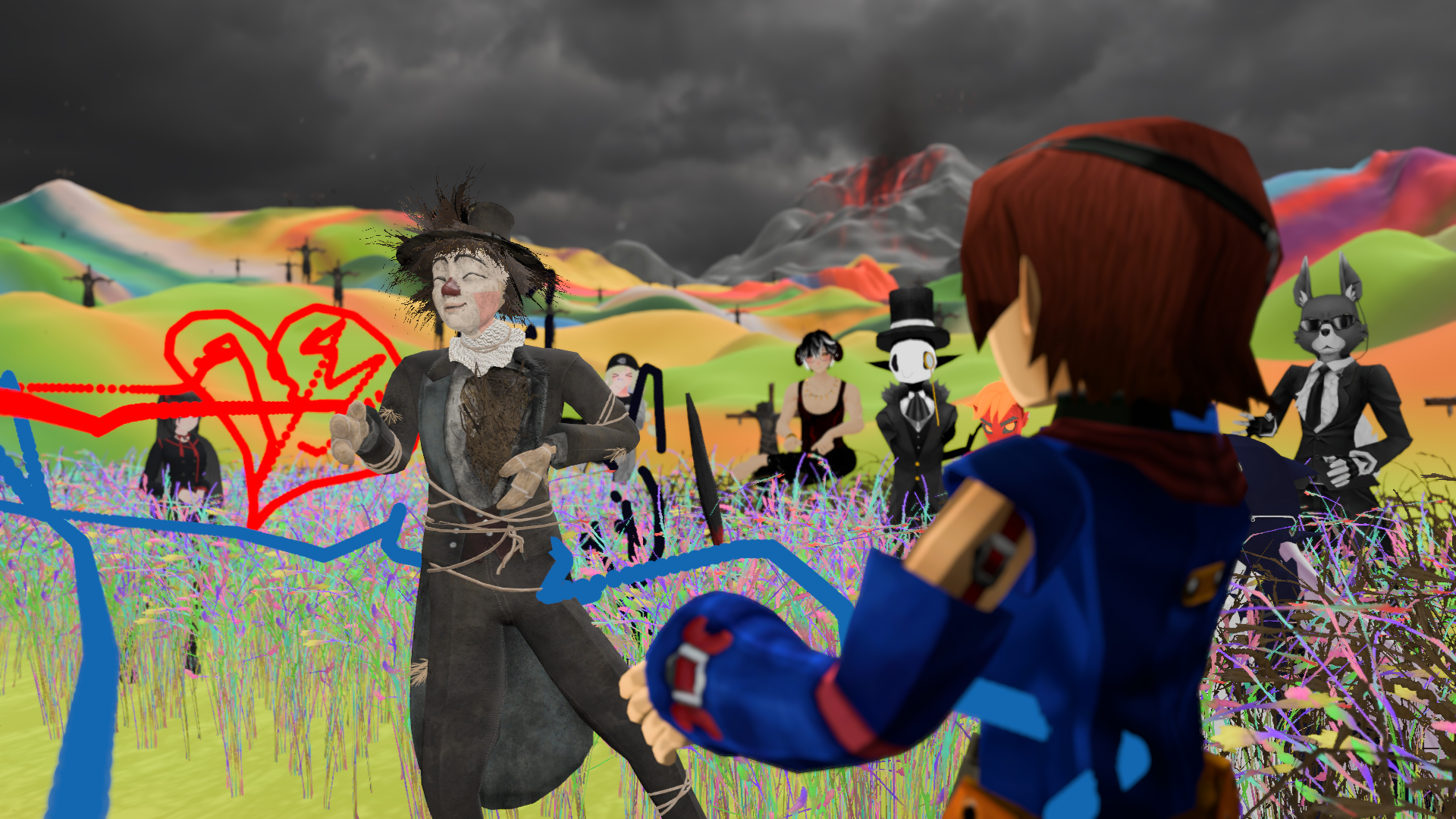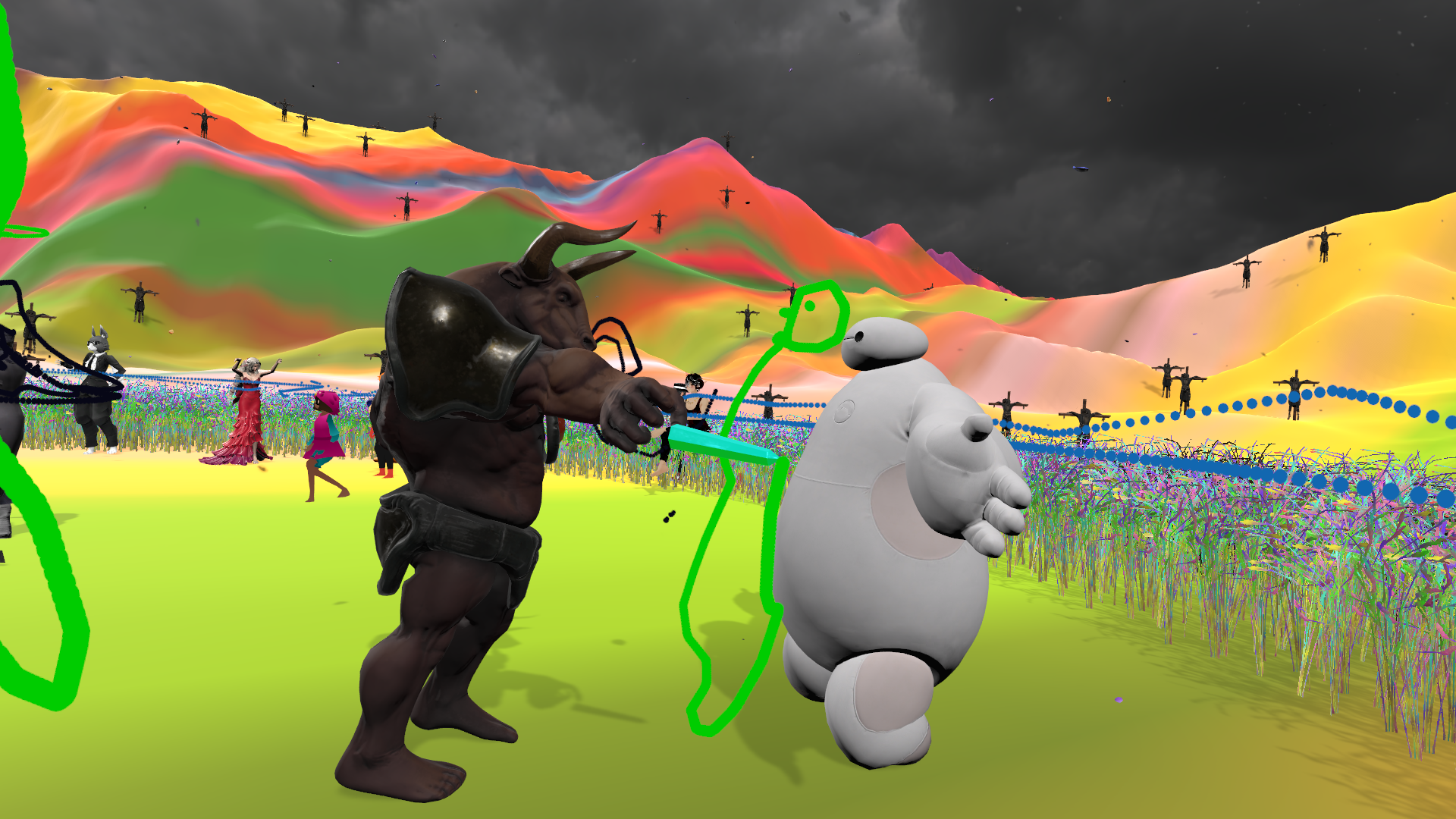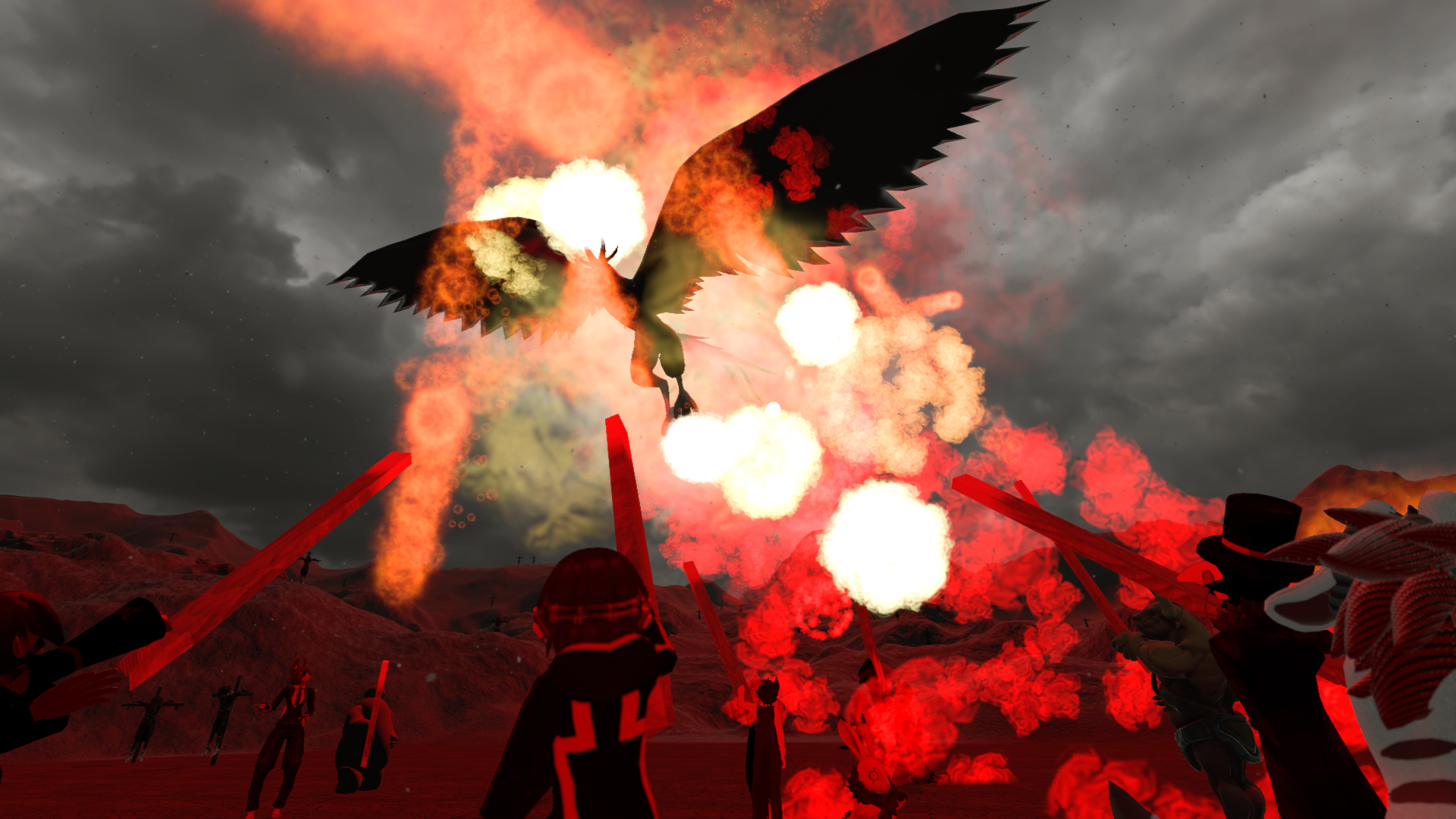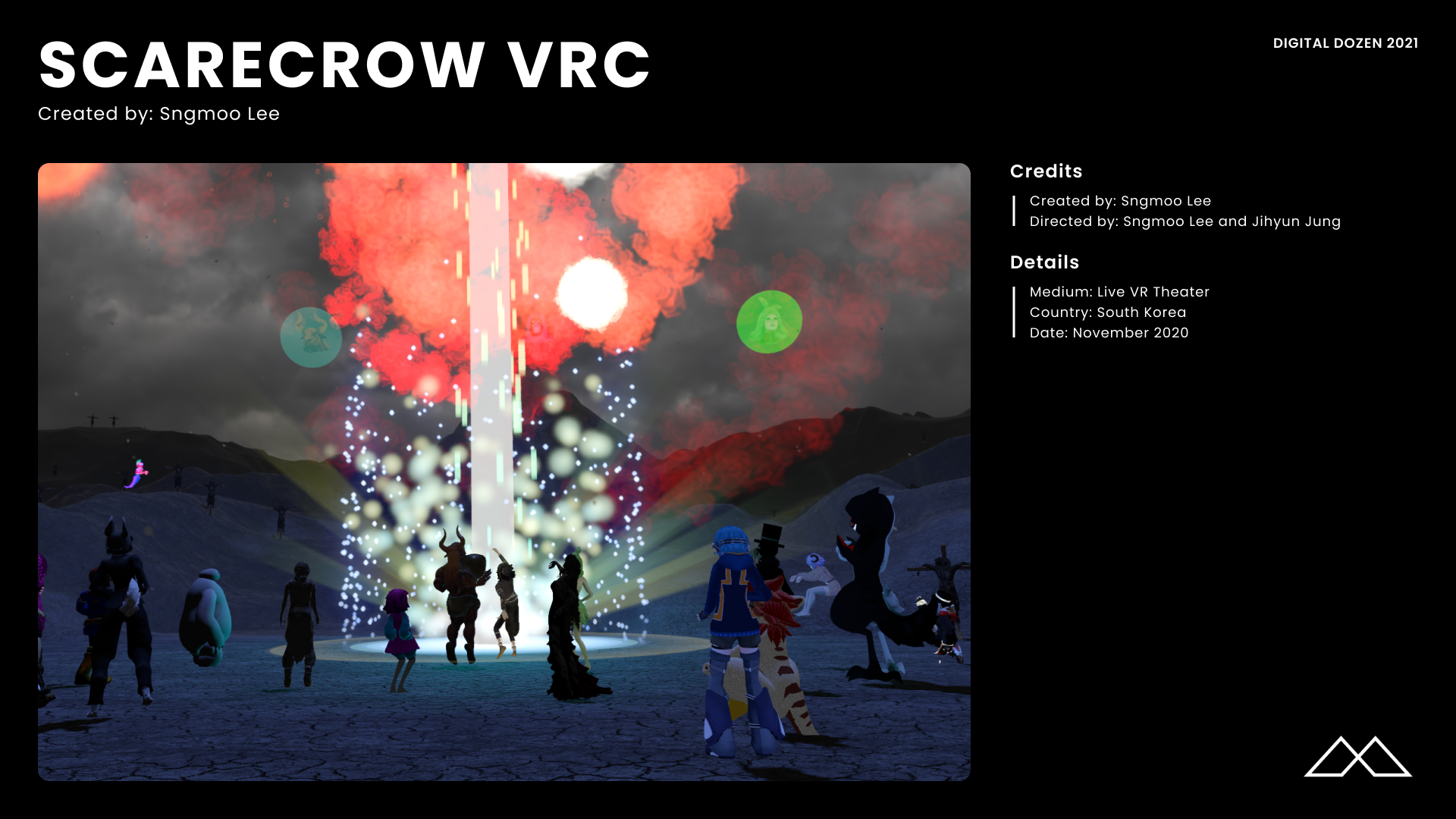 Scarecrow VRC
"It is the ultimate dream of humankind to create a new universe of their own. . . . I foresee that a massive new content genre will be created in the next couple of decades, integrating the strengths of game, films and theaters all together. Now it is still in its beginning period."
—Sngmoo Lee, The Korea Times
Evil firebirds have attacked the town and eaten all the villagers' hearts. One scarecrow has waited hundreds of years for someone to save him. Working as a team with other players, you must break the spell by befriending the scarecrow and returning the hearts to the townspeople.
Following its premiere at the Sundance Film Festival's New Frontier as a live, one-on-one immersive VR theater experience with a real actor, Scarecrow was reimagined in response to the coronavirus pandemic especially for Raindance Immersive (October 28-November 22, 2020), with the actor performing as an avatar in VRChat, the social VR platform, allowing up to two participants to join in.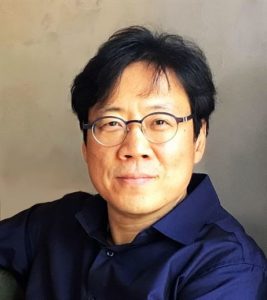 ABOUT THE CREATORS
Sngmoo Lee (writer/director) works in both traditional and immersive media. His first VR film, Eyes in the Red Wind, was made through the Korea Academy of Film Arts' VR production program and screened at Sundance in 2018. He made his feature-film debut in 2010 with The Warrior's Way, a New Zealand-South Korean co-production starring Korean pop star Jang Dong-gun, Kate Bosworth and Geoffrey Rush. A martial arts fantasy film, it tells the story of a 19th-century Asian assassin who refuses his master's orders to kill a baby girl—the last surviving member of an enemy clan he has sworn to exterminate—and goes into hiding as a laundry man in the American West. Lee is currently a professor at the Korea National University of Arts (K-Arts) and director of the Arts and Technology Center there.
Jihyun Jung (director) is a graphic artist who runs the commercial film-production company Nodeprojects. She is enrolled in the MFA film directing program at K'ARTS.
THREE QUESTIONS FOR THE CREATORS
Why this? Why now?
Full interactivity and co-creation is the key to the new immersive storytelling. I made Scarecrow, a one-on-one location-based VR immersive performance, to realize this. Due to the pandemic, I downsized and pushed a planned networked version to the social VR platform.
What were you surprised to learn as you were making it?
Participants' creativity and willingness to co-create.
What were some of the most challenging aspects for you?
No prior references. Using the technology and platform not designed for this kind of performances.
With the line between VR and motion capture technology continuing to blur, Scarecrow is just the start of a whole new wave of immersive theater experiences connecting live actors with virtual audiences. Still, it's going to be some time before we begin to see mainstream immersive entertainment providers employing the same level of physicality as is featured in Scarecrow; the project is simply ahead of its time.
And yet, despite the friction of connecting my headset to my PC and following the detailed instructions to log into a different account and enter the private SCARECROW world in VR Chat, I find myself swept away, not only by the environment and story and music, but also the incredible performance from our charming scarecrow. . . . I weep a little inside the headset. It feels magical: just to play and be acknowledged.
Scarecrow VRC
Date:
November 2020 (Raindance Immersive)