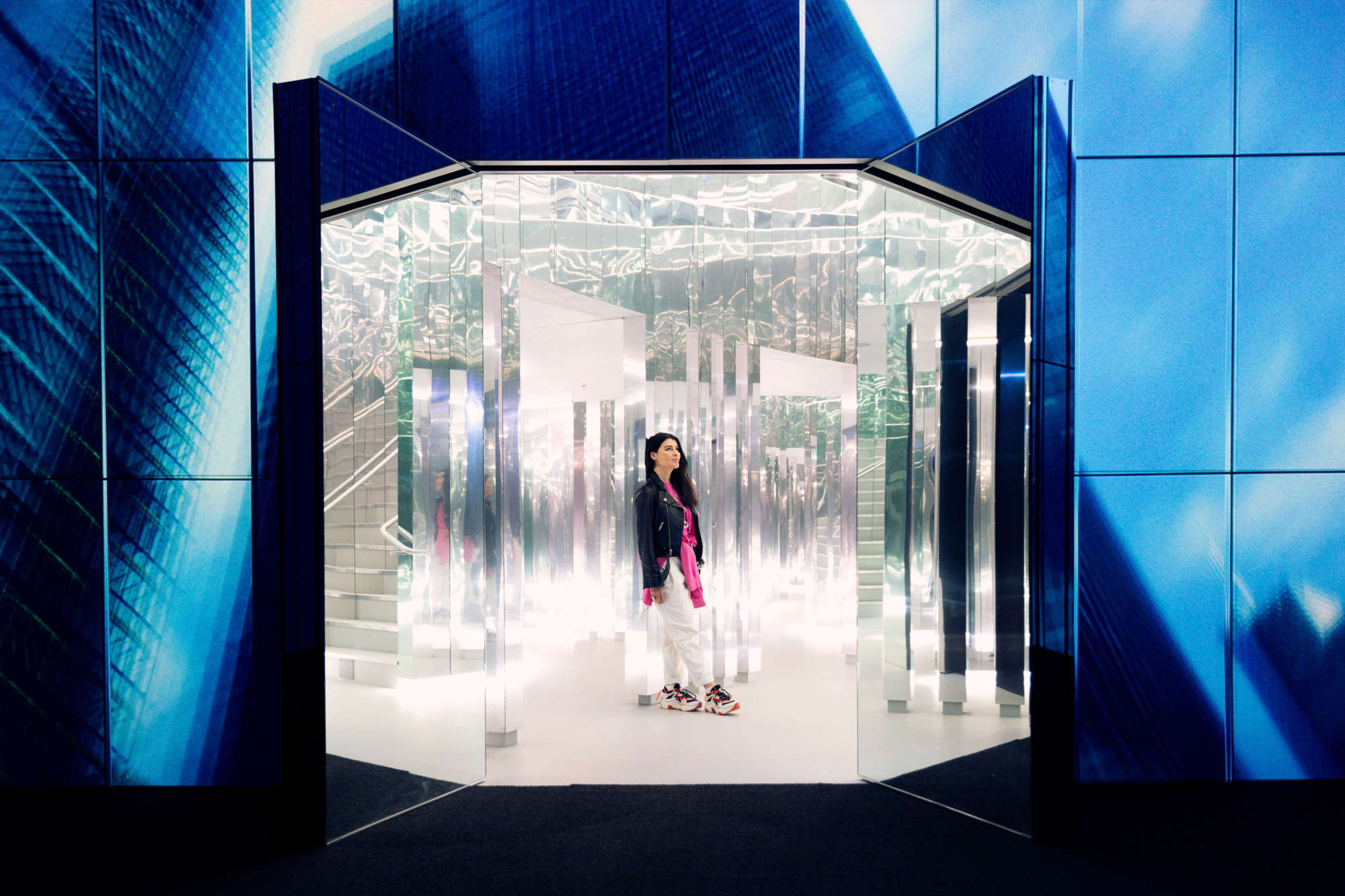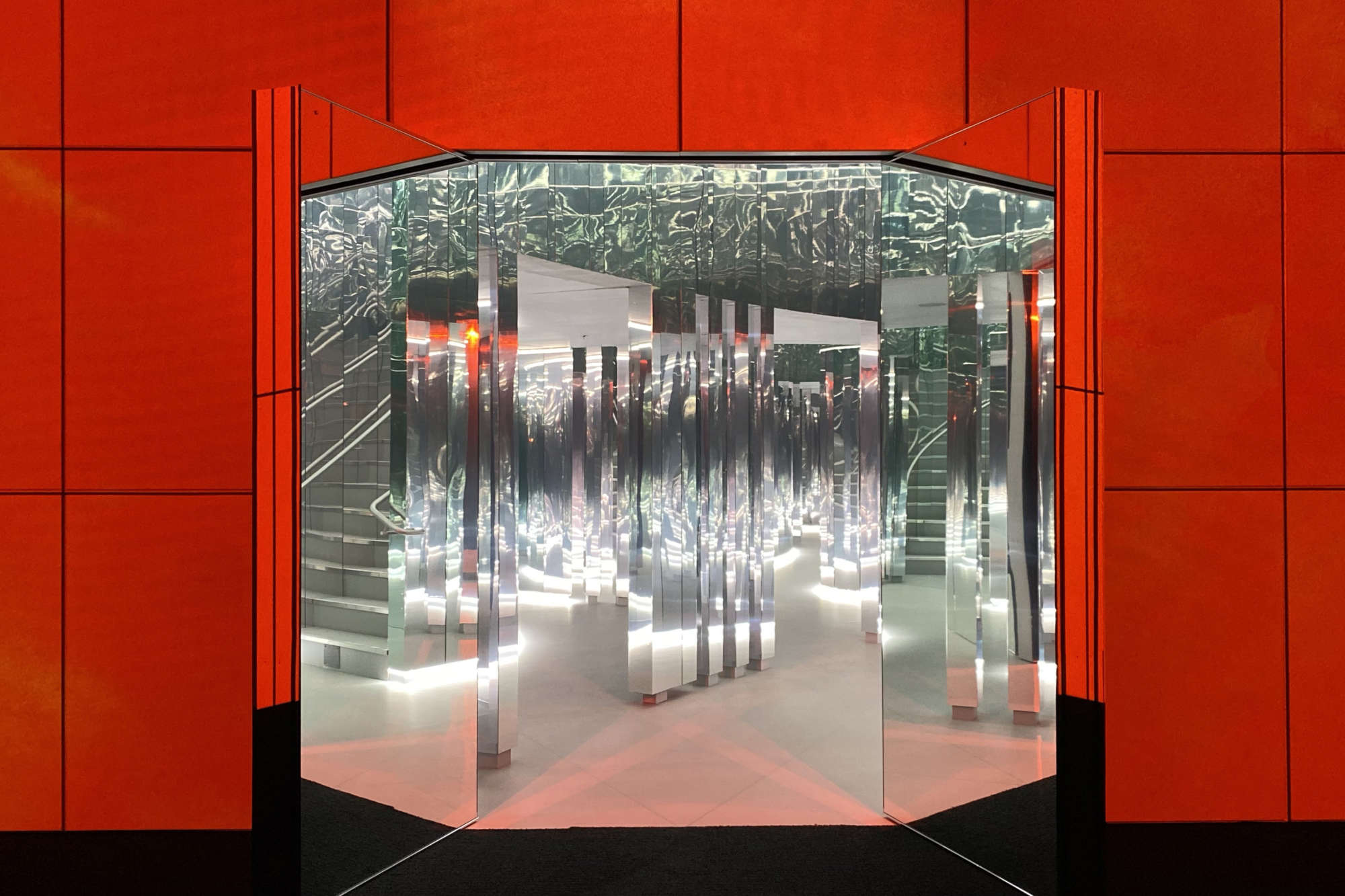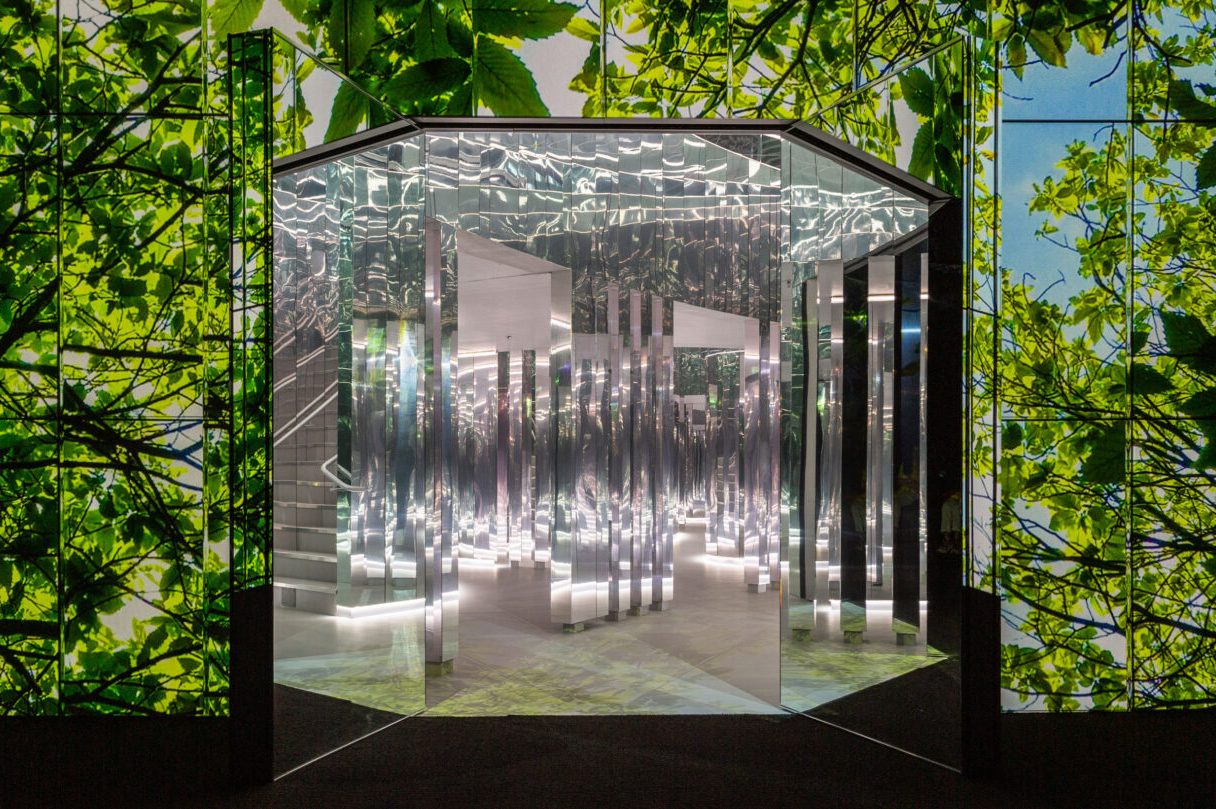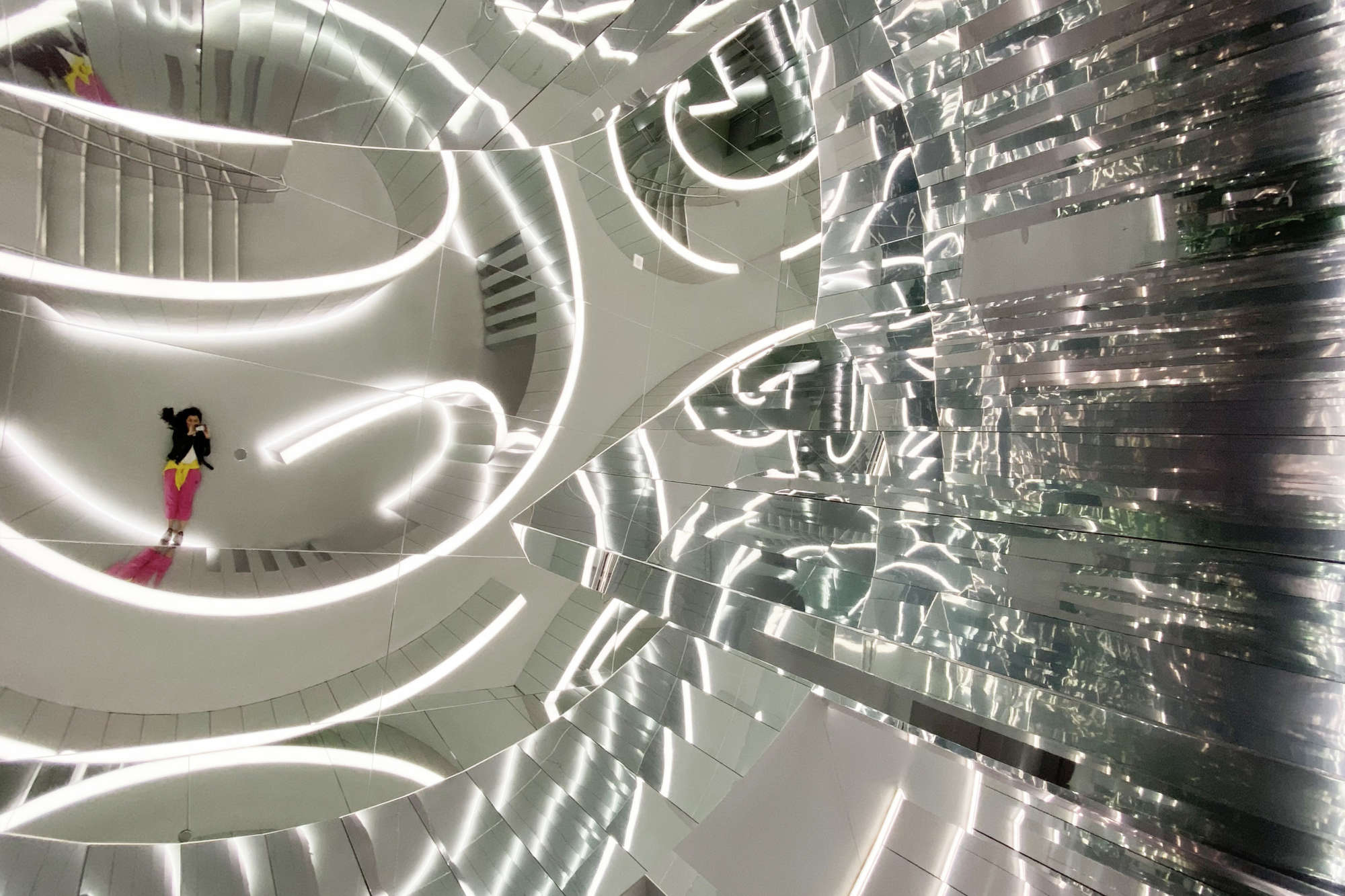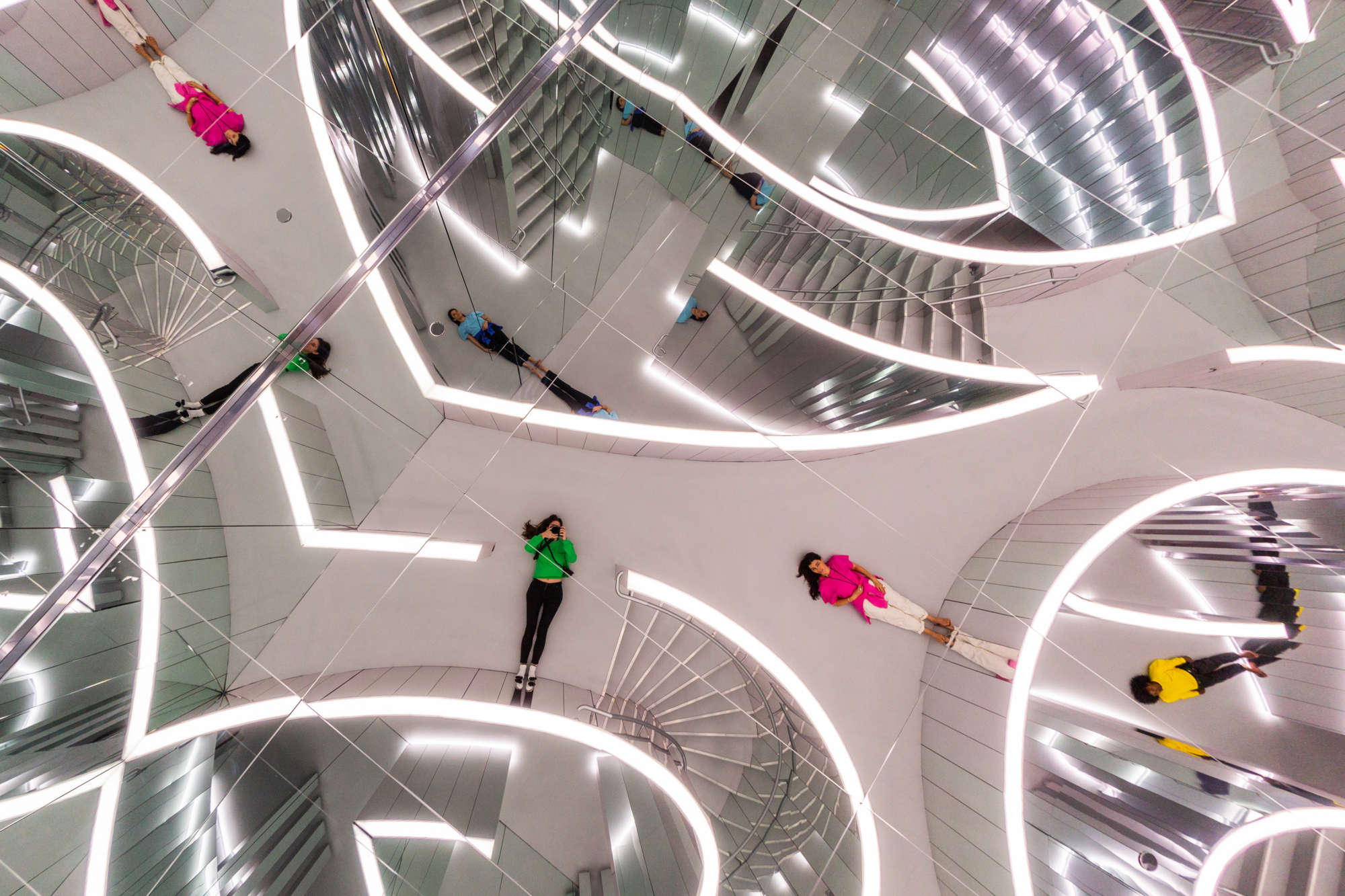 Forest Of Us
"We find ourselves today emerging at the brink, where the mirrored labyrinth meets the possibility of our own extinction. There's a leak in the shimmering maze, dark water is seeping in. Across the shallow flood, the viewer becomes a participant in the piece, perceiving branching forms within their own digital shadow, a clue to the possibility of a way out, through recognition of the symbiotic symmetries between people and planet."
—Es Devlin
Es Devlin's Forest of Us draws parallels between human breathing structures—the bronchial trees that exchange oxygen for carbon dioxide inside our lungs—and the trees that exchange carbon dioxide for oxygen in the world around us. After watching a short film that establishes the relationship between human respiration and the breathing that trees do, you enter a maze of mirrors and find yourself trying to navigate its pathways, its mirrored walls reflecting your every turn. Surrounded and enveloped, you begin to realize, as Devlin puts it, "that the exchange of gas that's going on inside of us and outside of us is mutually dependent." Which is particularly poignant given that the installation is at Superblue, the new experiential art center in Miami, a metropolis of 2.7 million people that before too many years will almost certainly be under water.
Forest of Us follows Devlin's earlier installation Mirror Maze, designed in 2016 and presented at Copeland Park in London. Devlin's initial approach began with a single image that she found to be inescapable: tree branches. For many years, she picked up her trusted pen and paper and repeatedly sketched hundreds of tree branches until she realized just how closely they resemble the bronchial tubes in human lungs. These sketches that were once clearly trees morphed into many different forms, and Devlin sought out James Gleick's Chaos: Making a New Science to provide a clearer understanding. She immersed herself in Gleick's book on chaos theory as she tried to figure out the links between the lungs and trees and many other processes that occur within the human body. Moving back and forth between research and tracing over many copies of X-rays of the bronchial system, Devlin allowed her intuition to lead her on this creative journey.
ASK THE CREATOR
Why this? Why now?
I have been dazzled by the geographical beauty and cultural joys of Miami since I first visited 20 years ago. Yet Miami is ever more surely set to be swallowed by sea. Current predictions suggest nearly a million residents will be displaced by rising water levels before the end of the century.
My work, Forest of Us, was conceived specifically for Miami, where the flood feels more poignantly imaginable than elsewhere, and where hope and activism are striving ever more forcefully to lead us back from the brink.
Long before Covid, I made some observations about the structure of lungs and the structure of trees being remarkably similar. I wanted to make a piece about it.
The piece starts out as a film, a journey through a forest. Gradually the forest leads you toward understanding the branching structures of trees. Then you find that you're not looking at a tree, actually, but at a bronchial tree: You're looking inside the lungs, and you make the connection. You understand that the exchange of gas that's going on inside of us and outside of us is mutually dependent. You then walk through the screen and into a labyrinth.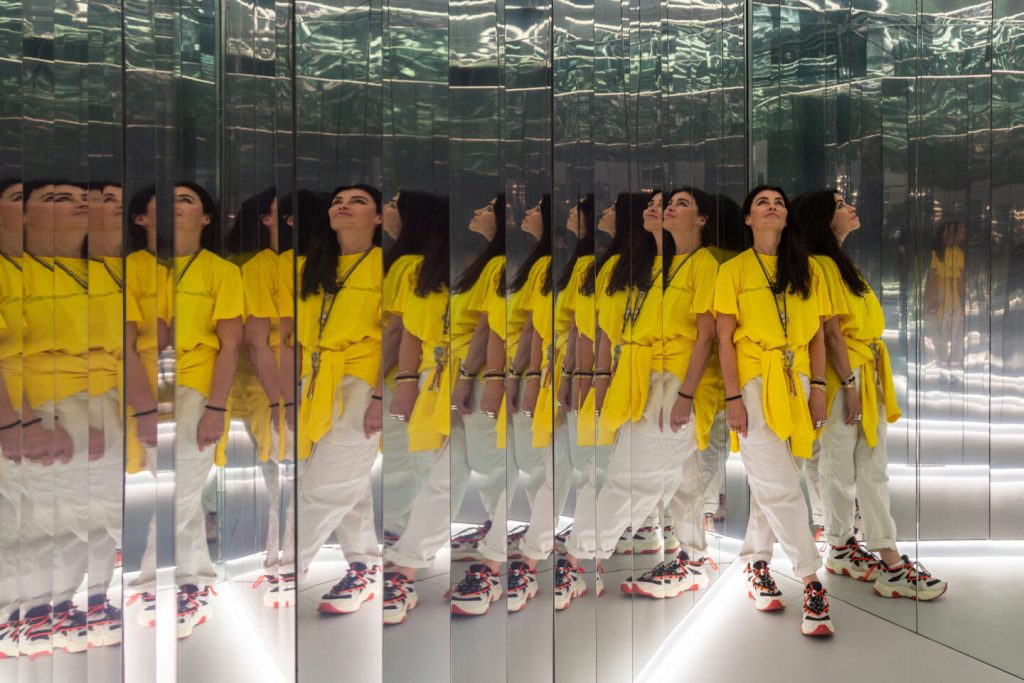 Es Devlin,
Forest of Us
. Photo: Andrea Mora
ABOUT THE CREATOR
Es Devlin
is an artist and designer who is known for creating large-scale performative sculptures and environments that fuse music, language and light. Her monumental sculpture
Memory Palace
, shown at Pitzhanger Manor and Gallery in London in 2019, mapped a history of shifts in human perspective over 73 millennia. She collaborated with theoretical physicist Carlo Rovelli on an interpretation of Rovelli's
The Order of Time
as read by Benedict Cumberbatch in September 2018. Her fluorescent red fifth lion roared AI-generated collective poetry to crowds in London's Trafalgar Square that same month.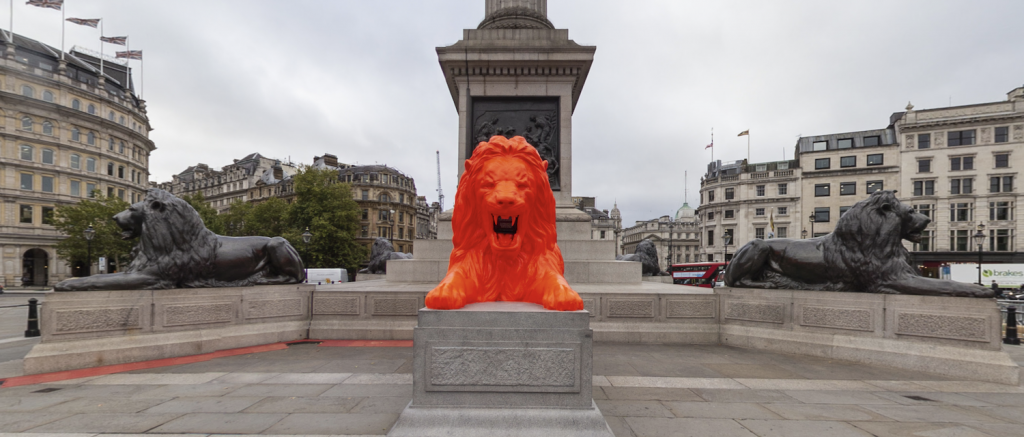 "Please Feed the Lions," Trafalgar Square, London, 2018
Devlin began her career in theater after earning a degree in English literature from Bristol University and studying at Central Saint Martins in London, and she is still best known as a designer of extraordinary theater sets. She has won three Olivier awards from the Society of London Theatre as well as the London Design Medal. She served as artistic director of the 2020 London Design Biennale, has been named a Royal Designer for Industry by the RSA and was made a Commander of the Order of the British Empire for her services to design. Her work was the subject of an episode of the Netflix documentary series
Abstract: The Art of Design
.
She designed the London Olympic closing ceremony in 2012, the opening ceremony of the 2016 Rio Olympic games, and the UK Pavilion at Expo 2020 Dubai—the 'Poem Pavilion,' which continues the work in AI-generated collective poetry that she first conceived with Hans Ulrich Obrist at the Serpentine Gallery in London in 2017. In 2019, she previewed this work in a celebrated TED talk on 'Mind-Blowing Stage Sculptures that Fuse Music and Technology.'" She lives in South London.
"Superblue, the much-hyped new space for immersive exhibitions has finally opened its doors in Miami, Florida. Uncovering a whole new landscape for contemporary art, the debut show 'Every Wall is a Door' features light, video, and sound experiences that invite us to embark on a multisensory journey. Es Devlin's 'Forest of Us' takes centre stage. Playing on the visual similarity between the structure of trees and the bronchioles of our lungs, it begins as a film until the screen surface is perforated and viewers step into a glittering mirror maze. The experience serves as a metaphor for the dazzling feedback loops of human design that enchant our gaze so seductively we lose awareness of our connection to the rest of the biosphere."
"'Forest of Us' begins with a film of almost three minutes, in which Devlin depicts branching — bronchi in the lungs, limbs of trees, rivulets into streams. The voice-over starts, 'Every time I reach a fork in the road, I choose both paths,' and ends, 'Can you find it? Go and find it!' At which point the screen parts, and the visitor walks through a portal into a maze. With stretched Mylar film on the ceiling, optical-glass mirror on the surrounding walls, and winding paths bordered by polished aluminum dividers, 'Forest of Us' is a kind of hedge maze in which the traditional boxwood has been replaced by reflective surfaces. . . .
"Devlin's work envelops you. Eventually you come to a shallow pool, 6 feet wide and 35 feet long, where, standing on marked circles at the edge, you can raise your arms and see your reflection as a dendritic filigree and hear the whooshing intake of breath. Chilled, I felt I was standing by the bank of the river Styx, experiencing not my personal demise but the death of the planet."
"'Forest of Us' responds to Miami's impending environmental peril—predictions suggest that rising sea levels will displace nearly one million Floridians before 2100. Climatic concerns have recently been top of mind for the celebrity-favorite stage designer, recently named the artistic director of the London Design Biennale, who will plant a 400-tree forest outside the city's Somerset House for this year's event. 'In literature, forests are often places of transformation—the forest of Arden in Shakespeare, the enchanted forests of the Brothers Grimm,' she tells GQ, noting how she hopes that interaction with the forest will have a transformative impact on the public's attitudes toward environmentalism.
"That same mindset underscores 'Forest of Us.' Once the three-minute film concludes, the screen becomes a portal into a two-story labyrinth akin to a hedge maze, only with optical-glass mirrors and polished aluminum dividers in lieu of topiaries. At a shallow pool, standing on marked circles triggers a funhouse image of the viewer's reflection. Devlin likens her dizzying labyrinth to contemporary eco-philosophers who use the hall of mirrors 'as a metaphor for the glimmering feedback loops of human design that enchant our gaze so seductively that we lose awareness of our symbiotic connection to the rest of the biosphere.'"